Trump wants troops in Iraq to 'watch' Iran
Officials fear the move could increase Iraqi distrust of the American government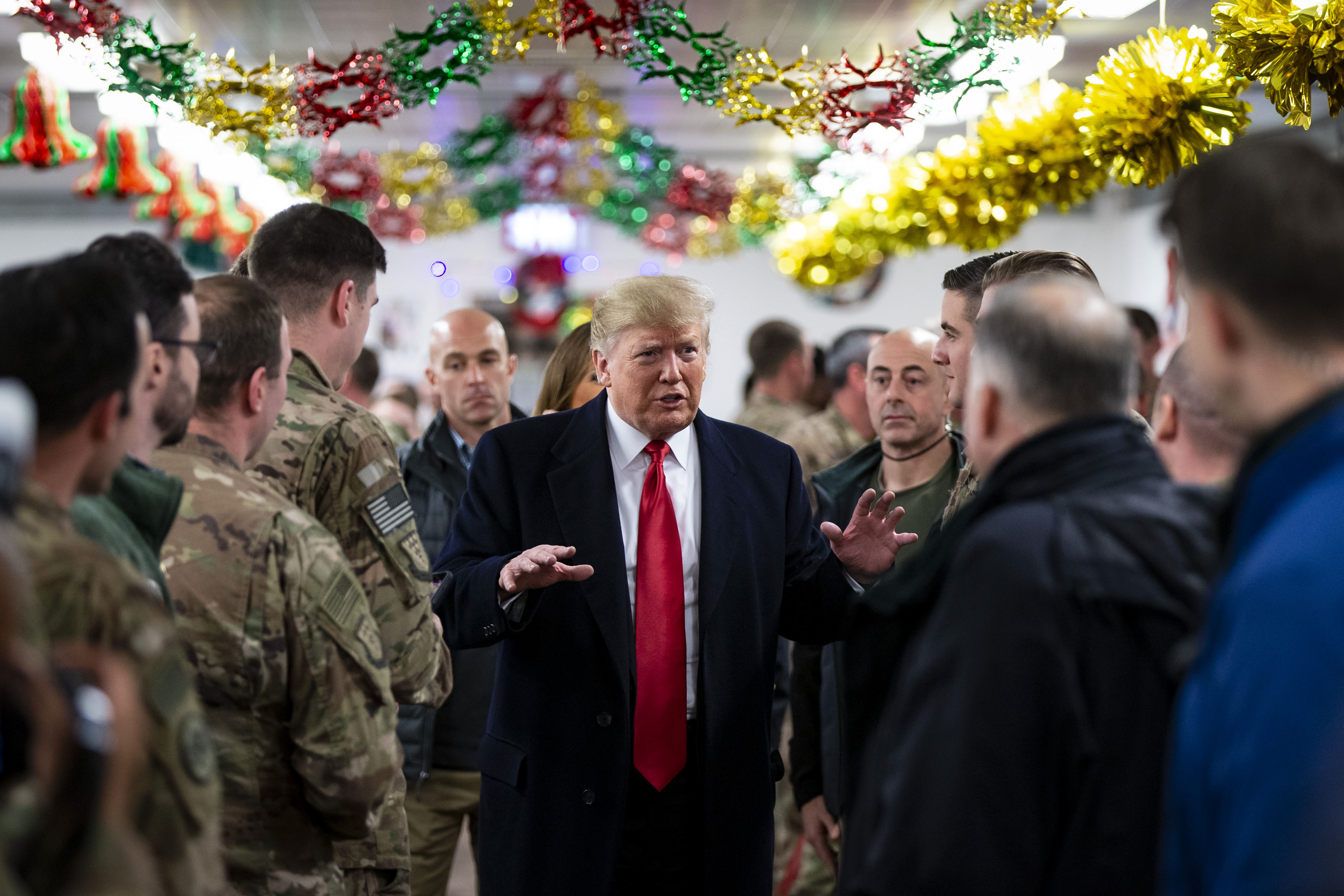 Donald Trump visits members of the US military at a dining hall at the Al Asad Air Base in Iraq on December 26, 2018.
The New York Times file picture
---
Washington
|
Published 04.02.19, 08:31 AM
|
---
President Donald Trump plans to keep US troops in Iraq to monitor and maintain pressure on neighbouring Iran, committing to a US military presence in the region's war zones even as he moves to withdraw forces from Syria and Afghanistan.
"I want to be able to watch Iran," Trump said in an interview aired Sunday on CBS' "Face the Nation." "We're going to keep watching, and we're going to keep seeing, and if there's trouble, if somebody is looking to do nuclear weapons or other things, we're going to know it before they do."
Trump's comments come as the United States has quietly been negotiating with Iraq for weeks to allow perhaps hundreds of US commandos and support troops now operating in Syria to shift to bases in Iraq and strike the Islamic State group from there, seeking to maintain pressure on the militant group as the President fundamentally reorders policy toward Syria and toward Afghanistan, where peace talks with the Taliban are under way.
But senior US officers and diplomats said Trump's comments could undercut the delicate negotiations in Iraq by inflaming fears among the Iraqis that the moves would be a guise to check Iran, potentially straining ties with Baghdad and weakening the ability of the United States to respond to Islamic State remnants in Syria.
If the United States tries to bring more troops to Iraq, said Jawad al-Musawi, a member of Parliament, "there will be an escalation in the opposition to them".
"There is distrust of the American government — even if they say they are coming to protect us against Daesh," he said, using the Arabic word for the Islamic State, "the real reason they will be coming is to hit Iran".
To maintain a military mission in Syria despite Trump's order to withdraw troops from the country, a plan has gained momentum within the Pentagon to use small teams of Special Operations forces to strike the Islamic State, as well as to continue airstrikes and resupplying allied Kurdish fighters.
Senior US officers recently visited several Iraqi bases, including Irbil and Al Asad Air Base as well as smaller ones closer to the Syrian border, to determine if existing US operations there could be expanded with troops shifting in from Syria, two US officials said. Another US officer visited at least one Iraqi base near the Iranian border, a Kurdish politician said.
Col. Sean Ryan, spokesman for the US-led coalition in Baghdad, said in an email that he had no information about the base visits.
Any new basing arrangements would require Iraqi approval. The overall assistance proposal endorsed by the deputies committee still requires Cabinet-level approval. But during his visit to Iraq in late December, Trump signaled his support for basing more commandos in Iraq to "prevent an ISIS resurgence".
The strike teams are among the options in a new, evolving strategy for Syria that the Pentagon is developing as officials follow the order Trump gave in December to withdraw some 2,000 troops. Former Defense Secretary Jim Mattis resigned soon after that, largely because of Trump's decision to overrule his senior advisers and withdraw the troops.
The Pentagon said it is in the process of complying with Trump's withdrawal order, after commanders persuaded him to reverse his initial demand to pull out in 30 days in favor of a schedule of about four months. "We are on a deliberate, coordinated, disciplined withdrawal," acting defence secretary Patrick Shanahan said this past week.
The US military has started withdrawing some equipment, but not yet troops, officials said Sunday. The number of American troops in Syria has actually increased in recent weeks to more than 3,000 — a standard practice to bring in additional security and logistics troops temporarily to help protect and carry out the process of pulling out — three defence department officials said.
The scope and pace of withdrawal were one of the topics discussed when Gen. Joseph Votel, head of the Pentagon's Central Command, convened his top commanders and civilian advisers in Doha, Qatar, in late January. Many details have yet to be worked out, but under the current planning, Kurdish and Arab fighters would be permitted to keep American-supplied weapons for self-defence, a nod to military threats from Turkish officials who consider the Kurds an enemy, a senior US official said.
Votel will most likely face questions about the Syria withdrawal from lawmakers, many of whom have expressed alarm at Trump's plans, at a hearing on Tuesday of the Senate Armed Services Committee.
Meantime, several factions in the Iraqi Parliament plan to push a measure that would strictly limit US military activities in the country, including where American soldiers can circulate and how long they can stay.
The issue brings together Shiite parties who do not like Americans, most notably the one led by the radical cleric Muqtada al-Sadr. That group now has the largest bloc of votes, with Shiite parties that have strong links to Iran and that are associated with armed groups known collectively as the Hashid.
While the measure is still in the planning stages, the parliamentary party representing al-Sadr announced about a week ago that it would put the issue on Parliament's legislative agenda for March, and the party's lawmakers have begun discussing the idea with other parliamentary blocs.
c.2019 New York Times News Service