Tanker loaded with barrels of Russian oil loses buyer
Ship originally sailing to Philadelphia abruptly does a U-turn in the middle of the Atlantic ocean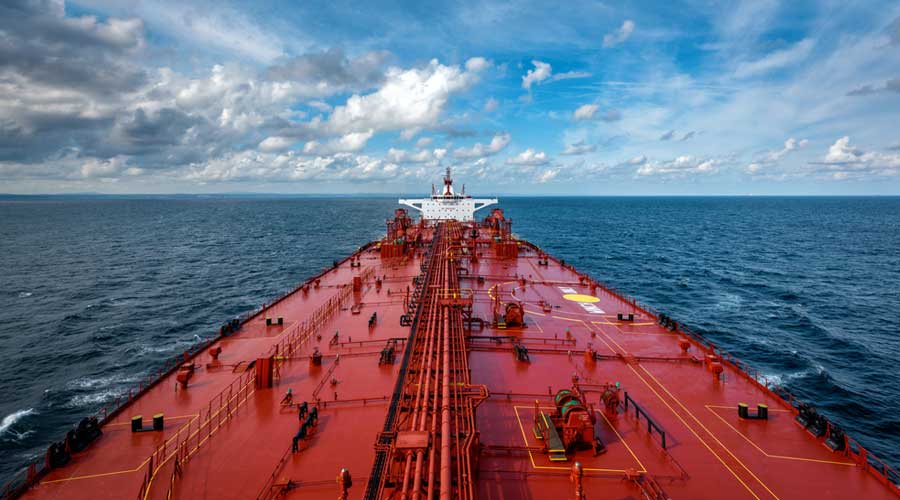 Representational image
Shutterstock
---
Published 03.04.22, 02:55 AM
|
---
A tanker loaded with one million barrels of Russian oil set sail from Murmansk this month, headed for Philadelphia. Then, in the middle of the Atlantic, it did an abrupt U-turn.
The ship, Beijing Spirit, had apparently lost the buyer for its oil. It removed "Philadelphia" as its listed destination, according to the global maritime data provider MarineTraffic, and listed its new destination as "For Orders", which indicates that the oil on board is for sale. 
The tanker then veered back towards Europe before spending several days bouncing round the Mediterranean, "presumably hoping to offload in more 'friendly' territory", said John van Schaik, an oil-industry expert at the energy information company Energy Intelligence.
The meandering journey offers a glimpse into the tumult that has roiled the trade in oil, Russia's most lucrative export, as the US, Canada, Britain and Australia move to ban imports of Russian oil because of Russia's invasion of Ukraine.
Overall, more than 20 tankers that have departed from Russian ports since the invasion — together carrying almost 8.5 million barrels of oil — now list their status as "For Orders" or "Drifting", which indicates a lack of destination, according to the Russian Tanker Tracking Group, an initiative led by the Ukraine government to observe Russian oil sales. Other tankers now list final destinations like "ZZZ."
Van Schaik said it was uncommon to see so many tankers sailing under "for orders" status, and it likely had to do with the US ban on Russian imports combined with self-sanctioning among oil companies. (Tankers sometimes do change destinations or are turned back if there is a mishap at the accepting refinery, for example.)
It's not always possible to know where the oil will end up, he said, but traders could quietly sell it to refiners that cared less about their reputation than about price. 
"Once you put the crude somewhere in a tank on land, it is anonymous," MVan Schail said. "You blend it with some other crude, load it on another tanker and sell it as European Sour Blend and nobody knows its origin was Russia." At the same time, at least seven tankers are still sailing towards the US to offload their shipments before the US ban on Russian oil takes full effect on April 21.
The US imports only a small fraction of its oil from Russia, but nevertheless fuel prices in America have been soaring in part because of the uncertainty over global supplies caused by the invasion. 
Some countries, like India, Singapore and Turkey, have sharply increased their receipts of Russian oil in the weeks since the invasion, according to a separate tally by a Ukraine-led effort to investigate the companies and countries that continue to buy and sell Russian oil and gas. 
New York Times News Service