Sudan's military dissolves civilian government
A general who headed the Sovereign Council, a ruling body that had shared power between the military and civilians, announced a state of emergency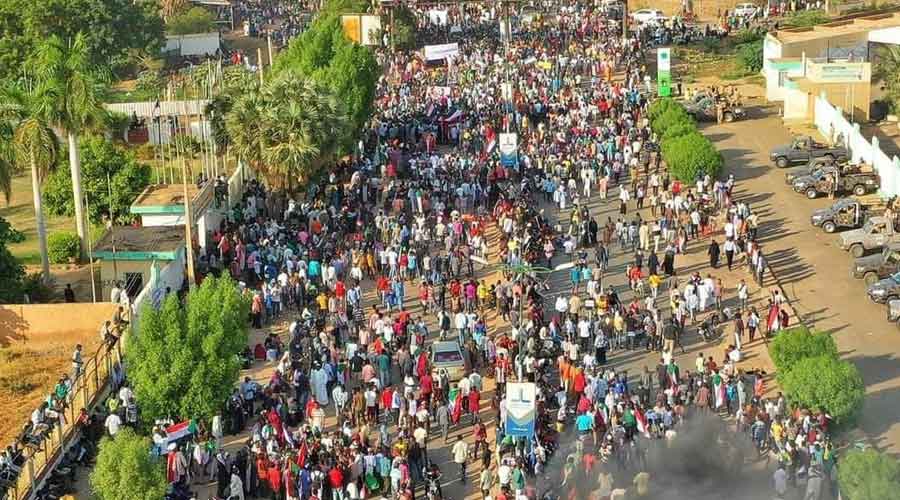 Protests across cities in Sudan.
Twitter
---
Khartoum
|
Published 26.10.21, 03:25 AM
|
---
Soldiers arrested most of the members of Sudan's cabinet on Monday and the military chief dissolved the transitional government, while opponents of the takeover took to the streets where gunfire and injuries were reported.
Abdel Fattah al-Burhan, a general who headed the Sovereign Council, a ruling body that had shared power between the military and civilians, announced a state of emergency. The military needed to protect the country's safety and security, he said, and the council had been dissolved.
"We guarantee the armed forces' commitment to completing the democratic transition until we hand over to a civilian elected government," he added, setting elections for July 2023.
"What the country is going through now is a real threat and danger to the dreams of the youth, and the hopes of the nation to build a nation whose features are starting to emerge."
 Prime Minister Abdalla Hamdok was detained and moved to an undisclosed location after refusing to issue a statement in support of the takeover, said the information ministry, still apparently under the control of Hamdok's supporters.
 The ministry called Burhan's announcement a "military coup" and called for resistance. It said tens of thousands of people opposed to the takeover had taken to the streets and had faced gunfire near the military's headquarters in Khartoum.
 At least 12 people were injured in clashes, a doctors' committee said on its Facebook page, without providing further details.
 In Khartoum's twin city Omdurman, young protesters barricaded streets and chanted in support of civilian rule, though blockages of phone and Internet networks appeared to limit their ability to coordinate large gatherings. "We will defend democracy until the end," said one protester.