Strategic muddle at heart of Trump policy
US President promised to double down on sanctions against Iran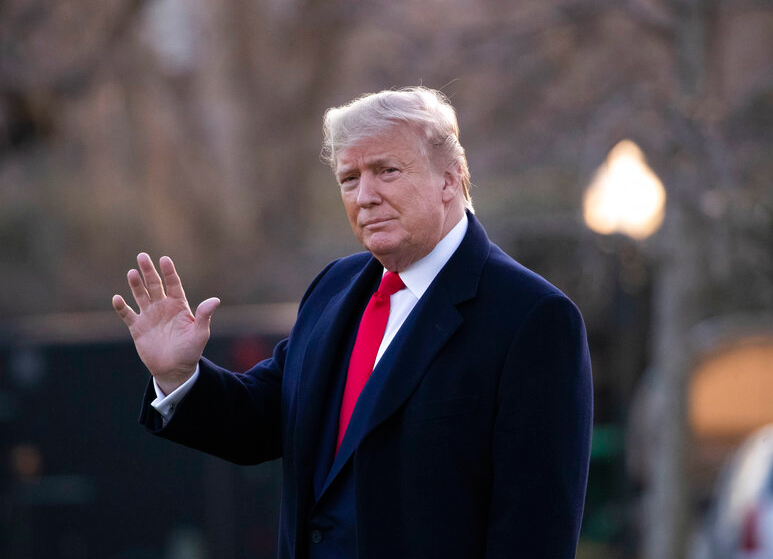 President Donald Trump waves before boarding Marine One on the South Lawn of the White House, Thursday, January 9, 2020, in Washington. Trump is en route to Ohio for a campaign rally.
(AP)
---
New York
|
Published 09.01.20, 10:20 PM
|
---
President Trump opened a small window for diplomacy with Iran on Wednesday, but combined his words with bald threats that made it hard to see how the two countries could break out of their cycle of confrontation and revenge.
The speech was, in many ways, the sound of muddled policy. It showed that after three years in office, Trump has yet to resolve the two conflicting instincts on national security that emerge from his speeches and his Twitter feed: bellicosity and disengagement.
And he included all the other requisite elements of a Trump policy speech on Iran: burning resentment of President Barack Obama, critiques of his predecessor's nuclear deal, dubious factual claims and campaign-year self-congratulation.
Trump did pull back from the brink of war, at least for now. He made clear that he did not plan to respond to the missile attacks on two bases where American troops operate, which seemed calibrated by the Iranians to make a point without creating more human carnage.
But the President also promised to double down on sanctions against Iran, turning again to the economic tool he remained convinced would eventually force the country to choose between ruin and survival. Beyond saying the US "is ready to embrace peace with all who seek it", he presented no path forward for the two adversaries of 40 years.
"It certainly sent mixed messages to Iran," said Karim Sadjadpour, an Iranian-American strategist at the Carnegie Endowment for International Peace.
Sadjadpour called the speech "initially triumphant" as Trump celebrated his order to kill the most famous military leader in Iran, a man responsible for the deaths of hundreds of American troops. "It was then dismissive towards Iran," he said, "and then there was an almost throwaway line at the end about what a bright future the Iranians have if they only reshape themselves as the US demands."
The risk now is that the uneasy halt after Iran fired 16 missiles early on Wednesday at American forces in Iraq will prove temporary.
History is filled with examples where missed signals led countries down a path to conflict profoundly not in their interests, notably the cascade of events that led to World War I.
Rarer are the examples where a quiet accommodation of each other's national interests prevailed, as they did when President John F. Kennedy secretly traded Soviet missiles in Cuba for American missiles in Turkey in 1962.
Unlike the Soviets, Iran cannot reach American shores with its arsenal. But the mere fear in the West that Iran could seek revenge by pushing ahead with a nuclear weapon remains its greatest leverage. There was an uneasy sense in the Pentagon on Wednesday that while Iran may not shoot more missiles from its own territory, it will almost certainly return to its specialties of shadow wars.
Sadjadpour called the speech "strategically incoherent". But that can be said about much of Trump's West Asia policy in the past few months.