Saudi Arabia seeks death for Khashoggi killers
The case has caused widespread international outrage and the largest foreign relations crisis for the kingdom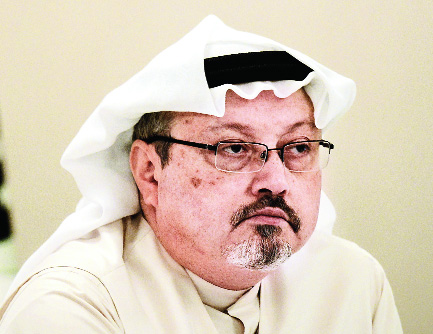 Jamal Khashoggi
Telegraph file picture
---
Beirut
|
Published 16.11.18, 06:41 AM
|
---
Saudi Arabia's public prosecutor said on Thursday that he was requesting the death penalty for five persons suspected of involvement in the killing of the Saudi dissident Jamal Khashoggi at the country's consulate in Istanbul.
Speaking to reporters in the Saudi capital, Riyadh, a spokesman for the public prosecutor said that the 15-man team sent to confront Khashoggi had orders to return him to the kingdom, but instead made a decision on the spot to kill him after he resisted.
The statement was the kingdom's latest effort to explain the killing on October 2 of Khashoggi, a Virginia resident who wrote columns for The Washington Post that were critical of some Saudi policies.
The case has caused widespread international outrage and the largest foreign relations crisis for the kingdom since the terrorist attacks of September 11, 2001.
The statement on Thursday sought to reinforce previous Saudi claims that the team in Riyadh had acted without the consent of the kingdom's top leadership, meaning King Salman and his son Crown Prince Mohammed bin Salman.
Several current and former officials from Turkey, the US and elsewhere have said that such a complex and risky operation could not have been conducted without the knowledge of Mohammed bin Salman, although no evidence linking him directly to the crime has been made public.
Turkish officials have said that Khashoggi was killed in a premeditated assassination carried out by the Saudi team, whose members flew to Turkey to do the job.
The team, the Turks say, strangled Khashoggi soon after he entered the consulate, where he was hoping to obtain the documents he needed to marry his Turkish fiancée, and then dismembered him.
Turkey has also released names, photographs and videos of the team in Istanbul, including images of one man who was wearing Khashoggi's clothes after the killing and was tracked walking around Istanbul in an effort to leave a fake surveillance trail.
The Saudi spokesman said he could not identify any of the suspects because the investigation is ongoing.
Khashoggi's body has not been found. Turkish officials have speculated that the Saudi agents dissolved it in acid; on Thursday, the Saudi spokesman repeated his government's claim it had been given to a Turkish collaborator who then disposed of it.
Saudi Arabia's story of what happened to Khashoggi changed repeatedly after his disappearance was first reported.
US sanctions
The Trump administration announced sanctions on Thursday against 17 Saudis accused of involvement in the killing of Jamal Khashoggi.
The Trump administration is hoping to forestall congressional proposals to restrict arms sales to or military operations with Riyadh.
"The Saudi officials we are sanctioning were involved in the abhorrent killing of Jamal Khashoggi," said treasury secretary Steven Mnuchin.
He added: "The United States continues to diligently work to ascertain all of the facts and will hold accountable each of those we find responsible in order to achieve justice for Khashoggi's fiancée, children, and the family he leaves behind."