Rushdie on way to becoming a grandfather
He's really over the moon and couldn't be happier for us: Zafar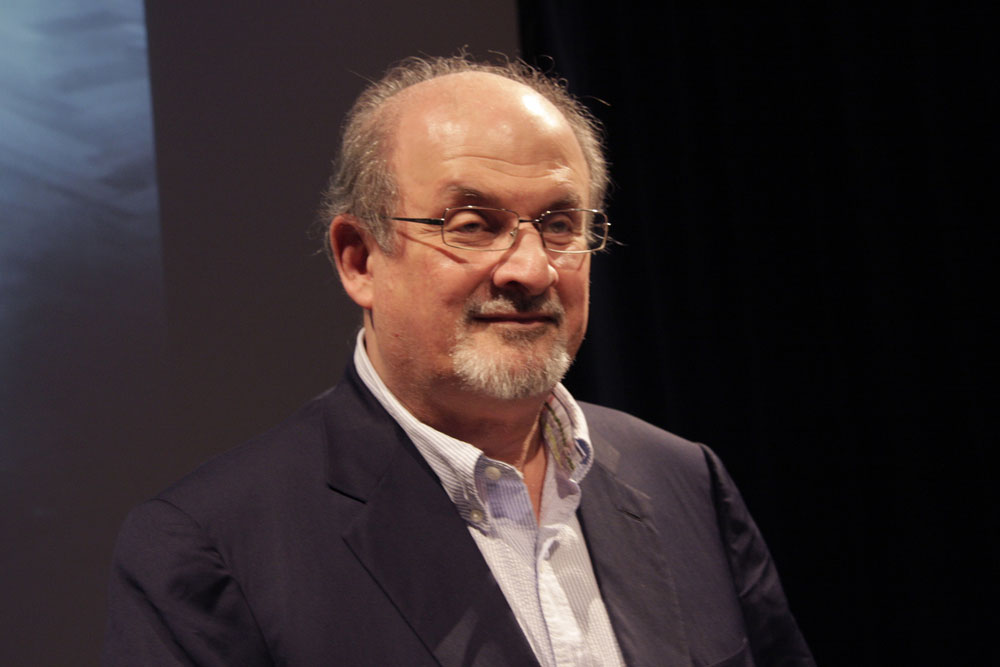 ---
|
London
|
Published 19.05.20, 08:01 PM
---
More than 30 years after Iran's Ayatollah Khomeini issued a fatwa against Salman Rushdie for alleged blasphemy in writing The Satanic Verses, the author, now 72, is alive and about to become a grandfather for the first time.
Whether being able to play with his grandchild will mellow the man remains to be seen but Zafar, Rushdie's 40-year-old elder son, reports: "He's really over the moon and couldn't be happier for us — and so are we."
Zafar, who married Natalie, 33, a jazz singer, in an "extravagant, fairy-tale ceremony" in New York in June 2016, adds: "It's super exciting."
Hello! in the UK has revealed that Natalie and Zafar "are expecting their first child together — a daughter, due in October".
According to the magazine, Zafar and Natalie "both hope to rope Salman in to help with homework when the time comes".
"He just knows everything about everything so I really think, hopefully, he can give all of his knowledge to our child," says Natalie, who describes her father-in-law as "the best in the world".
The couple have kept their pregnancy news in their closest circle until now.
"Well, we haven't seen anyone to tell them face to face!" says the father-to-be.
Since their first scan, which took place just before the social distancing measures came into play, Zafar has been unable to accompany Natalie to her hospital appointments.
"She's either Facetimed me in for a live 'broadcast' of the scan or videos it to show me afterwards," Zafar explains — though he is hopeful that things may have changed in time for the birth. "Five months is a long time. The world has changed a lot in the last two months so… hopefully, things will be better than they are now. I would feel really, really disappointed not to be there."
Natalie, who suffered from morning sickness from day one and lost a stone in weight, says: "Movies depict this idea that pregnancy is all wonderful and glowing but really, it's hard work… but throughout this pregnancy Zaf has been so calm and reassuring."
They are thrilled to be expecting a girl, who can inherit Natalie's wardrobe which encompasses an array of more than 150 dresses by designers including Dior, Prada, Stella McCartney, Vivienne Westwood and Marchesa, it is disclosed by Hello!
"Natalie has a big wardrobe of big dresses, so if we didn't have a girl we'd be keeping having kids until there was a girl to take on the dress collection. So it takes a bit of pressure off!" jokes Zafar.
In the early years of the fatwa, Rushdie lived in a twilight world, moving from one secret location to another, always guarded by armed British police.
Over the decades, he has not been exactly reticent about getting into all manners of rows with everyone from the Muslim Council of Britain, which was set up to demand withdrawal of The Satanic Verses to self-appointed Islamic "community leaders", politicians and fellow authors.
Rushdie, who was born in Bombay and came to England as a small boy to attend Rugby School, has had more of a normal life since departing London for New York some 20 years ago. He was knighted by the Queen in 2007.
His personal life, which includes four marriages, has been as complicated as Boris Johnson's. Zafar, born in 1979, is his son from his first wife, Clarissa Luard, a literature officer to whom he was married from 1976 to 1987. She died of cancer, aged 50, in 1999.
Marianne Wiggins, an American novelist, was his second wife from 1988 to 1993, and was with him in London when Khomeini issued his notorious fatwa.
His younger son, Milan, was born in 1997, when he was married to Elizabeth West, with whom he co-edited The Vintage Book Of Indian Writing 1947 – 1997.
His fourth marriage, from 2004-2007, was to the Indian-American model and cooker writer Padma Lakshmi, who gave him the most trouble. She hit back at her ex-husband, with Love, Loss, and What We Ate: A Memoir after he had at one point apparently called her "a bad investment" and was also allegedly insensitive to her various medical conditions.
Rushdie once wrote: "When you have children, your perspective on the parent-child relationship alters. I tried to give my son a childhood (during the fatwa) and I think his mother and I succeeded, as he managed to come out relatively unscathed.
"Love is all there is. The biggest thing in my life is my children. These are the relationships that matter. Even though their mothers and I separated, we always remained very close.
"I wanted Zafar to read my memoir as I wanted him to feel OK about the way his mother was portrayed. He found out a lot he didn't know: how we met, what our lives were like before he showed up."