Russians raped women, left Ukraine in ruins: Volodymyr Zelensky
In his speech, the Ukrainian President said the UN Security Council was useless if it could not find a way to hold the perpetrators to account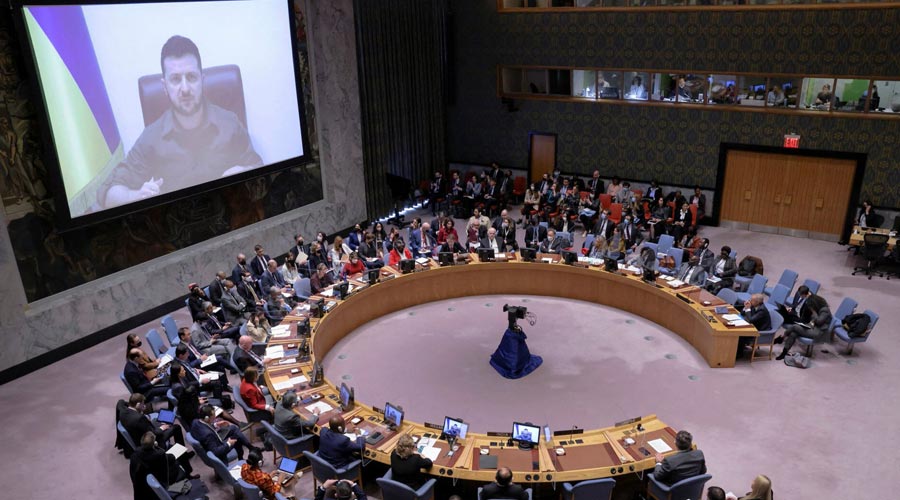 Ukrainian President Volodymyr Zelensky addresses the UN Security Council via video link in New York on Tuesday.
Twitter / @nytimes
---
Published 06.04.22, 01:05 AM
|
---
Raging at Russia over growing evidence of atrocities, President Volodymyr Zelensky of Ukraine on Tuesday delivered one of his most forceful denunciations of the invasion in a live video speech to the UN Security Council, calling the Russians war criminals who he said had killed families, raped women in front of their children, pillaged homes and left his country in ruins, "filled with mass graves".
In his speech — a day after touring Bucha, a suburb of Kyiv, the capital, where images have surfaced of many bodies of civilians Zelensky said were killed by retreating Russian troops — the Ukrainian President said the Security Council was useless if it could not find a way to hold the perpetrators to account.
"There is not a single crime that they would not commit there," Zelensky said of the departed Russian troops.
"Now the world can see what the Russian military did in Bucha, but the world has yet to see what it has done in other parts of our country," Zelensky said.
"Where is the security that the Security Council needs to guarantee?" he asked. "It's not there."
The Kremlin has denied any responsibility for the civilian atrocities in Bucha or elsewhere in Ukraine and has said the photographs and visual evidence of execution-style killings in the northern suburbs are fabrications.
An analysis of satellite images by The New York Times rebuts claims by Russia that the killing of civilians in Bucha occurred after its soldiers had left the town.
"They purposely killed anyone," Zelensky said. "They killed entire families, adults and children, and they tried to burn the bodies." Some victims in Bucha were "shot and killed in the back of their heads", he said, while "some were shot on the street, others thrown into wells".
It was Zelensky's first speech to the Security Council since the invasion more than a month ago, and he showed no sign of wishing to negotiate with Russia. Rather, he described the UN as a powerless and outdated organisation that needed to purge Russia of the veto power it wields on the council.
Zelensky showed a short video of burned, bloodied and mutilated bodies, including children, in Irpin, Dymerka, Mariupol and Bucha.
Russia's UN ambassador Vassily Nebenzia then told the Security Council that Russian troops are not targeting civilians, dismissing accusations of abuse as lies.
"We are dealing with a state that turns its veto at the UN Security Council into the right to (cause) death," Zelensky said in a live video address from Kyiv. "Russia wants to turn Ukraine into silent slaves." Russia says it is carrying out a "special military operation" that aims to destroy Ukraine's military infrastructure and "denazify" it. 
New York Times News Service and Reuters