No breakthrough in Round One of talks
Ukraine: Putin's invaders accused of bombarding residential districts
Moscow's forces meet stiff resistance from Ukrainians on fifth day of conflict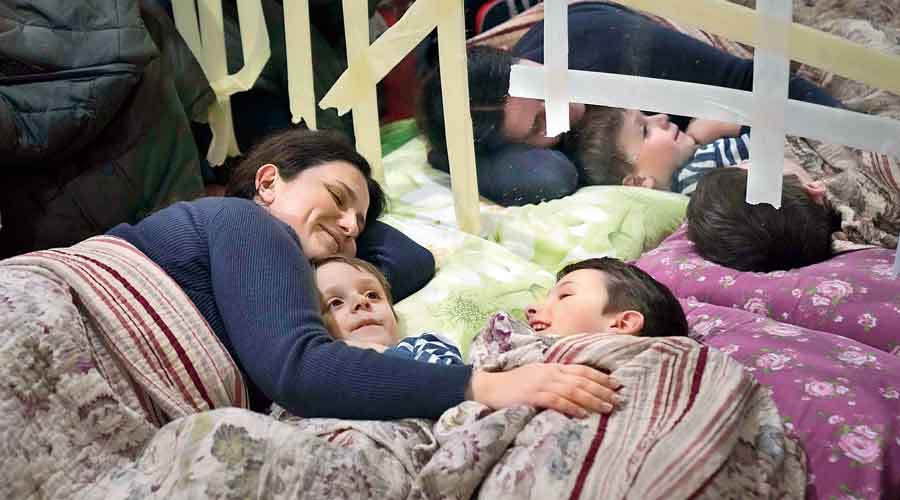 A Ukranian and her children lie on the floor at an improvised bomb shelter in a sports centre in Mariupol on Sunday.
AP/PTI
---
Published 01.03.22, 02:30 AM
|
---
Russian artillery bombarded residential districts of Ukraine's second-largest city Kharkiv on Monday, killing several people, Ukrainian officials said, as Moscow's invading forces met stiff resistance from Ukrainians on a fifth day of conflict.
The attacks took place while Russian and Ukrainian officials met on the Belarusian border to discuss a ceasefire. The first round of talks ended with no breakthrough.
Ukraine had said it wanted to secure an immediate ceasefire and the withdrawal of Russian forces. The Kremlin declined to comment on Moscow's goals. Officials are heading back to their respective capitals for further consultations before a second round of negotiations.
Russia faced deepening isolation and economic turmoil as western nations, united in condemnation of its assault, hit it with an array of sanctions that rippled around the world. Global shares slid and oil prices jumped.
But Russian President Vladimir Putin showed no sign he was reconsidering the invasion.
The bombardment of a residential area of Kharkiv in Ukraine's northeast five days after Russia's invasion began signalled a possible intensification of the conflict.
Regional administration chief Oleg Synegubov said at least 11 people had been killed.  "This is happening in the daytime, when people have gone out to the pharmacy, for groceries, or for drinking water. It's a crime," he said.
Russian forces seized two small cities in southeastern Ukraine, the Interfax news agency said.
Slow advance
British and Ukraine defence sources have listed a few reasons for the failure of the Russians to make early gains.
⚫ Although Ukraine's army is tiny compared
with Russia's —  with 196,600 troops against 900,000 — it is a military truism that it requires three or four attacking units to defeat one defending unit.
⚫ Kevin Price, a former major, said Putin was throwing "very green" soldiers up against Ukrainian forces.
⚫ The army source said tanks appeared to be driving into villages unsupported — without armoured vehicles and foot soldiers — making them vulnerable. The Russians have drawn white battle group markings, including the letters "Z" and "V" on armour, making them easier to identify.
⚫ Ukrainian military sources said several Russian units had run out of fuel and Russian troops were begging residents for food in some places.
But…
⚫ Justin Crump, a military veteran, noted that Russia's high-quality and professional lead armoured elements had actually advanced a long way. He said their advance on Day One was 72km. He underlined that they had not deployed artillery en masse yet — which was their greatest combat advantage.
Crump said he believed that Russia had envisaged the whole operation taking about 21 days — and it was only Day Four (when he spoke on Sunday).