Ukraine conflict to slow down India's defence equipment supplies
A ministry official said Russia was the largest supplier of military hardware aimed at modernising the country's armed forces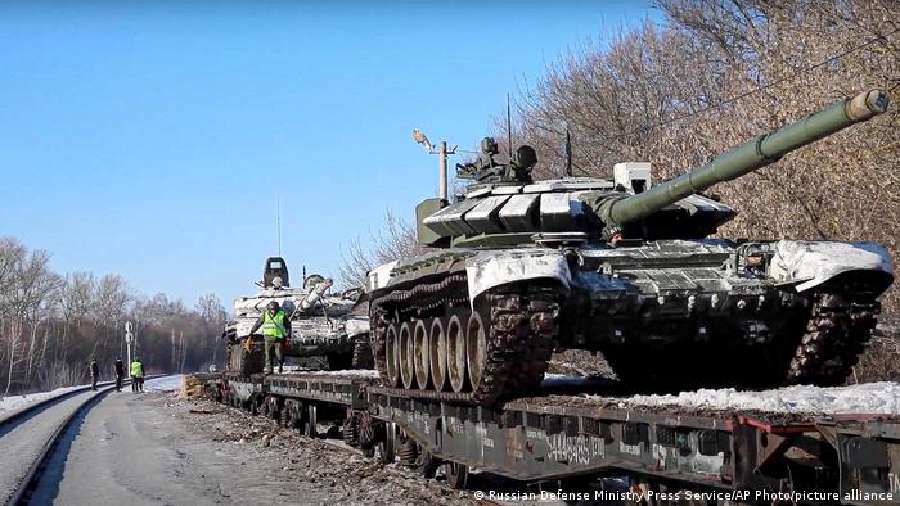 India had last year signed or negotiated with Russia defence deals worth over Rs 1.09 lakh crore.
File photo
---
New Delhi
|
Published 01.03.22, 02:01 AM
|
---
The military conflict in Ukraine and the economic sanctions on Moscow are likely to slow down India's defence equipment supplies, defence ministry sources said on Monday.
"There's growing apprehension that the Russia-Ukraine military conflict could delay the procurement of weapons systems, including the delivery of the Russian-developed S-400 air defence missile systems," a ministry official said.
He said Russia was the largest supplier to India of military hardware aimed at modernising the country's armed forces.
"India has several defence deals with Russia and more are under negotiation. The Ukraine conflict and economic sanctions will make it difficult for Russia to continue its large military supplies to India for now," the official said.
India had last year signed or negotiated with Russia defence deals worth over Rs 1.09 lakh crore.
India is the world's second-largest arms importer after Saudi Arabia, with Russia accounting for 49 per cent of its defence imports during 2016-2020. An estimated 65 per cent of India's military hardware is of Russian or Soviet origin.
Apart from the S-400 air defence missile systems, the procurement of nuclear submarines, light tanks, Su-30 fighter jets, MiG-29s and light utility helicopters from Moscow could be hit. So could be the joint manufacturing of AK-203 rifles, defence ministry sources said.
"We have already received delivery of the first S-400 missile system, but four more are awaited," another defence official said.
The S-400 surface-to-air missiles, he said, would strengthen India's defences along the China and Pakistan borders with their ability to destroy incoming hostile aircraft, missiles and even drones at ranges of up to 400km.
Last December, the Modi government had approved the joint production of over 5 lakh AK-203 assault rifles in a Rs 5,000-crore deal. These rifles will replace the in-service Insas rifles inducted more than three decades ago.
Among the key defence deals with Russia is the leasing of nuclear-powered attack submarines. A Rs 22,000-crore deal was signed in 2019 to lease one Akula-class nuclear-powered attack submarine that is scheduled to arrive by 2025. The two countries are working towards the lease of another nuclear submarine.
The other defence deals with Russia likely to be hit include the procurement of 460 tanks and the manufacture of BrahMos anti-ship missile systems, made jointly by India's Defence Research and Development Organisation and Russia's NPO Mashinostroyeniya.
The Philippines had last month signed a Rs $375-million deal with BrahMos Aerospace Pvt Ltd for the supply of the supersonic anti-ship missile system - India's first significant defence export.
Sources in the security establishment said they were also concerned at the growing bonhomie between Moscow and Beijing at a time the Indian and Chinese armies are locked in a border standoff in eastern Ladakh.
"China is being seen as a partner of Russia. We are watching the developments," a security official attached to the Union home ministry said.