'Sputnik V' claim before key Phase 3 trial
Russia grants regulatory approval to Covid vaccine
Putin said one of his daughters had taken it as a volunteer and felt good afterwards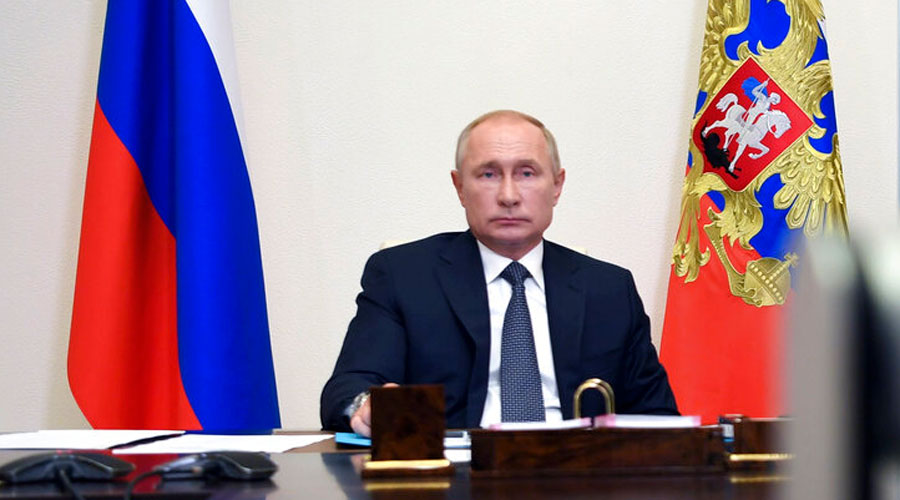 ---
|
Moscow
|
Published 12.08.20, 04:50 AM
---
President Vladimir Putin said on Tuesday that Russia had become the first country to grant regulatory approval to a Covid-19 vaccine after less than two months of human testing, a move Moscow likened to its success in the Cold War-era space race.
The vaccine, which will be called Sputnik V in homage to the world's first satellite launched by the Soviet Union, has however not yet completed its final trials.
The approval by the Russian health ministry comes before the start of a larger trial involving thousands of participants, commonly known as Phase 3 trial.
The World Health Organisation (WHO) has not received enough information on the Russian Covid-19 vaccine to evaluate it, Jarbas Barbosa, the assistant director of its regional branch, the Pan American Health Organisation, said on Tuesday.
The Russian dash for a vaccine has already raised international concerns that Moscow is cutting corners on testing to score political and propaganda points.
Putin said one of his daughters had taken it as a volunteer and felt good afterwards. "I know that it works quite effectively, forms strong immunity, and I repeat, it has passed all the necessary checks," Putin told a cabinet meeting.
The Russian business conglomerate Sistema has said it expects to put the two-dose vaccine into mass production by the end of the year. Mass roll-out in Russia is expected to start in October.
Vaccines generally go through three stages of human testing before being approved for widespread use. The first two phases test the vaccine on relatively small groups of people to see if it causes harm and if it stimulates the immune system. The last phase, known as Phase 3, compares the vaccine to a placebo in thousands of people.
This final phase is the only way to know with statistical certainty whether a vaccine prevents an infection. And because it's testing a much larger group of people, the Phase 3 trial can also pick up more subtle side effects of a vaccine that earlier trials could not.
The Russian scientific body that developed the vaccine, the Gamaleya Institute, has yet to conduct Phase 3 tests on tens of thousands of volunteers in highly controlled trials, a process seen as the only method of ensuring a vaccine is actually safe and effective.
WHO maintains a comprehensive list of worldwide vaccine trials. In the latest version of the list, there is no Russian Phase 3 trial.
Scientists familiar with India's homegrown research efforts say the results of the Phase 1 and Phase 2 safety trials of vaccine candidates could emerge within six to eight weeks. If they are encouraging, the candidates would go into Phase 3 trials.
Putin's announcement came despite a caution last week from WHO that Russia should not stray from the usual methods of testing a vaccine for safety and effectiveness.
The Russian vaccine uses two strains of adenovirus that typically cause mild colds in humans. They are genetically modified to cause infected cells to make proteins from the spike of the new coronavirus.
The approach is similar to a vaccine developed by Oxford University and AstraZeneca that has shown promise in early testing and is now undergoing Phase 3 tests in Britain, Brazil and South Africa.
Moscow's decision to grant approval before then has raised concerns among some experts. Only about 10 per cent of clinical trials are successful and some scientists fear Moscow may be putting national prestige before safety.
The Moscow-based Association of Clinical Trials Organisations (ACTO), a trade body representing the world's top drugmakers in Russia, this week urged the ministry to postpone approval until that final trial had been successfully completed.
US health secretary Alex Azar, asked about Russia's announcement, said: "The point is not to be first with a vaccine. The point is to have a vaccine that is safe and effective."