Robert Durst, business tycoon suspected of killing friend for decades, found guilty
78-year-old convicted of first-degree murder and faces a life sentence with no option for parole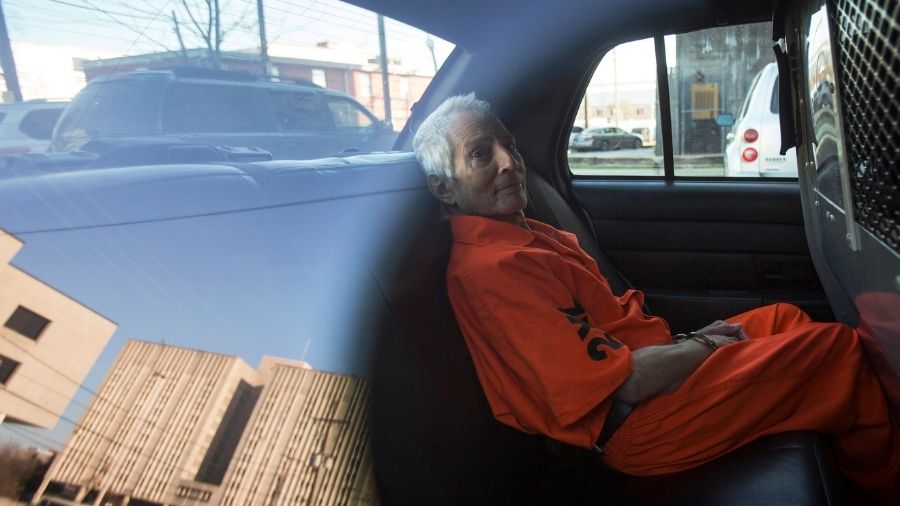 ---
Los Angeles
|
Published 18.09.21, 02:48 PM
|
---
Robert Durst, the enigmatic real estate scion who evaded criminal suspicion for half his life only to become a national sensation after damaging admissions were aired in a 2015 documentary on HBO, was convicted Friday in the execution-style murder of a close confidant more than 20 years ago.
The verdict, which came after about 7 1/2 hours of deliberations, was the latest act in a case that spanned almost four decades. It began in the wealthy precincts of New York with the mysterious disappearance of Durst's first wife, Kathie, in 1982 and concluded with his conviction for the 2000 killing of Susan Berman, a friend who prosecutors said helped him cover up his wife's disappearance and death.
Durst, a frail 78-year-old millionaire who sat through the trial in a wheelchair, was convicted of first-degree murder and faces a life sentence with no option for parole. A judge is scheduled to sentence him in October.
The jury also found that special circumstances had been proven in connection to the death of Berman, determining that Durst had been "lying in wait" for her and that he had been "killing a witness" because he feared she would reveal what she knew about the disappearance of his wife.
The trial was remarkable on many levels. It began in March 2020 but adjourned days later for 14 months because of the coronavirus pandemic. When it resumed in May, the jurors were spread across the gallery while the prosecutors sat in the jury box. Everyone, including the judge and witnesses, wore masks as precautions against COVID-19.
Durst was not present in the courtroom when the jury returned its verdict; he was in isolation, officials said, after an exposure to someone who tested positive for the coronavirus.
After the verdict was announced, David Chesnoff and Dick DeGuerin, defense lawyers for Durst, said they were disappointed in it. They said they intended to pursue appeals. The defense depicted Durst as a hapless, socially awkward man who "doesn't make good decisions," and ended up in the wrong place at the wrong time and ran — twice. He is the victim of ambitious prosecutors and deceptive filmmakers, the defense said.
Ultimately, the prosecution called 80 witnesses and introduced nearly 300 exhibits. But the most damaging evidence came, as a deputy Los Angeles County district attorney, John Lewin, said in his opening statements, right out of Durst's own mouth. The jury heard Durst make a series of acknowledgments in a nearly three-hour interview with Lewin right after his arrest in 2015, in hundreds of jailhouse phone calls and in more than 20 hours of interviews with the producers of the documentary "The Jinx: The Life and Deaths of Robert Durst."
Durst, whose family owns many iconic buildings in Manhattan, has lived a life with enough titillating elements that they could fill a dozen true-crime shows, including a Mafia princess, a missing young wife, the death and dismemberment of a drifter, celebrities such as Laraine Newman and Steve Rubell, and decades of family betrayal.
Although Durst was charged only with killing Berman, the prosecution contended that her death was connected to the mysterious disappearance of Durst's first wife and the killing of the drifter, whom he had befriended in 2001. Durst was acquitted in 2003 of killing the drifter, Morris Black, who lived across the hall from him in a rooming house in Galveston, Texas, where Durst was hiding from authorities and living as a mute woman.
Durst has never been charged in connection with his wife's disappearance despite investigations by the New York Police Department, the State Police and the Westchester County district attorney's office. His lawyers have emphasized that there was no weapon, fingerprints or fibers connecting him to her disappearance and death.
On Friday, after the verdict was announced, the family of Durst's wife issued a statement calling on prosecutors to pursue a case in her death as well. "Although Durst has now been rightly convicted of killing Susan Berman, who helped him conceal the truth about Kathie's death, the McCormack family is still waiting for justice," the statement said. "Kathie is still waiting for justice."
Kathie McCormack had married Durst in 1973 after a whirlwind romance.
But the relationship had descended into arguments, pushing and shoving, Durst acknowledged in interviews with filmmakers. Amid escalating violence in the marriage, Kathie McCormack Durst suddenly vanished Jan. 31, 1982.
Berman, a journalist, acted as Durst's media liaison during the ensuing tabloid frenzy. Prosecutors said he had confided in Berman, who helped him evade the authorities. It was Berman, prosecutors said, who made a critical phone call while posing as Durst's wife that made it appear that she was still alive and steered detectives away from the actual crime scene.