Liz Truss says 'you have my full support'
Rishi Sunak set to become United Kingdom Prime Minister
42-year-old to be first 'person of colour' to hold the top job in British politics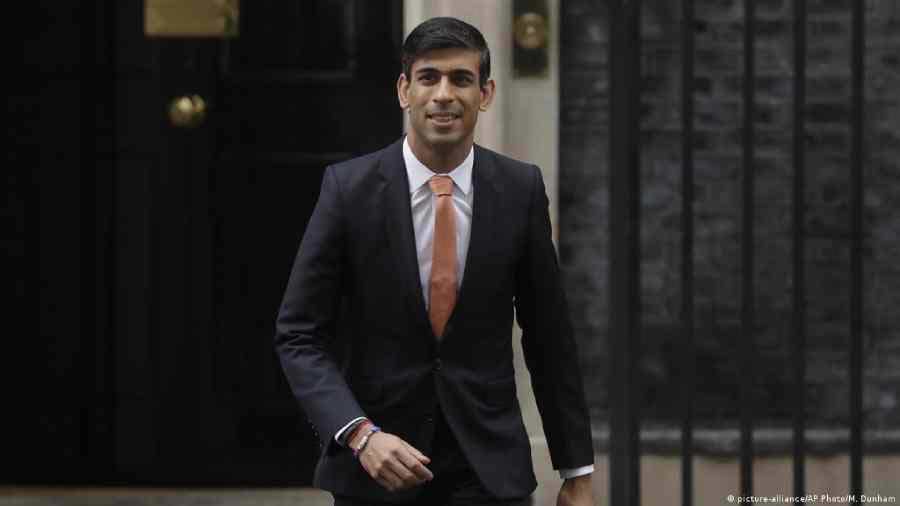 ---
London
|
Published 25.10.22, 02:45 AM
|
---
Rishi Sunak, whose grandparents hailed from British India, on Monday became the new leader of the Conservative Party and Britain's Prime Minister-in-waiting.
The diaspora opinion in the UK was reflected by Lord Rami Ranger, a Tory peer whose family, like that of Rishi, originated from Gujranwala in pre-partition Punjab: "We did it."
After Boris Johnson pulled out of the leadership contest at 9pm on Sunday and Penny Mordaunt just before 2pm on Monday, it was left to Graham Brady, chairman of the 1922 back bench committee, to make the briefest of announcements: "As returning officer in the leadership election, I can confirm that we received one valid nomination and Rishi Sunak is, therefore, elected as leader of the Conservative Party."
Since Rishi was the only candidate, a ballot of Conservative Party members is not required. So, he becomes Prime Minister through a "coronation". Rishi will be the country's 57th Prime Minister and the youngest since 1812. He will also be the first "person of colour" to hold the top job in British politics.
The significance of the moment was captured by the former Tory chancellor George Osborne: "Whatever your politics, let's all celebrate the first British Asian becoming PM and be proud of our country where this can happen."
The formalities require Liz Truss to submit her resignation to King Charles, who was on his way to Buckingham Palace from his Sandringham estate in Norfolk on Monday, after which the monarch would invite Rishi to form a government. That is not expected to happen until Tuesday.
Truss, who was the winner in September, was dignified in offering her congratulations to Rishi and stating: "You have my full support."
Mordaunt, who was unable to get the backing of 100 MPs, also said: "Rishi has my full support. I am proud of the campaign we ran and grateful to all those, across all sides of our party, who gave me their backing. We all owe it to the country, to each other and to Rishi to unite and work together for the good of the nation. There is much work to be done."
Rishi addressed a gathering of Tory MPs in a closed committee room but the loud banging on tables signalled their applause for their new leader.
The battle turned Rishi's way with Boris's dramatic withdrawal on Sunday night.
"I believe I am well placed to deliver a Conservative victory in 2024 — and tonight I can confirm that I have cleared the very high hurdle of 102 nominations, including a proposer and a seconder, and I could put my nomination in tomorrow," said Boris, who was hoping to make a comeback.
But he added: "In the course of the last days, I have sadly come to the conclusion that this would simply not be the right thing to do. You can't govern effectively unless you have a united party in Parliament…. I believe I have much to offer but I am afraid that this is simply not the right time."
Although there was scepticism that Boris had reached the 100-mark needed to go on the ballot, Rishi responded: "Boris Johnson delivered Brexit and the great vaccine rollout. He led our country through some of the toughest challenges we have ever faced, and then took on Putin and his barbaric war in Ukraine. We will always be grateful to him for that."
Rishi was received by enthusiastic cheers and hugs when he arrived at the Conservative Party headquarters.
Rishi, who faces horrendous economic challenges, said he was "humbled and honoured" to have the support of his fellow MPs and be elected leader.
"It is the greatest privilege of my life to be able to serve the party I love and give back to the country I owe so much to," he said.
As he left with a wave, there were shouts from the crowd: "Happy Diwali."