Not born to privilege, insists Rishi Sunak
The 42-year-old is one of the youngest Prime Ministers Britain has had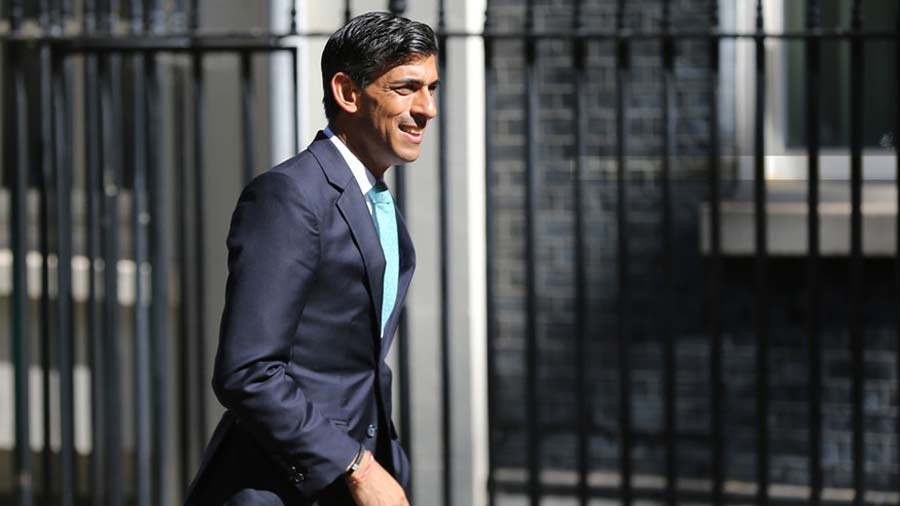 ---
London
|
Published 25.10.22, 02:00 AM
|
---
As Rishi Sunak and his wife Akshata Murthy move into 10 Downing Street, with their teenage daughters Krishna and Anoushka, they will have to put up with close scrutiny of their wealth and lifestyles. Rishi is 42 and one of the youngest Prime Ministers Britain has had. He has only been in parliament since 2015 when he was elected Tory MP for Richmond in Yorkshire, which was the constituency previously represented by William Hague, the former Conservative leader.
During the contest with Liz Truss, his detractors focused on Rishi's £3,500 bespoke suits and the £500 Prada loafers he wore to a building site. On Monday, as it appeared he was about to win, the Daily Mail turned its attention to his wife who has been targeted in the past for her non-dom tax status.
It summed up: "Billionaire heiress set to be Downing Street's next 'First Lady'." It pointed out: "10 Downing Street has been home to many prime ministers and their partners — but the couple moving in at the end of this week, Rishi Sunak and Akshata Murthy, are set to be the wealthiest SW1A has ever seen. But billionaire heiress Akshata, 42, is said to be wealthier than the King due to her £430 million stake in her father's IT empire.
"The billionaire heiress is the daughter of Indian IT mogul Narayana Murthy who owns Bangalore-based Infosys. Together, the Sunaks have a combined fortune of £730 million, the Sunday Times Rich List revealed in May." In an interview with The Times in August, as he languished behind Truss in the first Tory leadership contest, Rishi gave voters an insight into his marriage.
He told the newspaper: "My family all drink, my wife definitely drinks. It massively irritates her that I don't." Rishi added there are several other ways in which the couple are like chalk and cheese — with housekeeping being their biggest difference. "I'm incredibly tidy, she's very messy," he said. "I'm much more organised, she is more spontaneous... she is not going to love me for saying this but I'll be honest with you, she is not big on the whole tidying thing. She is a total nightmare, clothes everywhere... and shoes... oh God, shoes." There have been many comments about the homes they own.
According to the Mail, "the couple now live in a £7 million townhouse in Kensington with their daughters, which is just one of several properties they own. As well as the townhouse, they also enjoy a £1million flat in Kensington and a £2 million mansion in Rishi's Yorkshire constituency, where he is nicknamed the 'Maharajah of the Dales'. They also have a £5.5 million penthouse in California, overlooking Santa Monica pier, which they use in the holidays."
Rishi was born in Southampton General Hospital on May 12, 1980. His father, Yashvir Sunak, was born in Kenya, and his mother Usha in Tanganyika. Rishi's grandparents were born in Gujranwala, Punjab province in Pakistan, and migrated from East Africa to Britain in the 1960s.
In Southampton, his mother ran a pharmacy where Rishi helped out during the holidays. His father was a GP. The family moved to a six-bedroom house after the birth of Rishi's brother Sanjay and sister Raakhi.
Sunak attended the Southampton prep school Oakmount until it closed in 1989. He then attended Stroud School in Romsey. Rishi then became a boarder and eventually head boy at Winchester College in Hampshire, where the fees for 2022-23 are £45,936 a year.
At Oxford, he took a First in PPE (philosophy, politics and economics), before going on to receive a Master's in business administration at Stanford University where he met Akshata.
The couple married in Bangalore in 2009 and lived in India before Rishi returned to the UK in 2013.
He has said he was not born to privilege. "My parents sacrificed a great deal so I could attend good schools. I was lucky to study at Winchester College, Oxford University, and Stanford University. That experience changed my life and as a result, I am passionate about ensuring everybody has access to a great education.
"I grew up watching my parents serve our local community with dedication. My dad was an NHS family GP and my mum ran her own local chemist shop. I wanted to make that same positive difference to people as their Member of Parliament and I was first elected to represent this wonderful constituency in 2015 and re-elected in 2017 and 2019.
"In July 2019 I was appointed Chief Secretary to the Treasury, having entered Government service as the Minister for Local Government in January 2018. In February 2020, I had the honour to be appointed Chancellor of the Exchequer, a position I had the privilege to hold until July 2022."