Rishi Sunak fined £100 for not wearing seatbelt
Prime Minister fully accepts this was a mistake and has apologised, says spokesperson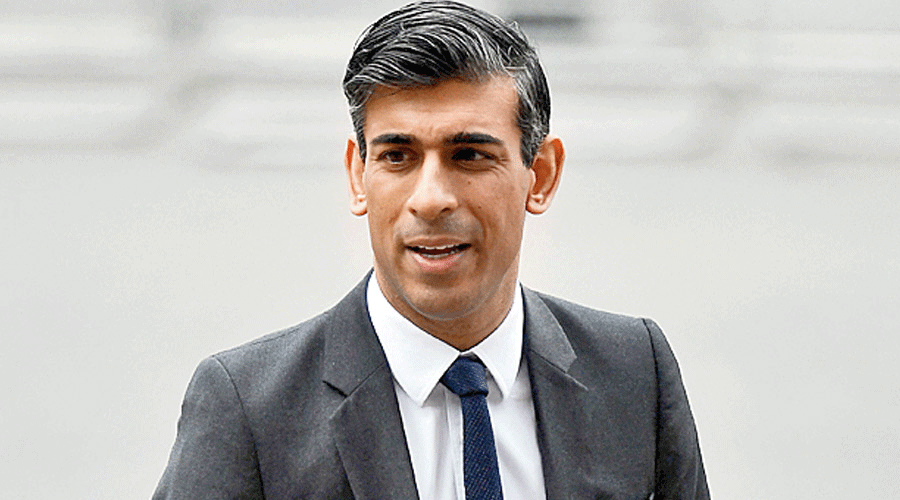 Prime Minister Rishi Sunak.
File picture
---
London
|
Published 22.01.23, 12:11 AM
|
---
British police want to show no one is above the law and have fined Prime Minister Rishi Sunak £100 for not wearing a seatbelt while filming a promotional video in a moving car.
He issued a mea culpa and has paid up.
A No 10 spokesperson said: "The Prime Minister fully accepts this was a mistake and has apologised. He will of course comply with the fixed penalty."
Wearing a seat belt is a legal requirement for all drivers and passengers. Fixed penalty notices for seat belt offences are usually £100, but they can rise to £500 if taken to court.
The Prime Minister was in Lancashire when the video was filmed, during a trip across the north of England. The video to promote the government's latest round of "levelling up" spending was posted on Rishi's Instagram account. It has since been removed.
It is the second time Rishi has received a fixed penalty notice while in government. Last April, he was fined along with Boris Johnson and his wife Carrie for breaking Covid lockdown rules by attending a birthday gathering for the then-Prime Minister in Downing Street in June 2020.
Lancashire Constabulary, who issued the fixed penalty notice, said: "You will be aware that a video has been circulating on social media showing an individual failing to wear a seatbelt while a passenger in a moving car in Lancashire. "After looking into this matter, we have issued a 42-year-old man from London with a conditional offer of fixed penalty."
Speaking to BBC Breakfast, the deputy Prime Minister Dominic Raab said Rishi was "someone with the highest standards of integrity" who had "made a mistake on the seatbelt issue". He added that the PM was "a human being doing a demanding job" and had "put his hands straight up" and apologised.
That should be the end of the matter. But it isn't. The BBC's former political editor, Laura Kuenssberg, who now presents a flagship Sunday morning political programme, gave her assessment: "The Prime Minister has accepted he made a mistake but this mess-up is likely to stick with him."First, if you are responsible for making the law, it goes without saying that it's far from ideal to be caught breaking it.
"Whether you think it was really worth Lancashire Police's time and effort to investigate the offence, how would it go down with many people (450 by Humberside Police alone last year) who were fined for similar offences if he had not faced any consequences?
"A self-inflicted mistake like this directly contradicts his carefully curated personal brand. And at the very least, dealing with it takes up time, political energy and effort.
"And, for a party seriously behind in the polls, it ruined a chance to drive the conversation and provided another beautifully wrapped gift for the opposition."
The opposition parties are certainly celebrating Rishi's own goal.
Labour's deputy leader Angela Rayner called Rishi a "total liability". And a Labour spokesman declared: "Hapless Rishi Sunak's levelling-up photo op has blown up in his face and turned him into a laughing stock. Just when you thought this Tory government couldn't get any more ridiculous, they manage it."
Deputy Leader of the Lib Dems Daisy Cooper commented: "From partygate to seatbelt gate, these Conservative politicians are just taking the British people for fools. Whilst they continue to behave as though it's one rule for them and another for everyone else, this fine is a reminder that the Conservatives eventually get their comeuppance."
Labour MP for Lancaster and Fleetwood Cat Smith thanked Lancashire Police for "reminding us no one is above the law".Former shadow transport secretary Lilian Greenwood said: "Not only is failing to wear a seatbelt against the law but deeply irresponsible. More than a fifth of those killed in cars were not wearing a seatbelt – and not just a danger to themselves but to others in the car?"
Former Tory MP Christian Wakeford, who defected to Labour last year after losing faith in the Conservatives, pointed out that Rishi was "surely the first person to break the law as Chancellor and Prime Minister".