Reforms ignite riots in Paris
This is France's most violent urban riot in more than a decade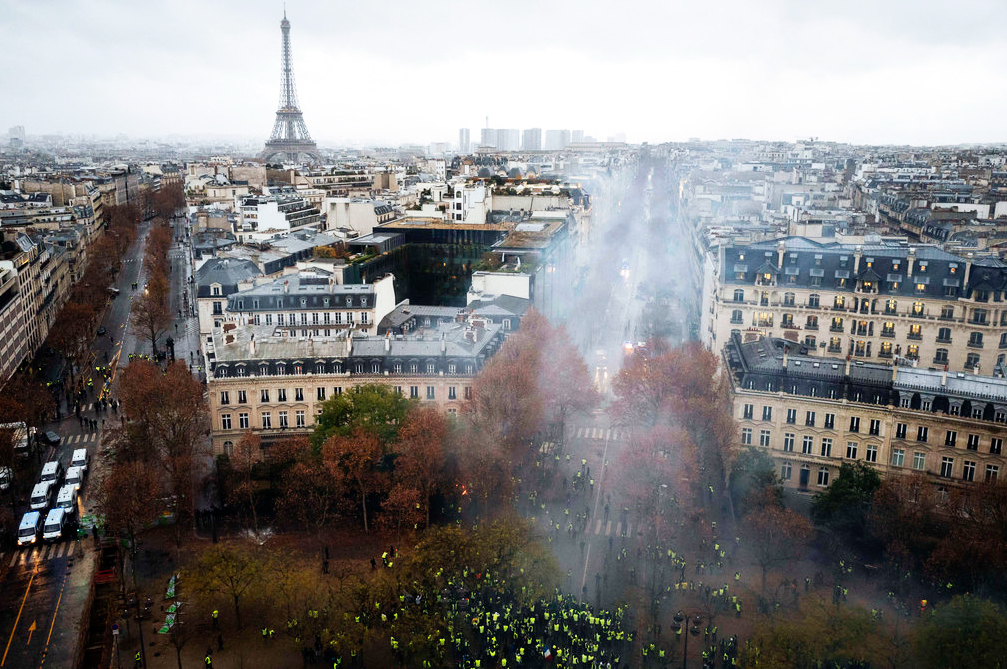 Demonstrators are pictured from the top of the Arc de Triomphe on the Champs-Elysees during a demonstration on Saturday in Paris.
AP
---
Paris
|
Published 02.12.18, 10:59 PM
|
---
President Emmanuel Macron rushed to the Arc de Triomphe on Sunday after one of France's most revered monuments was vandalised by rioters opposing his economic reforms.
TV footage showed the interior of the Arc ransacked, a statue of Marianne, symbol of the French republic, smashed, and graffiti scrawled on the exterior ranging from anti-capitalist slogans to social demands and calls for Macron's resignation.
Riot police were overwhelmed on Saturday as protesters ran amok in the wealthiest neighbourhoods of Paris, torching dozens of cars, looting boutiques and smashing up luxury private homes and cafes in the worst disturbances the capital has seen since 1968.
The unrest began as a backlash against fuel tax hikes but has spread, mining a vein of deep dissatisfaction felt towards Macron's liberal economic reforms, which many voters feel favour the wealthy and big business.
The spontaneous protest campaign is dubbed the "Yellow Vest" movement because many participants, mainly from the working class, wear the fluorescent safety jackets kept in all cars in France.
Macron says higher diesel taxes are needed to fight climate change by spurring motorists to drive cleaner cars.
Macron, 40, ordered his Prime Minister on Sunday to hold talks with political leaders and demonstrators.
A French presidential source said the idea of imposing a state of emergency had not been discussed. Government spokesperson Benjamin Griveaux had said earlier: "We have to think about measures that can be taken so that these incidents don't happen again."
On his return from the G20 summit in Argentina, Macron paid an immediate visit to the Arc de Triomphe, the 19th-century arch that towers over the Tomb of the Unknown Soldier, and avenues nearby where cars had been torched and luxury shops pillaged.
Under heavy security, the French leader spoke with police and firefighters on one of the avenues near the Champs-Elysees boulevard, with some bystanders cheering but more jeering him, including yellow-jacketed protesters chanting, "Macron, resign!"
The graffiti seemed targeted at Macron, who has been described as the "president of the rich".
"We've chopped off heads for less than this," read one scrawl in a reference to the French Revolution of 1789. "Topple the Bourgeoisie." "The Yellow Vests Will Triumph." "May 1968, December 2018."
The last message appeared to link the current protests with the nationwide strikes and fights with the police in 1968 that resulted in major social changes and compromises with workers.