Prove Rohingya have returned: Bangla
Minister challenges 'false' claim that 400 refugees have gone back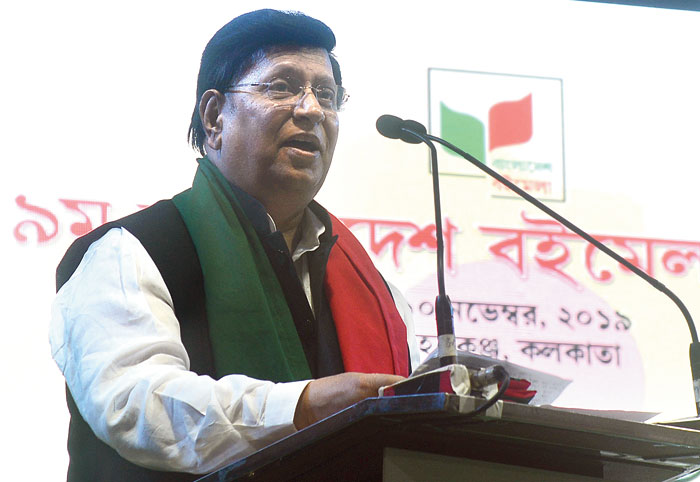 Bangladesh foreign minister AK Abdul Momen speaks at the Bangladesh Book Fair in Calcutta on Friday
(Picture by Bishwarup Dutta)
---
Calcutta
|
Published 01.11.19, 08:03 PM
|
---
Bangladesh foreign minister A.K. Abdul Momen on Friday challenged the Myanmarese authorities to provide proof of their claim that around 400 Rohingya refugees have voluntarily returned to Myanmar from Bangladesh.
"I am challenging them to prove in front of the global media or representatives of the United Nations that at least one refugee has returned to Myanmar," said Momen, who was in Calcutta to inaugurate the 10-day Bangladesh Book Fair, being held at Mohor Kunja.
On the sidelines of the inauguration of the fair, where four books of Momen are being unveiled, the foreign minister was responding to questions on a claim by the Myanmar embassy in Dhaka on Thursday that 400-odd Rohingya refugees had voluntarily returned to the Rakhine province, where they were apparently received warmly.
"The Myanmar authorities are trying to confuse the world by providing false information…. I can tell you with authority that not a single registered refugee from the camps in Bangladesh has returned to Myanmar," Momen said, adding that two earlier repatriation attempts had failed because of "no change in the ground reality in Rakhine".
The Sheikh Hasina government in Bangladesh has given shelter to over a million Rohingya refugees, including 7,40,000 who fled a military crackdown in Rakhine in August 2017.
"There are over 4 lakh Rohingya waiting on the Myanmar-Bangladesh border to cross over…. The government there hasn't done anything to win their confidence to take them back. How can they claim that people are voluntarily returning from Bangladesh?" Momen asked.
Although the Hasina government has lent a helping hand to the Rohingya — seen by many as the most persecuted community in the world — by setting up camps for them, these shelters have become a big bother for the country because of the strain on the exchequer and more important, the threat they pose to the country's law and order and security.
"We urge India, China and all the neighbours in the region to put pressure on Myanmar to take necessary steps for the repatriation of the Rohingya refugees," Momen said.
Hasina trip
On Hasina's impending visit to Calcutta, Momen said the Bangladesh Prime Minister was coming only for the day-and-night Test match between India and Bangladesh at the Eden Gardens later this month and there was no point linking it to the Teesta water-sharing agreement.
"There could be some courtesy meeting with Bengal chief minister Mamata Banerjee. If the Teesta's water flows because of that to Bangladesh, then it's good, but cricket is the lone agenda of this visit," Momen said.