Protests rock Bangkok
Demonstrators demand the departure of PM Prayuth Chan-ocha, a new constitution and an end to the harassment of opposition activists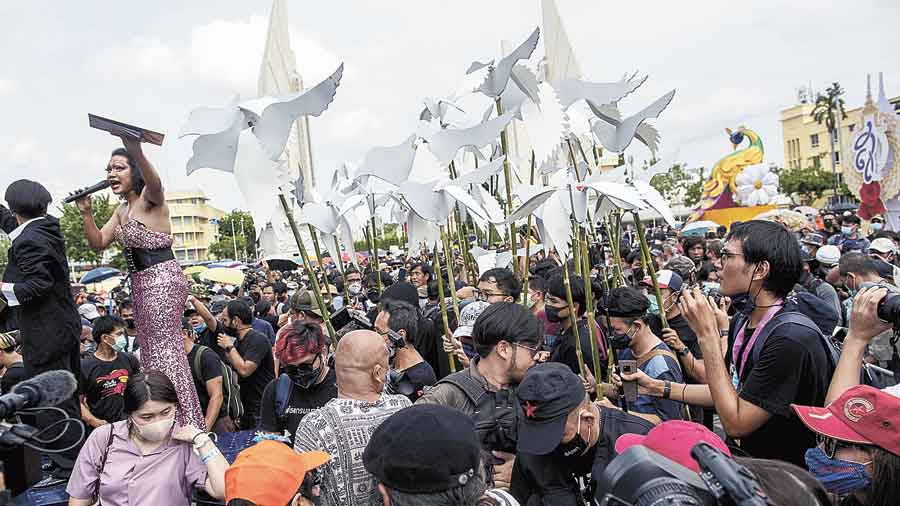 Pro-democracy activists during the protest in Bangkok on Sunday
AP
---
Bangkok
|
Published 17.08.20, 12:16 AM
|
---
More than 10,000 Thai protesters chanting "down with dictatorship" and "the country belongs to the people" rallied in Bangkok on Sunday in by far the biggest anti-government demonstration since a 2014 coup.
There were cheers for student calls to curb the monarchy's powers — once a taboo subject — as well as demands for the departure of former junta leader Prime Minister Prayuth Chan-ocha, a new constitution and an end to the harrasment of opposition activists.
Students have led protests almost daily for the past month, but Sunday's demonstration drew a broader crowd in the Southeast Asian country, which has experienced decades of protests punctuated by military coups.
"We want a new election and a new parliament from the people," student activist Patsalawalee Tanakitwiboonpon, 24, told the crowd. "Lastly, our dream is to have a monarchy which is truly under the constitution."
Prayuth won elections last year that the opposition says were held under rules to ensure that he kept power. The most vocal opposition party was subsequently banned.