Portland backlash to federal forces grows
The protests have persisted since George Floyd's killing even as BLM demonstrations have waned in parts of the country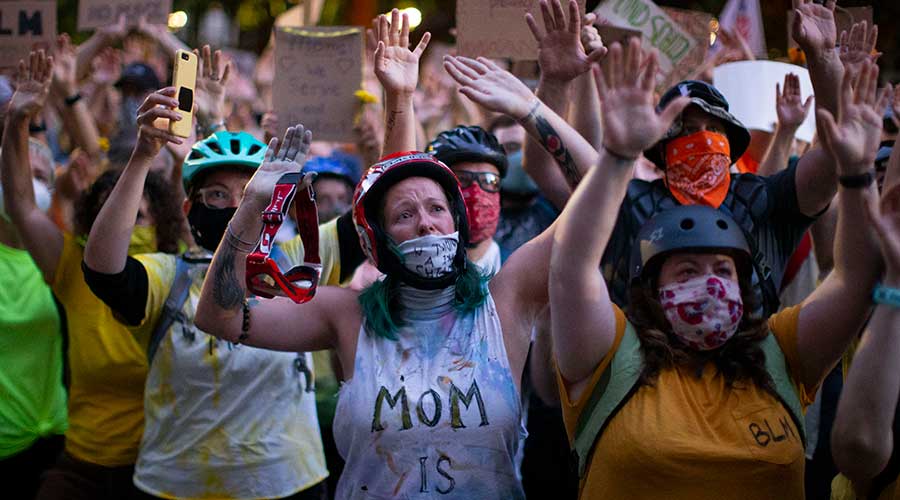 ---
---
With a ski helmet and goggles on her head, Allison Hyder said she had told her family members that she planned to stand at the rear of protests in downtown Portland. But, in the early hours of Tuesday, the grandmother of five found herself right up front, locking arms with other mothers dressed in yellow.
Standing with a pack of other protesters, she chanted in front of the boarded-up entrance to the federal courthouse. Even as some in the crowd began prying at the wood affixed to the building, leaving Hyder uneasy about where things were headed, she remained resolute.
"I am the face of anarchy," Hyder said. "The people of the US need to know that moms, grandmas and nurses are out here in the middle of the night demanding rights for everybody."
The demonstrations that have shuddered through Portland for 54 days have drawn out a complicated mix of emotions and grievances, and an array of people who are expressing them.
In a state with a deep history of racial-exclusion laws and a spirited protest tradition, the Portland protests have persisted since George Floyd's killing even as Black Lives Matter demonstrations have waned in parts of the country.
But some leaders in the black community, grateful for a reckoning on race, worry that what should be a moment for racial justice could be squandered by violence. Businesses supportive of change have been left demoralised by the mayhem the protests have brought. The city's mayor, Ted Wheeler, has now been fighting to have federal officers leave them alone.
Amid the Gordian knot of grievances and escalations, most everyone seems to agree about one thing: The combative deployment of camouflaged federal agents has only made things worse.
President Trump, in pushing a law-and-order message for his re-election campaign, has embraced a dark vision of Portland as a lawless place filled with people who "hate our country". His administration's crackdown has brought armed officers from a wide variety of federal agencies to the streets, where they have been firing tear gas and pulling protesters into unmarked vans.
The President's portrayal of Portland has infuriated protesters who see Trump as trying to use the city's unrest as political theatre during an election year.
New York Times News Service