Palace denies gender fluid baby claim
Prince Harry and Meghan Markle have already planned a gender-neutral nursery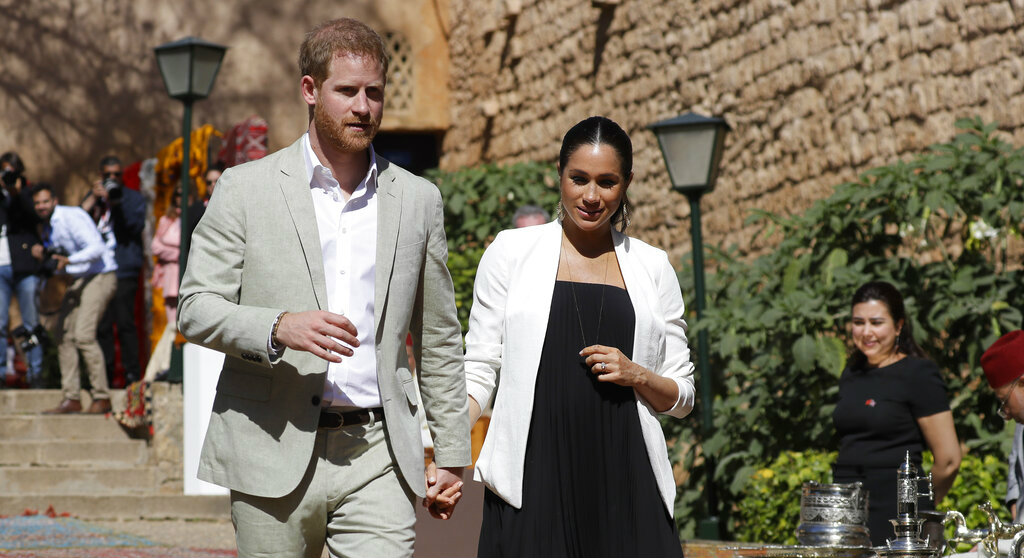 ---
|
London
|
Published 03.03.19, 11:35 PM
---
Kensington Palace has stepped with remarkable alacrity to deny what had appeared to be a plausible report in the American glossy, Vanity Fair, that the Duchess of Sussex, Meghan Markle, was intending to bring up her baby as "gender fluid".
A palace spokesman said in an emphatic statement: "This story is totally false."
In today's world, gender fluid means much more than ensuring boys are dressed in blue and kick around a football or start wafting a mini cricket bat while girls wear pretty pink frocks and play with dolls and "be mummy" serving tea.
According to an accepted dictionary definition, which takes account of the growing acknowledgement of transgender people, "gender fluid is a gender identity best described as a dynamic mix of boy and girl. A person who is gender fluid may always feel like a mix of the two traditional genders, but may feel more boy some days, and more girl other days.
"Being gender fluid has nothing to do with which set of genitalia one has, nor their sexual orientation."
Prince Harry and Meghan, a former US actress, who are now titled the Duke and Duchess of Sussex following their marriage in May last year, are expecting their first child in April.
Vanity Fair, which has an Indian editor, Radhika Jones, says in the article by British journalist Kate Nicholl: "With rumours swirling that the Duke and Duchess of Sussex are expecting a baby boy — Meghan Markle is said to have told friends at her recent baby shower that they are having a son — there's a chance the public might know the sex of Baby Sussex before too long.
"But it might not be a case of blue for a boy and pink for a girl according to a source close to the couple. The duchess is understood to have told at least one friend that they want to raise their baby without gender-stereotyping, which means the nursery might not be filled with toy trains and cars if it is a boy. The Sussexes have already planned a gender-neutral nursery and opted for whites and grays over conventional blue and pink colour ways, and this seems to be in line with Meghan's ideas about how to raise children.
"Meghan has been talking to some of her friends about the birth and how she and Harry plan to raise their baby. Her exact word was fluid," a source told Vanity Fair. "She said they plan to raise their child with a fluid approach to gender and they won't be imposing any stereotypes."
The article added: "Exactly what the duchess might have meant when using the word 'fluid' is unclear, and there are multiple possible interpretations.
"Harry and Prince William were raised with toy cars, toy guns and toy soldiers, and Meghan has talked about playing with Barbies as a little girl. But a more progressive approach is increasingly popular in America and is considered very much a millennial parenting tactic. More celebrities, including Angelina Jolie and Paloma Faith, have all discussed raising their children without stereotyped ideas about gender in interviews.
"If Harry and Meghan are indeed planning to raise Baby Sussex with more progressive ideas about gender there is plenty of research to back them up. According to a study in the Journal of Experimental Child Psychology, children enrolled in Sweden's gender-neutral kindergarten system had access to more opportunities, which the researchers predicted would equate to more success as adults."
What is odd that Kensington Palace chose not to respond to Vanity Fair's request for a comment but has now come out with a statement. It must have thought that given Meghan's support for women's rights — she spoke up for the plight of girls dealing with menstruation after a visit to Delhi and Mumbai in January 2017, for example — the report was believable.
When the duchess met students from the Association of Commonwealth Universities (ACU) in January, she raised concerns about the plight of young girls and women in developing countries who are stigmatised when menstruating.
At their wedding, the royal couple asked for donations to seven charities, including the Myna Mahila Foundation which "empowers women in Mumbai's urban slums, by offering stable employment close to their homes, and breaking taboos around menstrual hygiene by offering women access to low-cost sanitary pads, and accurate information".
On her recent trip to Morocco with Harry, she told a group of female business executives and entrepreneurs that "women have to challenge everywhere in the world".
Next week, she is set to join leading feminists and national figures including singer Annie Lennox and former Australian Prime Minister Julia Gillard, to mark International Women's Day with a panel discussion on gender issues.