Pakistan's former Army chief Bajwa involved in Imran Khan's ouster, alleges former minister
The 70-year-old was ousted from power in April after losing a no-confidence vote, which he alleged was part of a US-led conspiracy targeting him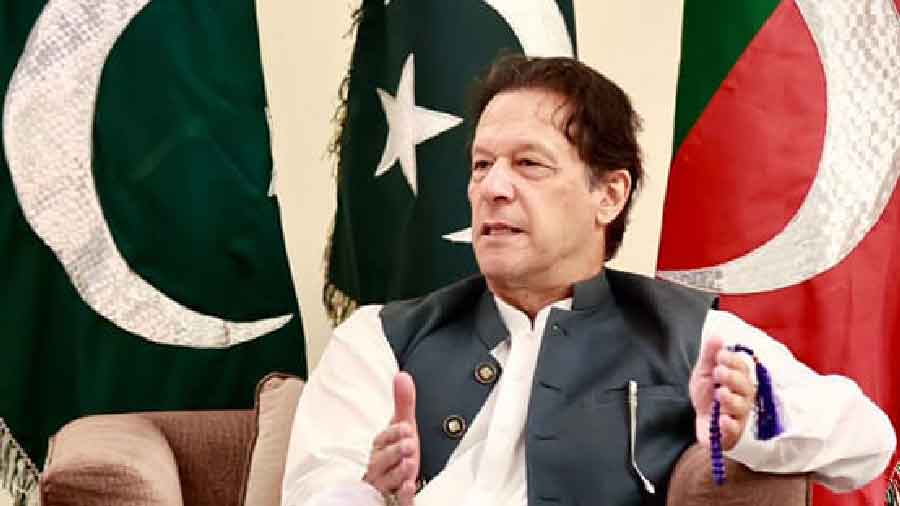 ---
Islamabad
|
Published 08.01.23, 04:03 PM
|
---
Pakistan Tehreek-e-Insaf leader and ex-information minister Fawad Chaudhry has said that former Army chief Gen Qamar Javed Bajwa along with some key generals played an active role in prime minister Imran Khan's ouster last year.
Khan, 70, was ousted from power in April after losing a no-confidence vote, which he alleged was part of a US-led conspiracy targeting him because of his independent foreign policy decisions on Russia, China, and Afghanistan. The US has denied the allegations.
In an interview to BBC's HardTalk on Friday, Chaudhry also disagreed with host Stephen Sackur's statement that the military establishment helped PTI assume power.
"It took 22 years for the PTI to come to power and I don't think any military or any institution can support you for that long," the Express Tribune newspaper reported, quoting excerpts from the interview.
"We came into power, but yes, we were ousted by a conspiracy in which some of the army generals were involved and the establishment actually played a very active role in the ouster of Imran Khan," the former minister said.
He alleged that "the last army chief was [also] actively involved in sending our government home and unfortunately this is what the fact is".
Gen Bajwa, 61, retired on November 29 last year after serving two consecutive three-year terms as Pakistan's Army chief.
Bajwa was appointed as the army chief in 2016 and his three-year term was extended in 2019 by the then-premier Khan, who has turned out to be a top critic of the Army.
The powerful Army, which has ruled coup-prone Pakistan for more than half of its 75-plus years of existence, has hitherto wielded considerable power in matters of security and foreign policy.
When asked about Inter-Services Intelligence (ISI) Director General Lt Gen Nadeem Anjum's comment that Khan asked the military to play an "unconstitutional role" during the vote of no-confidence, Chaudhry said the party's view was "totally different".
"We never said that. We only said that let's not let a stable government go like this," he claimed.
"The previous army chief was not talking the truth when he said we asked [for their] help. We had only asked for their neutrality in the army," he elaborated.
The PTI leader said his party is prepared to put their partisan differences aside to pull together for the benefit of the nation.
He noted that Pakistan was pushed into "political chaos" when Khan was "removed from the office unconstitutionally".
"Now people are standing on one side and the present ruling elite, that we call the imported government, is standing on the other side and that's the primary problem in Pakistan," he said.
The PTI leader said the economic crisis was because of political uncertainty and that the "imported government has miserably failed to create certainty about their policies".
"They have no plan, they have no economic plan, they have no administrative plan. The economy is going down. Terrorism is back in Pakistan," he said.
When asked about Khan's failure to present evidence regarding his "foreign conspiracy" claims, Chaudhry said the PTI presented the cypher and the party also wrote to President Arif Alvi for a judicial inquiry.
Except for the headline, this story has not been edited by The Telegraph Online staff and has been published from a syndicated feed.