Pakistan: Shehbaz Sharif rakes Kashmir in his inaugural speech
The new PM says he wants good relations with India, urges Narendra Modi to come forward and address the issue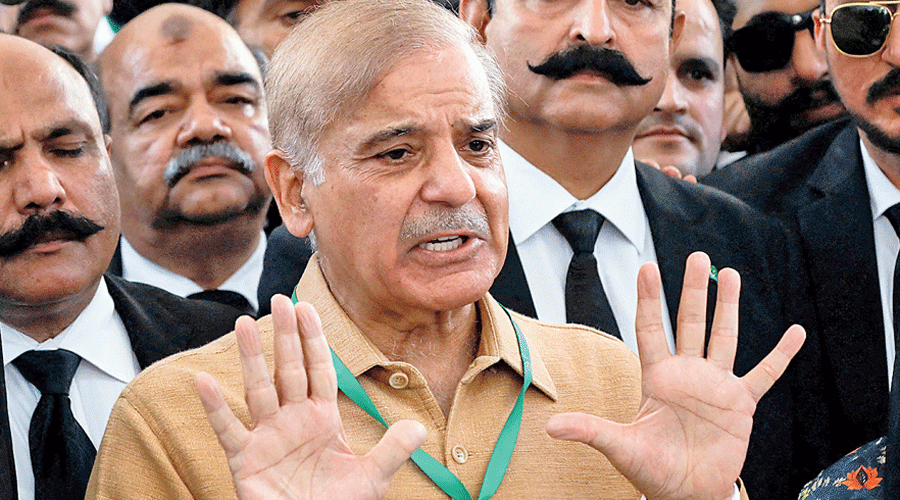 Shehbaz Sharif.
File photo
---
Islamabad
|
Published 12.04.22, 03:06 AM
|
---
Pakistan's Parliament chose on Monday a more western-friendly politician, Shehbaz Sharif, as Prime Minister, who used his inaugural speech to raise the dilution of Article 370 in Kashmir.
The new Prime Minister alleged that the people in the Valley were bleeding and Pakistan would provide them with "diplomatic and moral support" besides raising the matter at every international forum.
Shehbaz, whose selection completes the ouster of his predecessor Imran Khan in a political crisis that has sparked street protests and a mass resignation by lawmakers, said he wanted good relations with India, but this could not be achieved without the resolution of the Kashmir issue.
He attacked Khan for not making "serious and diplomatic efforts" when India diluted Article 370 in August 2019. "When the forceful encroachment was done in August 2019…, what serious efforts did we make... what serious diplomacy did we try? Kashmiris' blood is flowing on roads of Kashmir and the Kashmir Valley is red with their blood," said Shehbaz, younger brother of former Prime Minister Nawaz Sharif.
Shehbaz asked Prime Minister Narendra Modi to come forward to address the Kashmir issue so that the two countries could concentrate on tackling poverty, unemployment, shortage of medicines and other issues.
"Why do we want our coming generations to suffer? Come, let's resolve the Kashmir issue in line with UN resolutions and Kashmiris' expectations, so that we are able to end poverty on both sides of the border," he said.
Headache
More than 100 lawmakers loyal to Khan resigned on Monday, creating a headache for Shehbaz, 70. If the resignations are accepted by the Speaker, Pakistan will face the prospect of more than 100 by-elections within two months, a major distraction for Shehbaz and his coalition partners and a potential platform for Khan to mobilise support.