New US visa rules to arm-twist colleges
International students will be required to take one in-person class to keep documents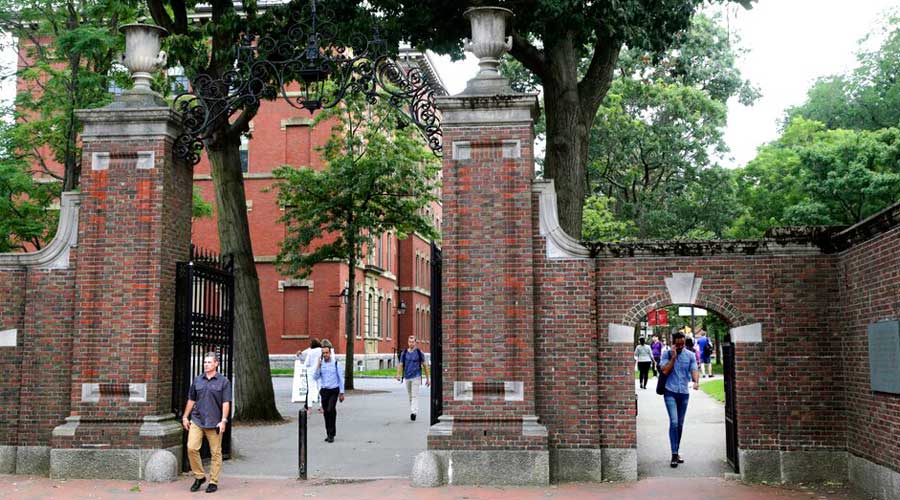 In this Aug. 13, 2019, file photo, pedestrians walk through the gates of Harvard Yard at Harvard University in Cambridge, Massachusetts
AP
---
Los Angeles
|
Published 09.07.20, 04:48 AM
|
---
A directive by the Trump administration that would strip international college students of their US visas if their coursework was entirely online prompted widespread confusion on Tuesday as students scrambled to clarify their statuses and universities reassessed their autumn reopening policies amid the coronavirus pandemic.
The White House measure, announced on Monday, was seen as an effort to pressure universities into reopening their gates and abandoning the cautious approaches that many have announced they would adopt to reduce Covid-19 transmission.
The effect may be to dramatically to reduce the number of international students enrolling in autumn. Together with delays in processing visas as a result of the pandemic, immigrant advocates say the new rules, which must still be finalised this month, might discourage many overseas students from attending American universities, where they often pay full tuition.
"The financial repercussions to institutions are potentially very traumatic," said Daniel J. Hurley, chief executive of the Michigan Association of State Universities, which represents the state's public universities. He cited studies showing that 33,236 international students contributed $1.2 billion to Michigan's economy in 2018.
Janet Napolitano, the president of the University of California system and a former Homeland Security secretary under President Barack Obama, described the rule as a "double whammy" that would probably result in budget cuts at many schools, which have already suffered financially during the pandemic.
"Universities don't need any extra pressure to reopen," Napolitano said. "I think most universities would love to reopen and be fully in-person on classes and have their dorms fully occupied."
But the concern that their campuses could become coronavirus clusters has prompted many universities to adopt measures to reduce exposure, from requiring masks in classrooms to limiting social activities to reducing the number of students invited back to campus. Many have announced a hybrid approach that would provide some in-person classes but offer a significant amount of coursework virtually.
Such changes could put foreign students' visas, known as F-1 visas, at risk under the new rules. International students whose universities are not planning in-person classes — which is currently the case at schools including the University of Southern California and Harvard — would be required to return to their home countries if they are already in the US. Those overseas would not be granted permission to enter the country to take online coursework here.
Kenneth T. Cuccinelli II, the acting deputy secretary of the department of homeland security, said in an interview on CNN that the administration was providing more flexibility for international students than in the past, when they could only take one online course to qualify for visas. Now they can take more, as long as at least some of their instruction is in person.
"If they're not going to be a student or they're going to be 100 per cent online, then they don't have a basis to be here," Cuccinelli said, adding, "They should go home, and then they can return when the school opens."
To maintain their status, many international students raced this week to enroll in in-person classes, even if they were not connected to their majors.
"There's slim pickings for classes, and they all filled up so fast once the news came out that we're pretty much left with no option," said Rhea Joshi, an Indian citizen and rising senior at the University of California, Los Angeles, who is seeking a swap.
Loay Alem, 19, an engineering student from Saudi Arabia, said he had put down a $1,000 security deposit on an apartment for autumn, enrolled in several online courses and paid tuition at UCLA, which had about 5,800 international students last academic year. "I was all set to start sophomore year," he said.
Then on Monday, he read in a group chat about the new guidelines. 
"I realised that I might be deported back to my home country," he said. "It was so absurd, so insane."
Although higher education officials saw the move by the Trump administration as an attempt to force their hands on reopening, which President Trump has pushed for, the 
directive also holds appeal to groups that favour reducing legal immigration to the US.
New York Times News Service