Netanyahu extends lead in Israel polls
With roughly two-thirds of the vote counted, Israel's three main broadcasters projected that Netanyahu's party, Likud, would finish first and that his Right-wing bloc was likely to be able to form a majority in parliament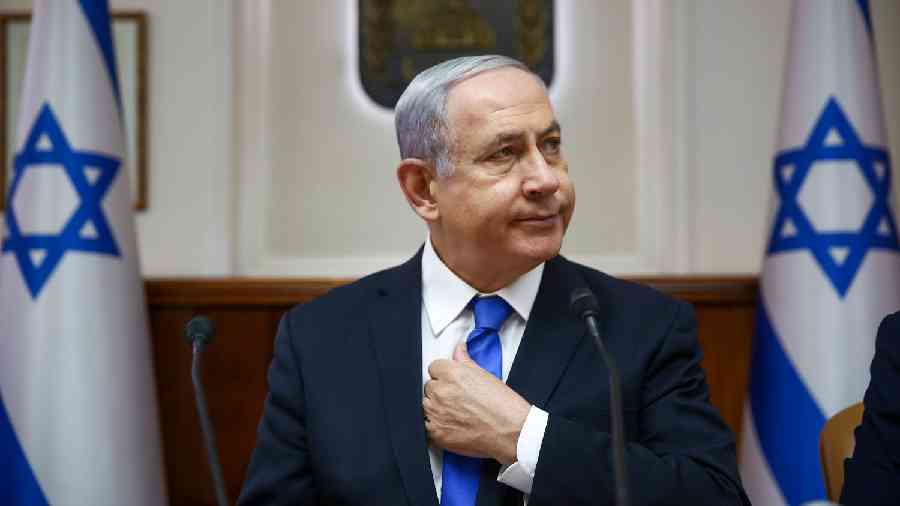 Benjamin Netanyahu
File picture
---
Jerusalem
|
Published 03.11.22, 01:10 AM
|
---
Benjamin Netanyahu, Israel's Opposition leader, extended his lead on Wednesday morning in Israel's fifth election since 2019, but the final result remained unclear because of the uncertain fate of three small parties that could block him from power.
With roughly two-thirds of the vote counted, Israel's three main broadcasters projected that Netanyahu's party, Likud, would finish first and that his Right-wing bloc was likely to be able to form a majority in parliament.
If the results hold, they would propel Netanyahu, Israel's longest-serving Prime Minister, back to power with an even bigger majority than exit polls predicted late on Tuesday.
But such projections have been wrong before, particularly in tight races, most recently in the previous election in March 2021, when they exaggerated Netanyahu's eventual tally.
Final results aren't expected until Friday. The outcome of the election hinges on the fate of three small parties — a Leftist party, an Islamist party and a Palestinian nationalist party — that are likely to block a majority for Netanyahu if they win enough votes to cross the threshold needed to enter parliament.
Early on Wednesday, the three groups were in danger of falling just short, hugely reducing Leftist and Arab representation in Parliament.
But with the three parties each only needing to win 3.25 per cent of the overall votes, pollsters said it was too soon to count them out. If the current tallies stand, however, Netanyahu will be in a position to return to office even as he stands trial on corruption charges, 16 months after he lost power.
Regardless of Netanyahu's fate, the results already constitute a watershed victory for a far-Right alliance that is assured of becoming the third-largest bloc in parliament, and the second-largest in Netanyahu's coalition.
The far-Right alliance seeks to reduce checks and balances on lawmakers, give politicians more control over the appointment of judges, end Palestinian autonomy in parts of the occupied West Bank and legalise a form of corruption that Netanyahu is accused of committing. 
New York Times News Service