Mariupol mayor alleges Nazi-era forcible tactic by invaders
Ukraine crisis: Russian forces deport thousands of residents
Officials in Moscow have not directly addressed these claims, but said on Friday that Ukrainians had 'expressed a desire to escape' to Russia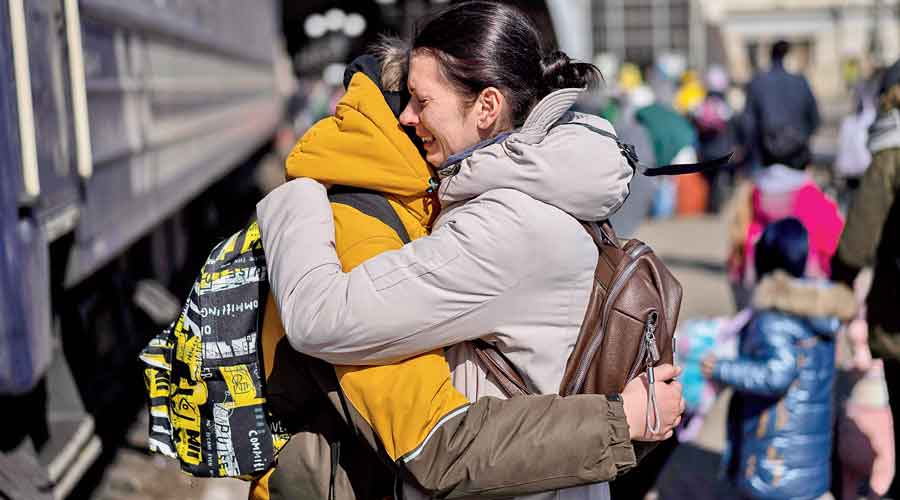 A mother embraces her son after he escaped from the besieged city of Mariupol and arrived at the train station in Lviv, western Ukraine, on Sunday.
AP/PTI
---
Lviv, Ukraine
|
Published 21.03.22, 02:08 AM
|
---
Russian forces are forcibly deporting thousands of residents against their will to Russia, officials and witnesses in the bombed and besieged coastal city of Mariupol in Ukraine said on Sunday.
With the Russian advance on Ukraine's major cities stalled and satellite imagery showing soldiers digging into defensive positions around Kyiv, the fierce fighting in the coastal city showed no signs of easing.
The bombing of a theatre where an estimated 1,300 people were seeking refuge on Thursday was followed on Sunday, according to local officials, by a strike on a drama school where 400 people were hiding.
"What the occupiers are doing today is familiar to the older generation, who saw the horrific events of World War II, when the Nazis forcibly captured people," said Mariupol mayor Vadym Boychenko. "It is hard to imagine that in the 21st century people will be forcibly deported to another country."
Up to 4,500 people may have been taken from Mariupol across the nearby Russian border by forces loyal to Moscow, Pyotr Andryuschenko, an adviser to Mariupol's mayor, told The New York Times in an interview.
Officials in Moscow have not directly addressed these claims, but said on Friday that thousands of Ukrainians had "expressed a desire to escape" to Russia.
Recently evacuated Mariupol residents also told The New York Times that they had been in touch with people who had been apprehended in basements and taken across the border against their will.
Eduard Zarubin, a doctor from Mariupol, said he had been in touch with people from three families who had been forcibly taken to Taganrog, a Russian seaside town.
Andryuschenko said he believed that many of the people who had been sheltering in the TerraSport athletic complex in the city centre too had been taken away.
The situation in Mariupol, which for weeks has been without food, water, electricity or gas, has deteriorated drastically, with reports of Russian forces already holding three neighbourhoods in the city.
Mariupol is largely cut off from the outside world and, as in scores of other towns and villages across Ukraine's eastern and southern fronts, the extent of the toll on civilians is hard to estimate.
Ukrainian officials said on Sunday that an attack on a home for the elderly on March 11 in a town called Kreminna in the Luhansk region had killed 56 people.
"They just adjusted the tank, put it in front of the house and started firing," the head of Luhansk Regional State Administration, Serhiy Haidai, said on Sunday.
'Stalemate'
The war across much of Ukraine has reached a stalemate after more than three weeks of fighting, with Russia making only marginal gains and increasingly targeting civilians, analysts and US officials said.
US defence secretary Lloyd J. Austin III told CBS that Russia's military campaign in Ukraine has "essentially stalled" after sustaining heavy casualties, characterising Russian strategy so far as feeding its soldiers "into a wood chipper".
Russia is using long-range missiles to devastating effect. On Sunday, Russia said it had used advanced long-range missiles to hit three military facilities in different parts of Ukraine.
At least 40 marines died in a Russian airstrike on barracks in the southern city of Mykolaiv.
New York Times News Service