Liz Truss faces hard times, Boris Johnson ghost
PM will need 'ideological dexterity' to succeed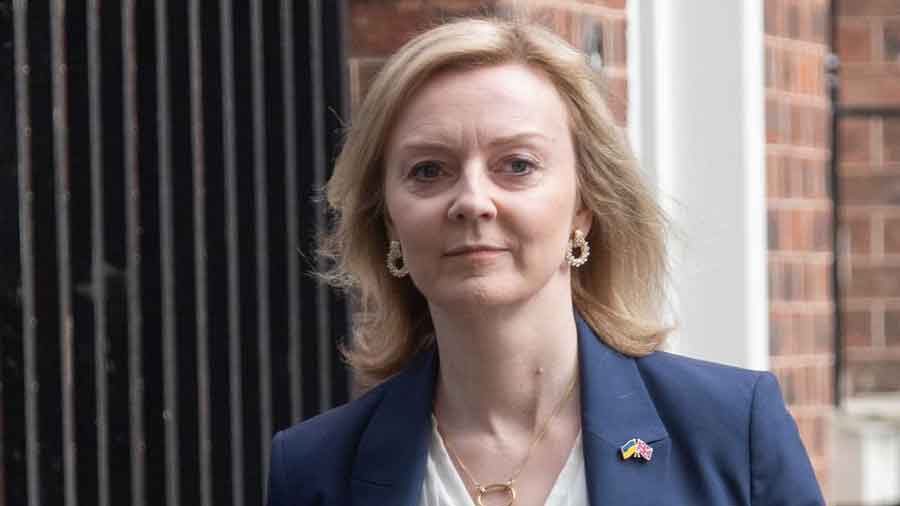 ---
London
|
Published 06.09.22, 12:57 AM
|
---
In 1994, a passionate 19-year-old Oxford student, Elizabeth Truss, called for a referendum to abolish the British monarchy, telling an audience of fellow Liberal Democrats, "We do not believe that people should be born to rule".
On Tuesday, Truss will travel to a Scottish castle to be anointed by Queen Elizabeth II as Britain's new Prime Minister, completing a political odyssey from rabble-rousing republican to tradition-cloaked leader of the Conservative Party.
Truss, now 47 and known as Liz, long ago pivoted to embrace the monarchy as being good for British democracy, just as she long ago abandoned the Liberal Democrats for the Conservatives. More recently, she switched sides on Brexit, opposing the drive for Britain to leave the EU before the 2016 referendum, then reversing course to become one of its most ardent evangelists.
Her ideological dexterity — critics would call it opportunism — has helped propel Truss to the pinnacle of British politics. How well it will prepare her for the rigours of the job is another question, given the dire economic trends enveloping the country, and a Tory party that seems torn between a desire for a fresh start and regret about tossing out her larger-than-life predecessor, Boris Johnson. By her own admission, Truss has little of Boris's charisma.
Awkward where he is easygoing, staccato where he is smooth, she nevertheless scaled the party's ranks with what colleagues describe as nerve, drive and an appetite for disruptive politics. When Boris fell into trouble last year, she positioned herself adroitly, never publicly breaking with him while burnishing her leadership credentials as a hawkish foreign secretary.
"She has so much confidence in her instincts," said Marc Stears, a political scientist who tutored Truss when she was at Oxford. Truss will need all her instincts and agility to navigate the job she is inheriting from Boris. Drummed out of office by his party's lawmakers after a string of scandals, he has left behind a daunting pile of problems, not unlike those that confronted Margaret Thatcher when she became Britain's first female Prime Minister in 1979 during a previous period of economic hardship.
Truss has modelled herself on Thatcher, posing on a tank like her heroine once did in West Germany and wearing silk pussy-bow blouses, a staple of the Thatcher wardrobe. But her politics more closely resemble those of another hero of the Right, Ronald Reagan: a clarion call for lower taxes.
"One of the things that has benefited Liz Truss is that she's tribal," said Jill Rutter, a senior research fellow at the UK in a Changing Europe, are search institute in London."She's very willing to embrace everything about a team. The trouble with being a team player is she now needs to define the agenda." That message appealed to the 160,000 or so mostly white and mostly ageing members of the Conservative Party, who chose it over the hard truths offered by her opponent, Rishi Sunak, a former chancellor of the exchequer. Now, she will have to pivot yet again, to lead a diverse, divided country facing its worst economic news in a generation. Like Thatcher, she also presents herself as a fierce defender of western democracy. Elevated to the foreign secretary in 2021, Truss outflanked even Boris in her hard line against Russia. But some predict her bigger nemesis will be Boris.
Ambitious and still popular with the Tory grassroots, he is likely to remain a news-making fixture — one who could taunt Truss from the backbenches of parliament. "He's going to be like Banquo's ghost," Barwell said, referring to the apparition who tormented Shakespeare's Macbeth. 
"The moment she gets into political difficulty, there's going to be a bring back-Boris movement." 
(New York Times News Service)