Lion Air report blames flaws
The pilots had been handed a plane that international investigators now say had a fatal design problem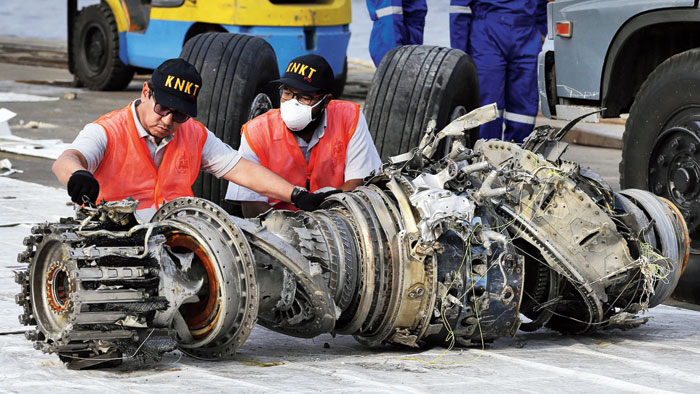 Officials inspect the engine of the Lion Air jet that crashed on October 29, 2018, in the Java Sea
(AP)
---
Jakarta
|
Published 25.10.19, 08:00 PM
|
---
The first officer told the captain that he had been called at 4am and told to work the flight, which was not on his original schedule. The captain replied that he had the flu. He coughed 15 times in the hour before takeoff.
So began Lion Air Flight 610, which crashed into the Java Sea 13 minutes after taking off from Jakarta, Indonesia's capital, a year ago, killing all 189 people aboard.
The pilots, one harried and one sick, could not know that they were in an untenable situation: They had been handed a plane that international investigators now say had a fatal design problem.
Their conversation was described in Indonesian investigators' final report on the crash, which was released on Friday.
It blamed a combination of factors for the disaster, including systematic design flaws in the Boeing 737 Max that were compounded by maintenance issues and lapses on the part of the flight crew.
Nurcahyo Utomo, an investigator for the Indonesian National Transportation Safety Committee, listed what he said were nine contributing factors, including an automated system's reliance on a single sensor; the miscalibration of that sensor during repairs; a lack of flight and maintenance documentation; and a failure by the flight crew to manage the chaos in the cockpit as emergency warnings sounded.
"The nine factors have to happen together," Nurcahyo said at a news conference in Jakarta. "If one of those nine contributing factors did
not happen, the crash would not have happened."
Less than five months after the October 29 crash, another 737 Max went down in Ethiopia, killing 157 people. Malfunctions of the automated system, called MCAS, sent both the Lion Air plane and that Ethiopian Airlines plane, Flight 302, into nose dives from which they did not recover.
Boeing's president, Dennis Muilenburg, said the company was addressing the regulators' recommendations.