Leicester troubles spread to Smethwick
We're also looking into reports of a small number of cars being damaged: West Midlands police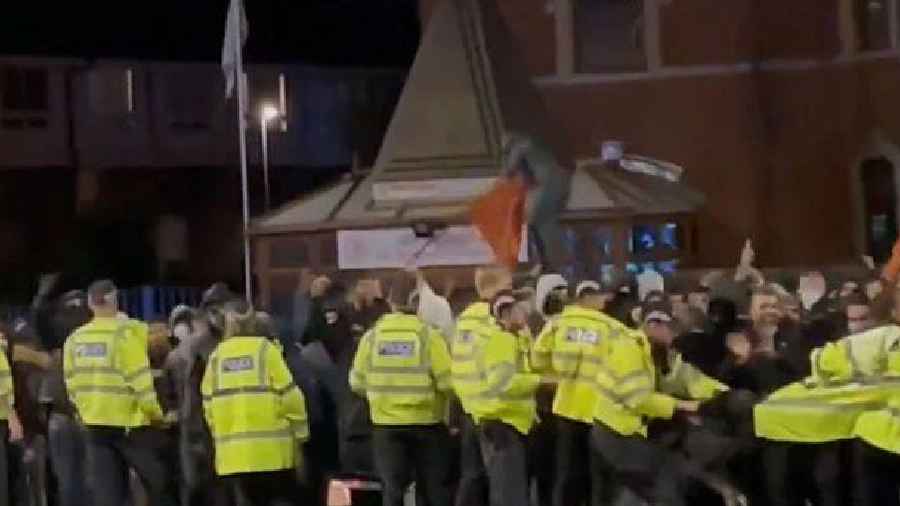 British newspapers are less retrained though it is noticeable they're avoiding using any of their Asian reporters to cover the developments
File Photo
---
London
|
Published 22.09.22, 01:22 AM
|
---
West Midlands police issued a carefully worded statement on Wednesday after the ugly communal clashes in Leicester appeared to have spread to the Smethwick suburb of Birmingham 50 miles away.
The police statement on the "gathering in Smethwick" said: "Following a protest gathering in Smethwick last night (20 September), there was some minor disorder and one person was arrested.
"We had a pre-planned police presence near the temple in Spon Lane where fireworks and missiles were thrown towards some of our officers. Thankfully no-one was injured.
"We're also looking into reports of a small number of cars being damaged.
"An 18-year-old man was arrested on suspicion of possessing a knife and remains in custody for questioning.
"To help ensure there was no outbreak of serious violence, we had stop and search powers in place until this morning.
"We are continuing to provide a visible police presence, working closely with faith leaders and partners across the community to provide reassurance.
"We will continue to monitor the situation locally and across the region."
British newspapers are less retrained though it is noticeable that they are avoiding using any of their Asian reporters to cover the developments.
The headlines are disturbing.
In the Mirror, it was: "Leicester violence spills into Birmingham as mob masked men surround Hindu temple."
Its report said: "Footage showed police swarming the scene as masked and hooded men gathered outside the Durga Bhawan Hindu temple in Smethwick, about four miles west of Birmingham's city centre. Witnesses claim bottles and firecrackers were thrown at the building. Officers attended the scene equipped with riot helmets and shields while trying to confront the crowd, who are understood to be predominantly Muslim men."
A report in the Daily Telegraph said: "Members of the Muslim community in Leicester claim that British-based Hindu nationalists – who are supporters of Narendra Modi, the Indian prime minister – have been stoking tensions by marching through their areas chanting racist slogans. But Hindus in the city have blamed Muslim outsiders who they claim have travelled to Leicester from other cities, including Bradford and Birmingham, to whip up trouble."
It also pointed out that in response to the protest lodged by the Indian High Commission, the Pakistan High Commission has also issued a statement: "We strongly condemn the campaign of violence and intimidation that has been unleashed against the Muslims of the area. This is not the first time such Islamophobic incidents have been reported in Leicester."
It went on to say it had confidence in the UK authorities to deal with those responsible and called on all communities to "refrain from actions that inflame religious sentiment and undermine societal harmony".
The paper's report said: "Video shows up to 200 masked and hooded men gathered outside a Hindu temple near Birmingham, shouting 'Allahu Akbar'."
The Daily Mail's headline was: "Leicester violence spreads to Birmingham as 200-strong masked mob surround Hindu temple: Riot police are pelted with bottles during protest after weeks of unrest between Muslims and Hindus 'fuelled by false claims of kidnap and mosque attacks'."
The paper quoted a member of the temple committee: "People are trying to create a situation like Leicester here. There have never been any issues here between communities so far and we are not a BJP/RSS centre."
For the benefit of its readers, the paper is having to inform its readers about some unfamiliar organisations: "RSS refers to the Rashtriya Swayamsevak Sangh, an all-male Hindu nationalist volunteer group, often described as a paramilitary organisation while BJP refers to the Bharatiya Janata Party, the ruling political party in India which has been accused of passing policies and pursuing a religiously divisive agenda."
It added: "There have been claims that recent Hindu migrants to the city of Leicester hold Indian nationalist views."
There appear to be differences of opinion within Muslim organisations.
Zara Mohammed, secretary general of the Muslim Council of Britain, has written to the Indian High Commission, to say: "Whilst it is right that we condemn the desecration of Hindu symbols, you must represent all Indians and also condemn the deliberate targeting, intimidation and instances of assault of Muslims and Sikhs by large groups of thugs chanting far-right Hindutva slogans, mirroring tactics used by the RSS against communities in India."
She added: "There is a clear hesitancy to call out these groups who have instigated this thuggery and their political ideology; which they seem to be attempting to import from India. British Indian communities expect a balanced view from the Indian High Commission, which represents all of the diaspora, which can help heal divisions locally."
The British government refuses to deal with the MCB because it has engaged with those considered extremists.
In Leicester there was a more nuanced statement from the Federation of Muslim Organisations (FMO), which strongly cautioned against using terms "like Hindutva", which was "strictly related to this fascist extreme minority" because "such terms can demonise an entire community unfairly".
One veteran Muslim community leader in Leicester told The Telegraph: "The older generation of Muslims and Hindus have always got on well. But they have no control over some recent arrivals, who got in using Portuguese passports when the UK was part of the European Union. They are Hindu but have little in common with those long settled in Leicester. I fear the trouble will spread to other cities."