Lanka talks fail to end deadlock
Sri Lanka's Supreme Court overturns the dissolution of Parliament and halts preparations for snap polls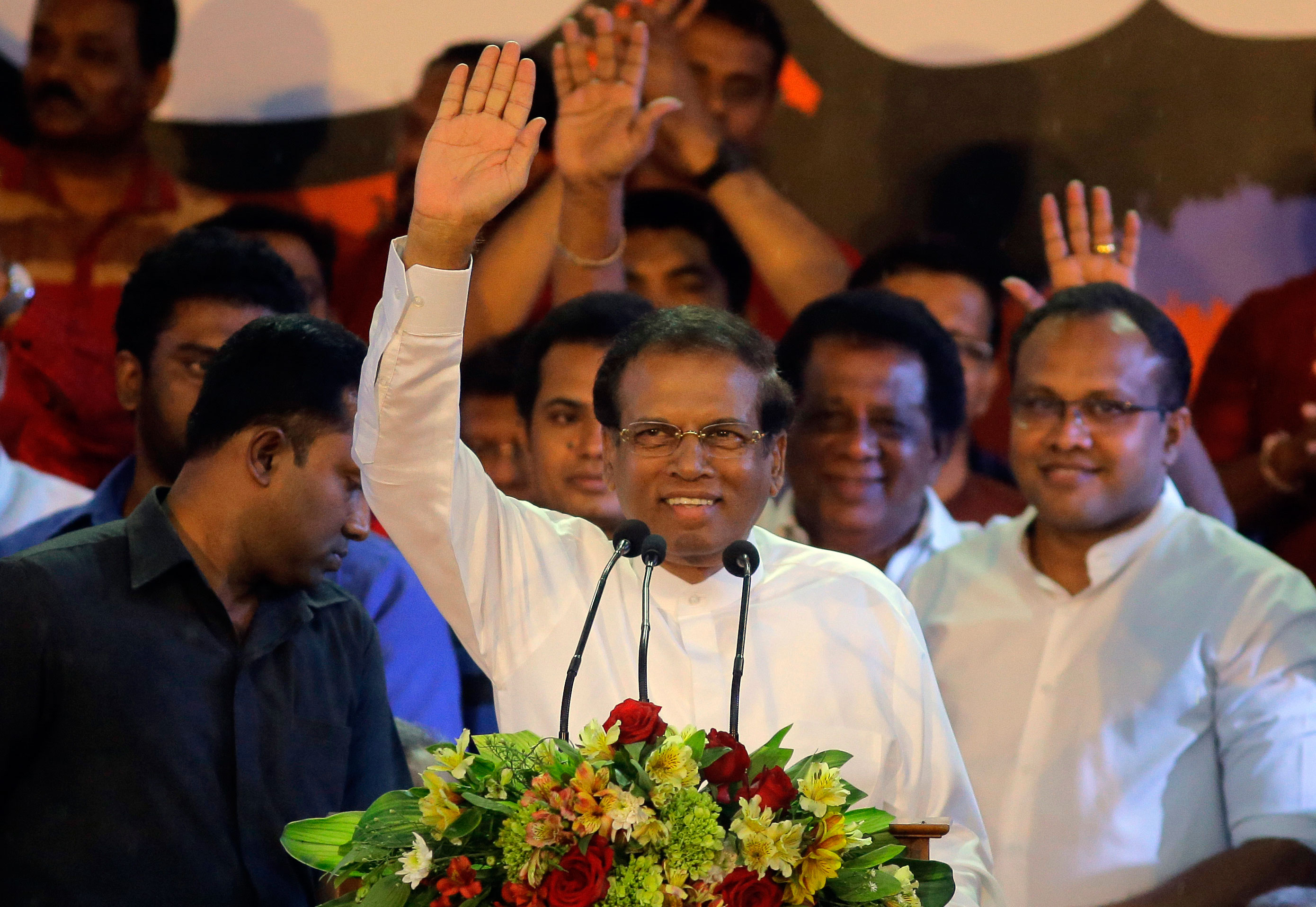 Sri Lankan President Maithripala Sirisena waves to supporters during a rally outside the parliamentary complex in Colombo on November 5, 2018.
AP
---
Colombo
|
Published 18.11.18, 09:23 PM
|
---
An all-party meeting called by Sri Lankan President Maithripala Sirisena failed to make any breakthrough on Sunday amid the political crisis set off by his decision to remove Prime Minister Ranil Wickremesinghe last month.
Sirisena had replaced Wickremesinghe with former President and strongman Mahinda Rajapaksa on October 26. He later dissolved the parliament almost 20 months ahead of term and ordered snap elections.
But the Supreme Court on Tuesday overturned the dissolution of Parliament and halted the preparations for the January 5 polls.
The crisis talks came after Sri Lanka's parliament witnessed unprecedented violence, with the lawmakers throwing furniture and chilli powder at one another.
On Friday, the MPs approved a second vote of no confidence against Rajapaksa but Sirisena refused to accept it, saying his advice had not been followed. He called an all-party meeting on Sunday.
The two-hour meeting, however, ended without any breakthrough, Wickremesinghe's United National Party (UNP) said.
The JVP or the People's Liberation Front stayed away from the meeting. In a letter to Sirisena, it said that as the creator of the crisis, it's he who should end it. The party said it had no reason to attend the meeting.
Speaker Karu Jayasuriya, who on Wednesday announced there was no Prime Minister or government in the country following the first no-confidence motion against Rajapaksa, also boycotted the meeting.
Sirisena and Jayasuriya have been at loggerheads ever since the Speaker decided to summon the parliament on Wednesday despite the President's dissolution of the legislature to hold fresh elections.
Sunday's meeting was the first time that Sirisena, Wickremesinghe and Rajapaksa had met face to face since the crisis erupted three weeks ago.
Wickremesinghe maintains that his sacking was unconstitutional and that he still is the Prime Minister.
"We placed our cards on the table. We told Rajapaska that if the Speaker's rulings are wrong, they can move a motion to challenge it and get it passed. The response from President Sirisena was nil," Lakshman Kiriella, a senior UNP leader, said after the talks.
"We told the President we have the majority. We are in a position to present the affidavits we signed," Ajith P. Perera, another UNP leader, said.
The chaos in Parliament on Friday had forced the Speaker to summon police inside the House. Jayasuriya conducted the proceedings with a microphone.