Kuwait dissolves parliament
Read more below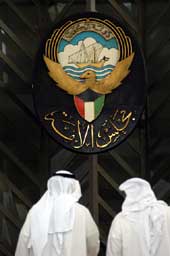 ---
Published 22.05.06, 12:00 AM
|
---
Two men in front of the Kuwaiti parliament. (AFP)
Kuwait, May 21 (Reuters): Kuwait's emir dissolved the parliament today, a week after lawmakers and the government clashed over an election reform law, and called for elections next month.
A decree by Sheikh Sabah al-Ahmad al-Sabah ordered the dissolution of the House. A few days ago, reformist MPs had submitted a request to question Prime Minister Sheikh Nasser al-Mohammad al-Sabah over the disputed draft law aimed at curbing voting irregularities.
The June 29 elections bring forward a poll set for July 2007, said the decree carried by state news agency Kuna.
The motion to question the prime minister, the first of its kind in Kuwait's history, deepened a political crisis gripping the Opec oil producer and US ally.
Analysts say that by dissolving the parliament, the emir aims to end the political crisis that has paralysed the country after the government and the House reached a dead-end over the extent of the state-sponsored reforms. They say the emir hopes the early vote would bring a "more cooperative" parliament.
"It was imperative for me to take a difficult decision I did not wish to take. But I saw it as my duty to dissolve the parliament constitutionally to safeguard our homeland's security and the safety of its sons," the emir said in a televised speech.
"The incitement (of the crisis) kept us from our priorities and... the practices of some people deviated from the correct parliamentary demeanour. This posed a threat to the security of the homeland and its stability," he said. "There are limits that all should respect."
Kuwait is the first Gulf Arab state with an elected parliament with clout. The assembly, where Islamist and conservative MPs have big influence, often clashes with the government and holds ministers to task.
The emir dissolved the house a few months after succeeding his late brother Sheikh Jaber al-Ahmad al-Sabah in January.
Before he became emir, Sheikh Sabah was Kuwait's strongman for years due to the illness of the late ruler and his deputy.
Sheikh Jaber dissolved the parliament in 1999 after three years of tensions with the assembly.
The political crisis started last week after the state-sponsored electoral districts draft law that cuts constituencies to 10 from 25 was referred to the constitutional court.
The move further angered several reformist MPs who want the constituencies to be reduced to five, saying sending the draft to the high court would only delay the reforms as the court's ruling may take months, even years.
Many lawmakers boycotted the parliament session in protest.