Khashoggi killing 'premeditated'
Riyadh in yet another shift in scribe story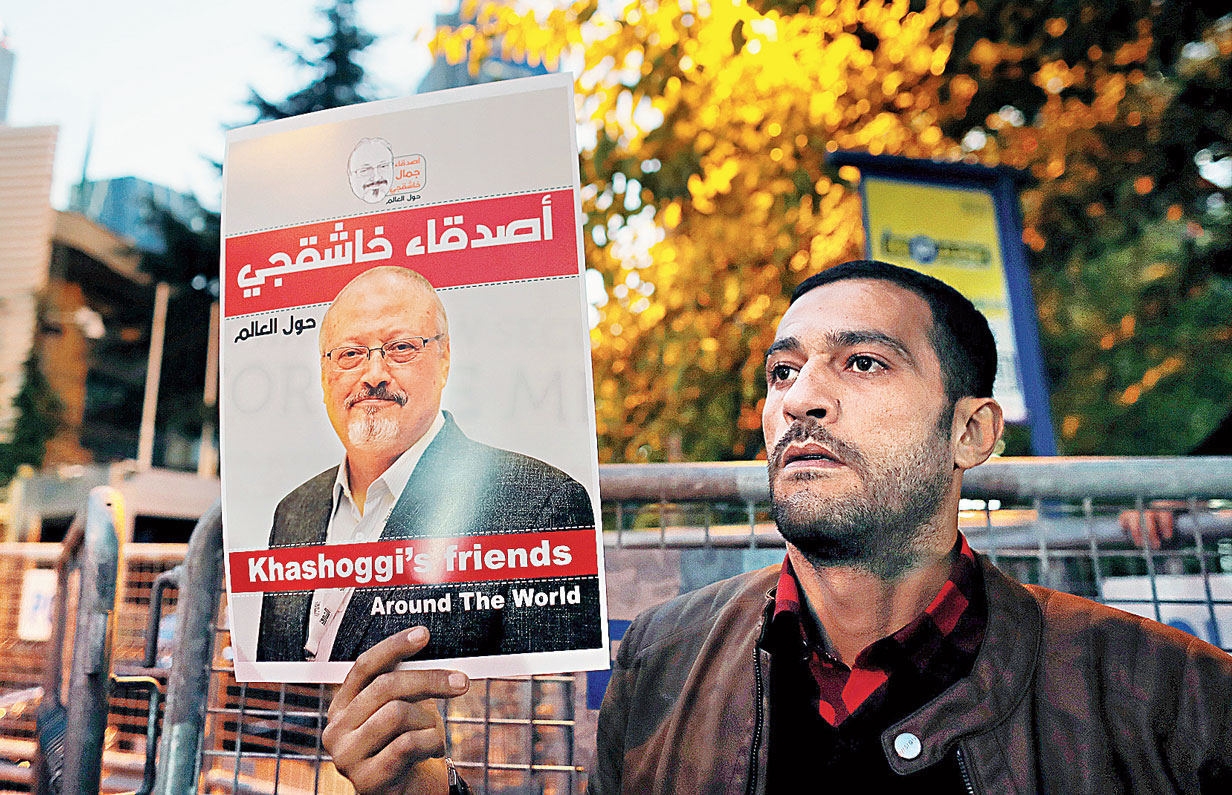 A protester with a poster of Jamal Khashoggi outside the Saudi consulate in Istanbul on Thursday.
Reuters
---
Beirut
|
Published 25.10.18, 08:01 PM
|
---
Sabah, a pro-government Turkish newspaper, reported on Wednesday that Turkish officials had already shared evidence including audio recordings with Haspel.
The timing of the latest announcement suggests that the Saudis may be seeking to revise their previous public explanation before Washington received and digested evidence that would further discredit it.
President Recep Tayyip Erdogan of Turkey on Wednesday called Khashoggi's killing "premeditated murder" and asked a series of leading questions about who in Riyadh had ordered the operation.
Turkish officials have leaked several details that point to premeditation, including the fact that a member of the Saudi team that flew to Istanbul resembled Khashoggi, dressed in his clothes and walked around Istanbul to create a false trail of security camera images that appeared to show the journalist alive.
The new revision will probably increase the pressure from lawmakers of both parties in Congress for the Trump administration to impose sanctions on the Saudi government, which is de facto led by the White House's close ally, the crown prince, Mohammed bin Salman.
Turkish officials have said that the team killed Khashoggi soon after he entered the consulate and then dismembered his body with a bone saw.
Eldest son in US
Khashoggi's eldest son and his family arrived on Thursday in Washington on a flight from Saudi Arabia, according to two family sources.
Salah Khashoggi, who one source said holds dual US-Saudi citizenship and had thus far been under a travel ban, departed Saudi Arabia on Wednesday. His departure came a day after a meeting at in Riyadh in which he and other family members received condolences from King Salman and his son.
Saudi Arabia's public prosecutor said on Thursday that new evidence indicated that the killing of the Saudi journalist Jamal Khashoggi had been "premeditated," suggesting yet another shift in the kingdom's official story of how he was killed.
For weeks after Khashoggi disappeared on October 2, Saudi officials insisted that he had left the Saudi consulate in Istanbul alive and well that day. Later, officials hinted that he might have fallen victim to "rogue" agents of the kingdom.
On Saturday, Saudi officials acknowledged that a 15-man team had flown to Turkey to confront Khashoggi inside the consulate, and killed him there. But they said his death was an accident, the result of a "fistfight" — when he screamed, they said, one of the men put him in a chokehold, killing him accidentally.
The latest statement, which was announced through the kingdom's state-run news media, said the kingdom's public prosecutor had received new information from Turkey through a joint Saudi-Turkish investigation into the death. It also said that the investigation was continuing, making it unclear whether Saudi Arabia itself had concluded that the killing was premeditated.
The latest change is likely to cast further doubt on the kingdom's explanation of what happened to Khashoggi. Saudi Arabia's narrative has already been met with widespread scepticism, not least by President Trump, who called it "one of the worst in the history of cover-ups".
The shift in the Saudi account coincided with a visit to Turkey by Gina Haspel, the director of the CIA. Turkish officials said Haspel was expected to receive access to an audio recording and other evidence that the Turks have said prove Khashoggi's killing was a premeditated assassination ordered from the upper levels of the Saudi royal family.