Ken Starr, whose probe led to Clinton impeachment over Lewinsky affair, dies
Starr's Whitewater investigation uncovered former US President Bill Clinton's affair with Monica Lewinsky in 1998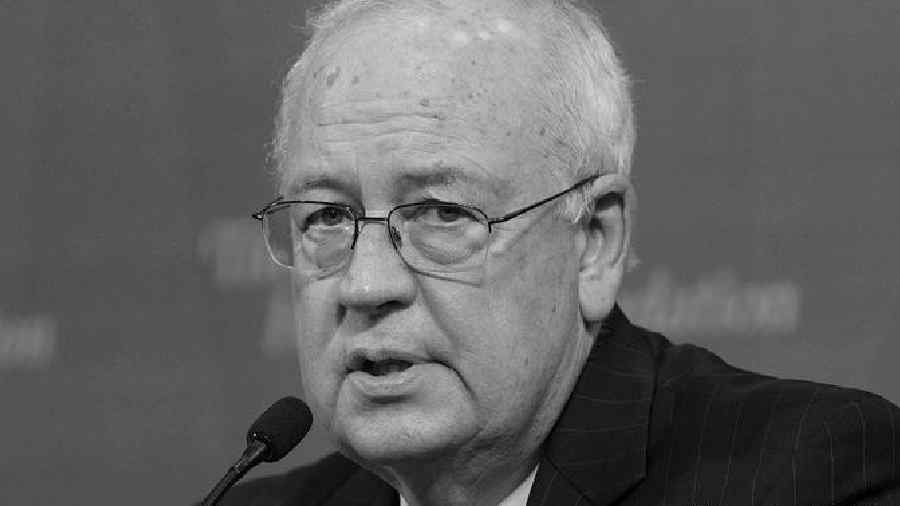 Starr was demoted from the presidency at Baylor University in 2016 after allegations emerged that school officials suppressed reports of sexual misconduct
Deutsche Welle
---
Published 14.09.22, 10:05 AM
|
---
Ken Starr, the prosecutor whose investigation into the Bill Clinton-Monica Lewinsky case led to the impeachment of the then US president in 1998, died on Tuesday. He was 76.
According to his family he passed away due to complications from a surgery in Houston.
Starr was appointed a special counsel in 1994 to investigate into Whitewater, a land deal involving Bill and Hillary Clinton.
While neither of the Clintons was ever charged in connection with Whitewater, Starr's investigations expanded into a probe of the president's affair with the 24-year-old White House intern Lewinsky.
The former president's attempt to cover up the affair gave investigators enough evidence for an impeachment. Clinton was accused of perjury and obstruction of justice.
Starr's report was the basis of the House Republicans' impeachment of the former president in December 1998, although Clinton was later acquitted by the Senate.
In 2020, Starr was recruited to help represent Donald Trump in his first impeachment trial.
Trump paid tribute to Starr calling him "a true American Patriot who loved our Country and the Law." Trump made the comment on his own social media platform Truth Social.
Meanwhile, Lewinsky expressed mixed emotions on Twitter following reports of Starr's death. She said that her "thoughts about Ken Starr bring up complicated feelings. But of more importance, is that I imagine it's a painful loss for those who love him."
as i'm sure many can understand, my thoughts about ken starr bring up complicated feelings… but of more importance, is that i imagine it's a painful loss for those who love him.

— Monica Lewinsky (she/her) (@MonicaLewinsky) September 13, 2022
Baylor sexual assault scandal
Starr was demoted and eventually resigned from the presidency at Baylor University in 2016 after allegations emerged that school officials suppressed reports of sexual misconduct.
Women alleged that the largest US Baptist school, under Starr, ignored their sexual assault complaints.
A review commissioned by the school found that the Starr-led school administration even contributed to or accommodated a "hostile" environment against the alleged victims.
Following the scandal, in a statement, Starr tendered an apology to "those victims who were not treated with the care, concern, and support they deserve."
Jeffrey Epstein trial
Starr was also a part of the legal team for Jeffrey Epstein, the multimillionaire accused of sexually abusing underage girls from 1994 to 2004.
He helped Epstein reach a plea agreement in 2008 for sex abuse. The agreement led to a 13-month sentence for his client instead of facing more serious federal charges.
Epstein killed himself in a Manhattan jail cell in 2019 while awaiting trial on sex trafficking charges.