Joe Biden slams oil and fuel companies for war profits
President threatens to impose windfall tax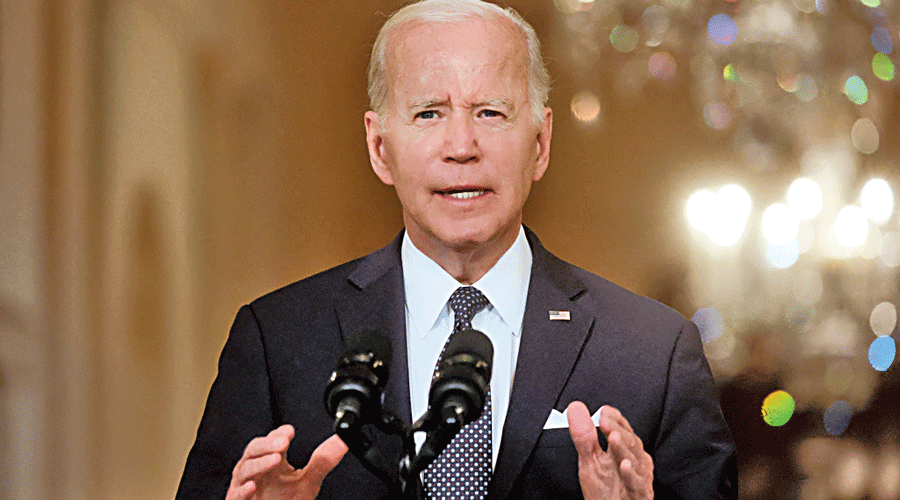 ---
Washington
|
Published 02.11.22, 12:44 AM
|
---
President Biden threatened on Monday to seek a new windfall profits tax on major oil and fuel companies unless they ramp up production to curb the price of petrol at the pump, an escalation of his battle with the energy industry just a week before the midterm elections.
The President lashed out against the giant firms as several of them reported the latest surge in profits, which he called an "outrageous" bonanza stemming from Russia's war on Ukraine. He warned them to use the money to expand oil supplies or return it to consumers in the form of price reductions.
"If they don't, they're going to pay a higher tax on their excess profits and face other restrictions," Biden told reporters at the White House. "My team will work with Congress to look at these options that are available to us and others. It's time for these companies to stop war profiteering, meet their responsibilities to this country, give the American people a break and still do very well."
The President's embrace of new taxes on the energy industry heartened liberals in his party. But it was more of a way to pressure the oil firms than a realistic policy prescription for the short term given that Congress is not even in session and would be evenless likely to approve such ameasure if Republicans capture one or both houses in next week's election.
Biden has been eager to direct public anger over fuelprices towards the oil industry and away from himself asDemocrats try to overcomehistorical and popular headwinds to keep the power onCapitol Hill. While the priceat the pump has fallen significantly since topping out just above $5 a litre in the summer, it is still much higher than when Biden took office and contributes to the overall inflation rate.
The President framed his case against the oil companiesin terms that seemed clearly aimed at next week's vote."The American people are going to judge who is standing with them and who is only looking out for their own bottom line," he said. "I know where I stand."
New York Times News Service