It's IM?!
A messy general election stage-managed by the military and the deep state may well see Imran Khan crowned 'Kaptaan Pakistan'. Mehmal Sarfraz reports from Lahore on a cynically subverted poll next door and what that may mean for India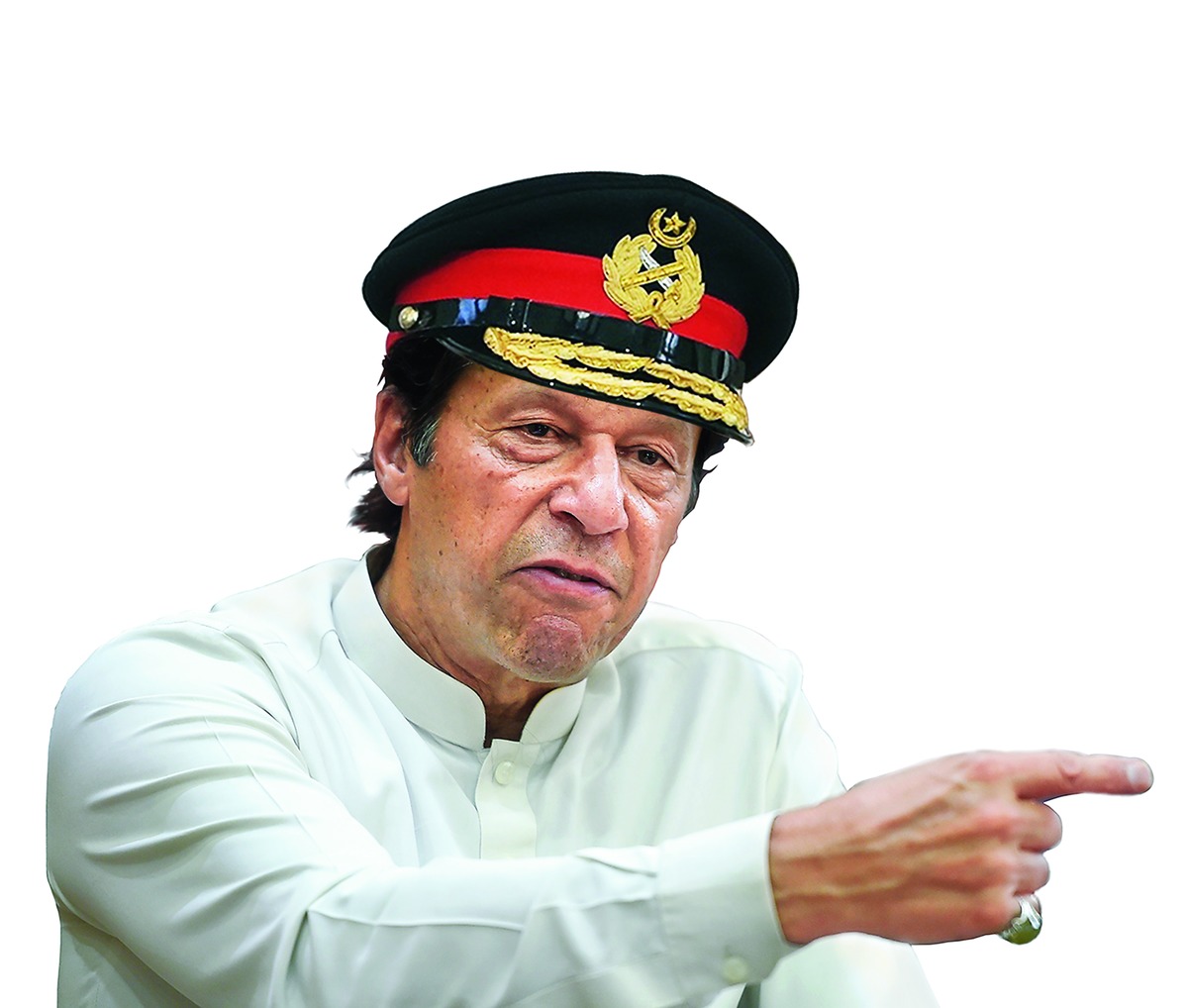 ---
---
Pakistan At The Hustings
General elections in Pakistan are just three days away. Two successive democratically elected governments have completed their tenures since the 2008 general elections. A third election should have consolidated Pakistan's fragile democratic process. Instead, it is in a shambles: pre-poll rigging, coercion, intimidation and much more. Whatever the results, the outcome of these elections has already been tainted. They have lost all credibility due to the open manipulation by Pakistan's all-powerful military establishment.
"These are the dirtiest elections of Pakistan; they are not even in a thousand-mile radius of being 'free and fair'. Political engineering and media coercion is at its peak. We have never seen such brazen manipulation ever," says commentator Marvi Sirmed.
She isn't alone; the same sentiment is being echoed by most local and international media, rights and civil society groups, even political parties in the fray.
Six of them - the Pakistan Muslim League-Nawaz (PML-N), the Pakistan People's Party (PPP), the Awami National Party (ANP), the Muttahida Qaumi Movement-Pakistan (MQM-P), the Jamaat-e-Islami (JI) and the Jamiat Ulema-e Islam-Fazl (JUI-F) - have decried the way they are being denied a level playing field. The only major party that has so far not alleged pre-poll rigging is Imran Khan's Pakistan Tehreek-e-Insaf (PTI). Imran and his party are said to be direct beneficiaries of this "engineered" electoral process.
The PTI is, of course, gleeful in anticipation of the results. Both the PML-N and PPP have accused the military of intimidating their candidates and asking them to join other parties - all this in a bid to make Imran's PTI the leading contender for government. No wonder the chairman of PPP, Bilawal Bhutto-Zardari, has already started referring to Imran as "PM-Select".
Adds PML-N senator Musadik Malik: "The discriminatory behaviour of the caretaker government is tantamount to pre-poll rigging. The timing of Nawaz Sharif and Maryam Nawaz's National Accountability Bureau (NAB) case decision, the arrest of 16,868 PML-N workers across Pakistan, the sudden surge of NAB activity against PML-N leaders, the selective application of Section 144 on PML-N public gatherings, the suspension of local bodies' administration, and the unprecedented powers given to the security apparatus for the Election Day are all examples of efforts to unduly influence the results."
"Of course, the outcome of the upcoming elections is being influenced. It is not about Election Day anymore. While Imran Khan could have genuinely won these elections, there is now a label attached with his expected win. It is the nature of the game being played," says anchorperson Asma Shirazi.
After the last elections, the PML-N won a clear majority and was able to form a government. Most people felt that due to its strength in numbers, the Nawaz Sharif government would be able to rule smoothly. They were in for a shock. Sharif's "sins" were aplenty; the Establishment hauled him over the coals. Amongst those "sins", the gravest was that of pursuing a treason trial against former military dictator General Pervez Musharraf. The military couldn't let one of its own go the civilian way. On top of that, Sharif made the "mistake" of a peace overture to India and Prime Minister Narendra Modi. Uh oh. Time to nab the civilian prime minister who thought he could step on the toes of the high and mighty.
Not one to disappoint, "Captain Pakistan" aka Imran Khan stepped in with rigging allegations. As if right on cue, Canada-based cleric Tahir-ul-Qadri also descended on the land of the pure. The Sharif government thought it could handle all this; instead, it botched up. The Punjab Police killed more than a dozen people in the 2014 Model Town massacre. While the Punjab government led by Sharif's brother, Shahbaz, claimed it did not order the police to open fire, Imran and the good doctor Qadri staged a protest dharnain Islamabad. They asked for the government to step down. It did not. But by the end of the dharna, the Sharif government was almost toothless.
Pakistan is used to electoral engineering by the Establishment. Nothing new about this save that this is all being done in an era of social media and private news channels. One would think that in such times, the Establishment would want to do all this manoeuvring in a hush-hush manner but the opposite is true: it is being done in a Kafkaesque fashion: brash, brazen, blatant.
Journalist Zebunnisa Burki says, "We've seen forced defections, we've seen a total crackdown on free speech and the media, we've seen the largest party [Sharif's PML-N] being hounded. There is a reason they are calling this the General (S)election 2018."
What would that mean for India? Analyst Gharidah Farooqi believes that whoever forms the government, one thing is for sure: "Certain areas will not be allowed by the mighty Rawalpindi (headquarters of the Pakistani military establishment) to be bypassed or treaded upon". She feels that with the fate of Nawaz Sharif in mind, the new government will be desperate not to displease the Establishment. "The prime areas are known and well defined: foreign policy vis-à-vis the US, China and Afghanistan, the relationship with India, defence policy and the defence budget," says Farooqi. "Neither Pakistan nor India should expect any instantaneous change (read normalcy) in their relationship. Status quo will prevail at least till the next general elections in India, due in 2019."
There are those who disagree. PTI's Fawad Chaudhry narrates a story to make the point that Imran's premiership will promote good ties: "A former Indian ambassador once told me that if Imran Khan were to hold a jalsa (rally) in Delhi, he would gather as much crowd as he pulls in Lahore. Due to his cricketing career, Khan knows India and Indian people - especially those who are relevant - better than any other Pakistani leader. He has this edge of personal knowledge about India, so I think the relationship between India and Pakistan will improve with him as PM."
While Chaudhry may think "Prime Minister Khan" would build bridges with India, Zebunnisa Burki says that will be tricky. "If Imran comes to power - which seems to be what the powers that be have decided for us - then it will be strange to see him make overtures towards India since he and his party have over the past five years hounded Nawaz and his PML-N regarding their alleged 'ties' to Modi." She acknowledges that the PTI has mentioned improvement of ties with India in its manifesto. "However, there is no denying that there are far more hawks in Imran's party than other mainstream political parties of Pakistan. Eventually, elected governments have little say in such matters - something Nawaz Sharif has learnt bitterly."
We have all heard about the Ides of March but for the Sharif family, the month of July has become synonymous with judicial verdicts set to seal their fate. From the disqualification of Mian Nawaz Sharif as the Prime Minister in July 2017 to another judicial verdict earlier this month handing him a jail sentence along with his daughter and political heiress, Maryam Nawaz, and her husband Captain Safdar, July has turned out an ominous month for the clan. Although both the judgments have been criticised for being weak by many in the legal fraternity and political circles, there are those who believe the Sharifs are being rightly punished. On the surface it seems the Sharifs are in trouble. In the long run, we will eventually see that their political fortunes will rise once again. Some analysts believe that the military miscalculated and thought once convicted and sentenced to imprisonment, Nawaz Sharif and Maryam Nawaz would stay back in London (where they were visiting the ailing Begum Kulsoom Nawaz). The Sharifs returned and how. Defiant, determined and not ready to budge.
Another star on Pakistan's political horizon is Bilawal Bhutto. This young man has impressed many (even some of his detractors) by the way he has campaigned across Pakistan. The Bhutto scion reminds one of his mother, Benazir. While these may not be the PPP's elections to win, Bilawal has certainly made his mark. He is contesting for the first time. With his inevitable entry into Parliament, it would be interesting to see how he leads the PPP in the run-up to the next elections.
The Establishment tried every trick but was still not able to break the back of the PML-N in Punjab. It doesn't seem likely for the PTI to get a clear majority. Khan will have to cobble together a coalition with either independents and/or other political parties.
As Gharidah Farooqi points out, one thing is clear: no one party can enjoy a clear, absolute majority. "This coalition in the Centre can be a strong one as well, if led by the PML-N and PPP and quite a weak one if formed by PTI and PPP," says Farooqi. She thinks it would be interesting to see which parties grab the required number of seats. "Either way, will they be general elections or Generals' elections will depend upon the voters' mood!"
With a muzzled media, a compromised judiciary, and candidates who have been arm-twisted, the stage is set for an election on July 25 that many believe is only a "selection". Some political pundits are predicting that the next government would not complete its tenure. Sooner or later, the Establishment would have a fight with its chosen ones, they reckon. It is well known, after all, that Mian Nawaz Sharif was once the Establishment's blue-eyed boy just like Imran Khan is now their " ladla" (favourite).