Intruder, armed with a crossbow, caught at Windsor Castle
For example, this is where former Indian President Pratibha Patil stayed during her state visit in 2009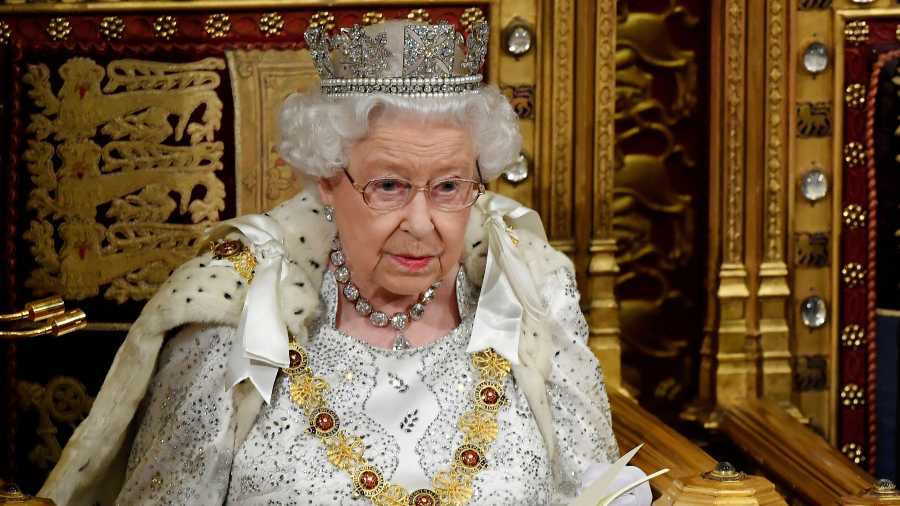 Queen Elizabeth.
File photo
---
Published 27.12.21, 02:31 AM
|
---
An intruder armed with a crossbow used a rope ladder to scale the walls of Windsor Castle just as the Queen was about to mark her first Christmas without Prince Philip.
Crossbows are often referred to as "lethal but legal" because they require no licence or registration and can be bought on the Internet.
Windsor Castle gives the appearance of being impregnable but it has to be carefully guarded because the Queen is in residence and this is where she often receives ambassadors and heads of state.
For example, this is where former Indian President Pratibha Patil stayed during her state visit in 2009.
The man got into the grounds of the castle but was stopped by security officers before he could get anywhere near the Queen.
It is understood he was spotted on CCTV roaming the gardens at around 8.30am. Armed response teams raced to the scene within minutes.
Within an hour of the security scare, the Queen, who is celebrating Christmas at Windsor instead of Sandringham due to omicron fears, welcomed Prince Charles and Camilla to lunch.
A palace source said: "Fortunately the intruder was apprehended and police were on the scene almost immediately but there is a chill in the air over what could have been."
Another source said: "Security controllers monitoring the CCTV couldn't believe their eyes when they spotted the man carrying what appeared to be a crossbow, and scrambled armed police."
The 19-year-old man was taken to Maidenhead police station. It is believed to be at least the third major security breach at Windsor in the past year.
Thames Valley police superintendent Rebecca Mears issued a statement confirming that the investigation is ongoing.
"We are working with colleagues from the Metropolitan Police," she said. "The man has been arrested on suspicion of breach or trespass of a protected site and possession of an offensive weapon. He remains in custody at this time.
"We can confirm security processes were triggered within moments of the man entering the grounds and he did not enter any buildings. Members of the royal family have been informed about the incident. We do not believe there is a wider danger to the public."
In her very personal Christmas message, the Queen began by saying: "Although it's a time of great happiness and good cheer for many, Christmas can be hard for those who have lost loved ones. This year, especially, I understand why.
"But for me, in the months since the death of my beloved Philip, I have drawn great comfort from the warmth and affection of the many tributes to his life and work — from around the country, the Commonwealth and the world. His sense of service, intellectual curiosity and capacity to squeeze fun out of any situation — were all irrepressible. That mischievous, enquiring twinkle was as bright at the end as when I first set eyes on him.
"But life, of course, consists of final partings as well as first meetings; and as much as I and my family miss him, I know he would want us to enjoy Christmas."
"We felt his presence as we, like millions around the world, readied ourselves for Christmas. While Covid again means we can't celebrate quite as we may have wished, we can still enjoy the many happy traditions."
The Queen, who is 95, added: "Prince Philip was always mindful of this sense of passing the baton.  That's why he created The Duke of Edinburgh's Award, which offers young people throughout the Commonwealth and beyond the chance of exploration and adventure. It remains an astonishing success, grounded in his faith in the future.
"He was also an early champion of taking seriously our stewardship of the environment; and I am proud beyond words that his pioneering work has been taken on and magnified by our eldest son Charles and his eldest son William — admirably supported by Camilla and Catherine — most recently at the COP, a climate change summit in Glasgow.
"Next summer, we look forward to the Commonwealth Games. The baton is currently travelling the length and breadth of the Commonwealth, heading towards Birmingham, a beacon of hope on its journey. It will be a chance to celebrate the achievements of athletes and the coming-together of like-minded nations.
"And February, just six weeks from now, will see the start of my Platinum Jubilee year, which I hope will be an opportunity for people everywhere to enjoy a sense of togetherness; a chance to give thanks for the enormous changes of the last seventy years — social, scientific and cultural — and also to look ahead with confidence.
"I am sure someone somewhere today will remark that Christmas is a time for children. It's an engaging truth, but only half the story. Perhaps it's truer to say that Christmas can speak to the child within us all."