India, China opposition to Russia's war on Ukraine leaves Putin even more isolated
Rebuke comes as double whammy for Russia President on top of lightning Ukraine advances on the battlefield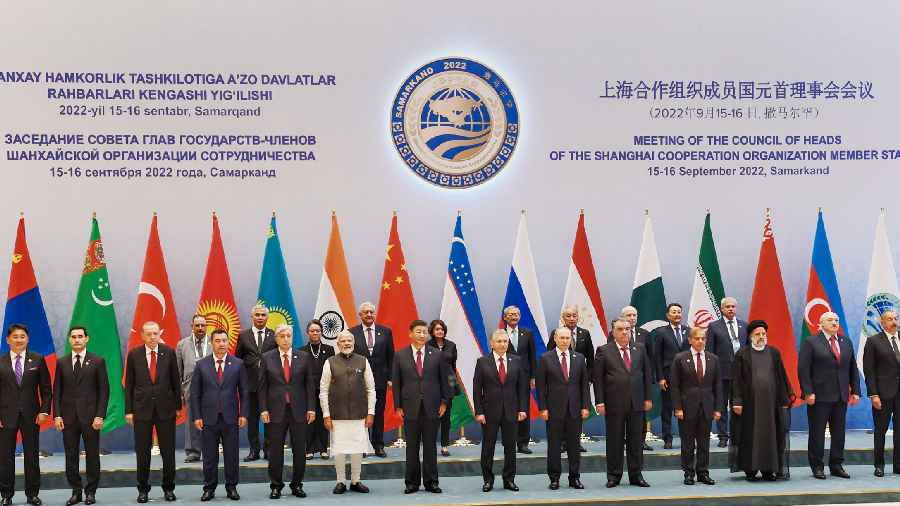 Prime Minister Narendra Modi, Chinese President Xi Jinping, Russian President Vladimir Putin, Uzbekistan President Shavkat Mirziyoyev and others pose for photographs during Shanghai Cooperation Organisation (SCO) summit in Samarkand, Uzbekistan
PTI picture
---
New Delhi
|
Published 18.09.22, 11:23 AM
|
---
Vladimir Putin must have been hoping to make friends and influence sceptics when he made the short journey from Moscow to Samarkand for the Shanghai Cooperation Organization (SCO) summit. 
Instead, Putin encountered a chilly blast of criticism from two countries he has counted as friends – India and China. It was small consolation that he was seen walking away from one meeting arm-in-arm with Turkey's President Recep Erdogan who's been desperate for Russian help for his tanking economy.
It was Prime Minister Narendra Modi who grabbed the headlines by sharply telling Putin, "I know that today's era is not of war," and adding firmly that, "Today we will get a chance to discuss how we can move forward on the path of peace."
Unusually, this crystal-clear message was delivered in front of TV cameras and the assembled press. Putin admitted that China's President Xi Jinping had delivered much the same message the day before.
For Putin, this rebuke from Modi comes as a double whammy on top of the countless photos of broken-down Russian tanks and reports of Russian soldiers fleeing occupied areas in the face of the lightning advance by Ukrainian troops. 
Now Putin confronts the unpleasant choice: should he step up the war even while those countries he counted as friends are abandoning him?
Unfounded assumptions
Putin's war against Ukraine has been riddled with unfounded assumptions, the biggest being that Russia's neighbour would fold militarily within a few days and allow the installation of a pro-Moscow government. 
With both India and China now signalling their disapproval of Russia's invasion, Putin's expectation that he could count on India and China's support for the war has turned out to be another miscalculation. 
The top story on the New York Times website declared firmly: "Underlining Russia's widening isolation on the world stage, Prime Minister Narendra Modi of India told President Vladimir V. Putin on Friday that it is no time for war."
A clear signal, says NYT
The New York Times interpreted Modi's open disapproval as, "a signal that a country that the Kremlin has billed as friendly was now trying to distance itself." India's come under attack in recent months for buying Russian oil at discounted prices. It has also received large quantities of fertiliser which have helped avert a crisis in the agricultural sector.
Similarly, The Washington Post reported from Samarkand that, "Challenged bluntly and publicly by Indian Prime Minister Narendra Modi over the war in Ukraine, President Vladimir Putin said Friday that Russia would strive to stop the conflict "as soon as possible" but that Ukraine was refusing to negotiate. Ukraine has said it will fight until it forces out all Russian soldiers from its territory.
A Bloomberg headline focused on Xi's message and said: "Putin discovers the limits of Comrade Xi's friendship." The story pointed out how the Russian and Chinese leaders had, six months ago, declared that there were "no limits" to their bonds.
Bloomberg added that at Samarkand, "Russia's leader could have done with a few more strong words and a lot more economic support. He got little more than the bare minimum." The story added that Xi promised "deeper practical cooperation" adding: "But giving his old friend…..nothing to take home. In fact, specific numbers were almost entirely absent."
Strongman under pressure
The Washington Post said the negative signals from both Modi and Xi must have shocked the Russian president. It added: "The rare reproach showed the 69-year-old Russian strongman coming under extraordinary pressure from all sides. Internationally, he is facing calls to end the war not only from his traditional critics in the West, but also from Asian partners whom he cannot paint as beholden to the US."
For Putin, the criticism from India and China negative must have given him an extra jolt because he viewed the SCO as friendly territory. The organisation, spearheaded by China and Russia, aimed to bring together a handful of Eurasian countries like Uzbekistan, Kazakhstan, Kyrgyzstan and Tajikistan (all members of the former Soviet Union) into a loose alliance.
In 2017, India and Pakistan joined the organisation and this year Iran has joined. Except for India and Pakistan, there aren't any well-established democracies among this group of countries. None are pro-Western.
No huge benefit for India
India wasn't expecting a huge diplomatic benefit from its membership. In fact, one Indian diplomat, when asked why we were joining, replied that: "In principle with such organisations, we feel it is better to be in rather than out." Possibly, India's membership has worked out better than expected and next year we will be hosting the annual summit of the group's leaders.
For India, the SCO meeting made news for the Modi-Putin encounter. But there were other diplomatic tea leaves to be read. Significantly, Modi and Xi did not have even a brief meeting, even though there has been a pullback of troops at Gogra-Hot Springs in Ladakh in the last few days. Observers had speculated that this pullback was aimed at paving the way for a Modi-Xi tete-a-tete, even if brief.
Similarly, India and Pakistan do not appear to have made any contact even though Prime Minister Shehbaz Sharif and Foreign Minister Bilawal Bhutto were also at the meeting. In the leaders' photograph, Modi and Sharif were placed at opposite ends of the group, making clear that there has been no ground-level thaw between the two countries. And that's despite the cataclysmic floods in Pakistan when India could have offered food aid if nothing else.
But with a weak coalition tenuously in power in Pakistan, it was clear even such a small gesture would not be acceptable. So even if Prime Minister Modi made headlines in other ways, it was clear that India-Pakistan relations didn't even inch ahead in Samarkand.
What will Putin do now?
The larger question now is what will Putin do in the face of a string of humiliations on the battlefield and intense pressure from nationalists to recover the initiative?
There aren't too many good options. A general mobilisation would be unpopular. There are worries in the West that Putin might use tactical nuclear weapons against Ukraine.
Putin insists he is no hurry on Ukraine and in the short term, he may be hoping that energy shortages and a cold winter will break Western resolve and prompt the European countries to push Ukraine to the negotiating table.