If it's Wodehouse, laugh you must
Place sombre, mood light-hearted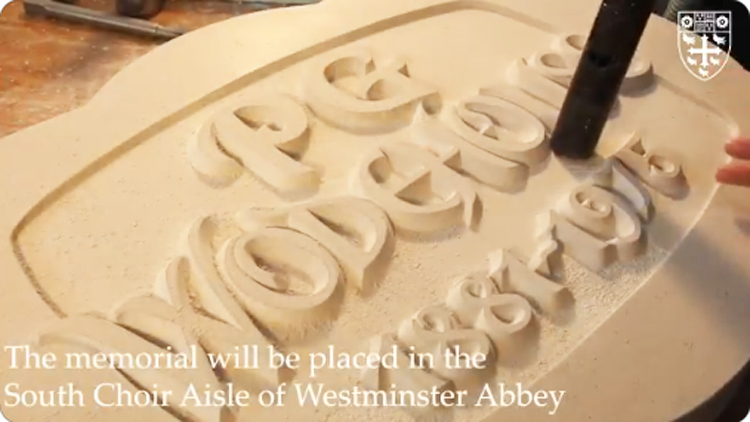 ---
|
London
|
Published 22.09.19, 09:15 PM
---
In P.G. Wodehouse's The Code of the Woosters, Bertie Wooster makes one of life's more profound remarks: "There are moments, Jeeves, when one asks oneself, 'Do trousers matter?'"
"The mood will pass, sir," he is reassured by Jeeves.
There was laughter in Westminster Abbey as these lines were read out by the TV personality and president of the PG Wodehouse Society in the UK, Alexander Armstrong.
Westminster Abbey, where the Queen had her coronation and Princess Diana her funeral, is normally a sombre place, suitable for contemplation and prayer. But on Friday night it was filled with fun as the dean, The Very Rev. Dr John Hall, led the service at the dedication of a memorial stone to Wodehouse.
"Plum", as Sir Pelham Grenville Wodehouse is known affectionately to the author's fans, would have been proud.
Members of the PG Wodehouse Society, packed into the South Quire Aisle close to Plum's memorial stone, also heard an extract from The Mating Season(1949), read by actress Lucy Tregear, while Martin Jarvis, a rich voice well known to BBC Radio 4 listeners, brought to life Lord Emsworth and the Girl Friend in the Blandings Castle canon (1933).
At the reception afterwards, the actor Neil Pearson brought the house down by reading what has been described as "one of literature's most memorable speeches ever" — Gussie Fink-Nottle's inebriated address on prize-giving day at Market Snodsbury Grammar School in Right Ho, Jeeves (1934).
Some serious questions were also addressed during the course of the evening.
"We are very aware of the enormous and fond following that Plum enjoys in India," remarked Jo Jacobius, a PG Wodehouse Society committee member.
His appeal to Indians was explained by Paul Kent, whose just-released book, Pelham Grenville Wodehouse: This is jolly old Fame (TSB Publishing), the first of three volumes, "offers the reader a guided tour of Wodehouse's imagination".
Kent, who said he subscribed to "a lot of Indian Facebook fan sites", told The Telegraph: "Plum's Indian readers really enjoy the way he used the English language. They love the way he plays with it, the way he invents things, the energy behind the language. I think that chimes with the very inventive and colourful way people who aren't English use English. They delight in all the aspects of the language, which people who use English as their first language take for granted.
"It's just fantastic to see a completely different perspective on his achievements from a group of people who obviously love English as much as people in his home country. In England, maybe we take Wodehouse for granted a bit too much — we've got a lot to learn from Plum's Indian readers in appreciating what a great writer he was."
The decision to allow a memorial stone to the author was taken by the dean after entreaties from the Wodehouse Society.
Bertie would no doubt say: "Dash it, Jeeves, it has not been easy for dear old Plum to get into Westminster Abbey — almost as hard as getting into the Drones Club."
Wodehouse, who was taken prisoner in France during the Second World War and made a handful of innocuous broadcasts from Berlin, was accused by many people in England of being a Nazi sympathiser. After the war, he self-exiled himself to America and never once returned to the beloved land of his birth. He was knighted a few weeks before his death at the age of 93 in 1975 in America, which remains his final resting place.
He was investigated and quickly cleared by MI5 but this news was withheld from him.
"That was shocking and cruel," commented Hilary Bruce, president of the PG Wodehouse Society. "It blighted the life of a nice man who, certainly, had been naive but had no evil intent. The suppression reflects no credit at all on the people that concealed the report. So, in that sense, this event will help to clear the air, just as his knighthood did in 1975."
With a memorial stone, formally "received in safe custody" by the dean from the Duke of Kent, the patron of the PG Wodehouse Society, Plum has returned symbolically to the bosom of England. Someone said it was "appropriate" that his memorial, in pale Portland stone, is just above the contrasting black marble of the playwright Noël Coward and the actress Dame Sybil Thorndike.
The wording is simple: "PG Wodehouse 1881-1975". Etched almost imperceptibly around the four sides are his accomplishments: Novelist, Humorist, Lyricist and Playwright.
Alexander reminded the congregation in his presidential address that Wodehouse, described in the Oxford Dictionary of National Biography as "the greatest of all English humorists", "wrote more than 70 novels — all of which are still in print — and about 19 volumes of short stories as well as the lyrics for over 200 songs. His books have been translated into 33 different languages…. He wrote more than 20 plays.
"The single word 'Jeeves' brings a smile to the lips of half the world…."
Wodehouse's step-grandson, Sir Edward Cazalet, spoke afterwards of the man he knew, while his son and daughter, Hal and Lara, sang some of Plum's lyrics.
The memorial was carved by letter cutter Annet Stirling after it had been designed by Stephen Raw, a Wodehouse fan who explained why he was wearing an Indian raw-silk orange achkan. It had been tailored in Delhi for his daughter's wedding, he said, introducing The Telegraph to his wife, his daughter and new son-in-law, Shalin Punn, son of Lord Swraj Paul's daughter, Anjli Paul. Thus attired, he sat for photographs by the Wodehouse memorial.
"Jeeves, isn't it splendid, we are being multicultural!" Bertie would have enthused, downing the much needed pick-me-up. "I think I might get one."
Jeeves, very deliberately laying out the blazer, the grey flannel trousers and the OE tie, would have been non-committal: "Indeed, sir."