Harry, Meghan reveal 'Master Archie'
Baby Sussex will be known simply as "Master Archie Mountbatten-Windsor"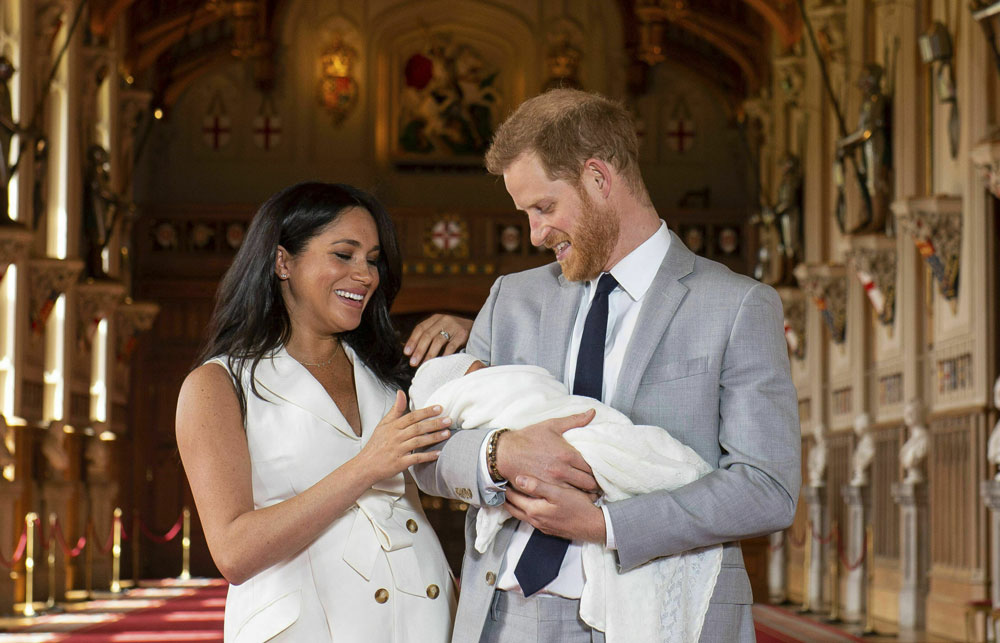 ---
|
London
|
Published 08.05.19, 07:38 PM
---
Meghan, Duchess of Sussex, introduced her "dream" baby to the world on Wednesday in a three-minute photocall at Windsor Castle.
As a proud father, Prince Harry spoke about having "our own little bundle of joy".
It was announced later in the day after Baby Sussex had been introduced to the Queen that he will be known simply as "Master Archie Mountbatten-Windsor".
Mountbatten was the last Viceroy of India.
As the first born son of a duke, Archie could have become Earl of Dumbarton — one of Harry's subsidiary titles — or have been Lord Archie Mountbatten-Windsor.
Short for Archibald, Archie is now given as a name in its own right.The decision fits in with Harry and Meghan's desire to give their son as normal a life as possible despite his royal heritage.
No one will begrudge Harry his moment of happiness because he was only 12 — and his elder brother William 15 — when they lost their doting mother Princess Diana in a car crash in a Paris tunnel in 1997.
It was Harry, dressed formally in a grey suit, who gently cradled the sleeping baby, while Meghan, in a plain cream dress, adjusted its blankets."It's magic, it's pretty amazing," said Meghan. "I have the two best guys in the world so I'm really happy. He has the sweetest temperament, he's really calm."
As they both laughed, Harry said: "I don't know who he gets that from." Meghan added: "He's just been the dream so it's been a special couple of days." Baby Sussex was born on Monday at 5.26am.
He will get used to the sound of camera motor drives soon enough, but for now, two and a half days after his birth in the Portland Hospital in London, he slept peacefully swaddled in a blanket in Harry's arms. At the request of the media pool, Meghan and Harry adjusted the baby's cap and turned his face so that royal fans could have their first peek at the boy who will be notionally seventh in line to the throne.
Amid surroundings steeped in royal history, the latest royal baby made his debut behind closed doors, with a small press pool of only one reporter, one photographer, three cameramen (including one from America's CBS network at Meghan's insistence), as well as the couple's own private photographer and a household press officer photographer.
Before being taken to be introduced to the Queen in her private apartments as her eighth great grandchild, Meghan and Harry answered a few questions.
The photocall took place in St George's Hall in Windsor Castle, not far from the chapel where the 37-year-old former American actress and the Queen's grandson, now 34, were married in May last year.
The ornate ceiling is studded with the coats of arms of Knights of the Garter stretching back to 1348 and the walls feature figures of knights in armour.
Asked who the baby takes after, Meghan said: "We're still trying to figure that out." Harry said: "Everyone says that babies change so much over two weeks we're basically monitoring how the changing process happens over this next month really."
Asked how he found parenting, Harry added: "It's great. Parenting is amazing. It's only been two and a half days, three days, but we're just so thrilled to have our own little bundle of joy and be able to spend some precious times with him as he slowly, slowly starts to grow up."
Asked about going to see the Queen and the Duke of Edinburgh, Meghan said: "We just bumped into the duke as we were walking by which was so nice. So it'll be a nice moment to introduce the baby to more family and my Mom's with us as well."
People will notice she used the American "Mom" rather than the British "Mum".
A quip from Harry: "Another great grandchild."
Asked to show more of their son's face to the cameras, Meghan laughed as the bearded Harry joked: "He's already got a little bit of facial hair as well, wonderful."
Meghan added: "Thank you everybody for all the well wishes and kindness, it just means so much."
Meanwhile, Meghan's friend, the 58-year-old Hollywood actor, George Clooney, has asked the press in the UK to be "kinder" towards her.
Speaking at the Catch-22 premiere about media scrutiny of Meghan and Harry, he said: "I think it'll (becoming parents) intensify it,
of course. But it's never about the media following you around, because that, in part, if you're a royal, that's part of what you have to do.
"It's the other versions of it – going to interview people's parents, that kind of stuff."
"It starts to step into a really dark place," said Clooney, who has denied he will be a godfather to the baby. "It's just, sort of, the press turned on them. I think people should be a little kinder. She's a young woman who just had a baby."
He also joked about sharing a birthday with Baby Sussex: "I was a little irritated because that kid really is stealing my thunder!"
The Clooneys have holidayed with Harry and Meghan in Italy and were at their wedding. Amal Clooney also attended Meghan's luxury baby shower in New York.