Godse and guide: Art imitates life
Play by Anupama Chandrasekhar looks at origins of Hinduvta movement with what appears a comment on political trends in India today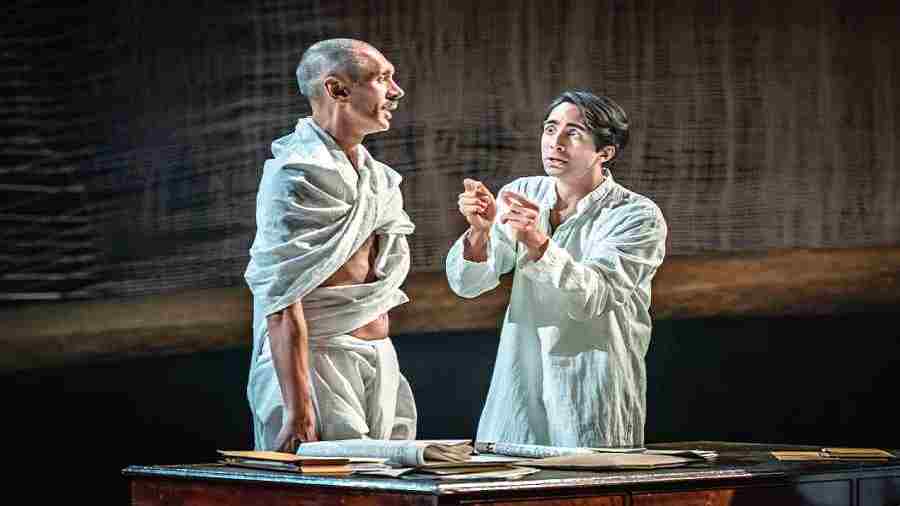 Paul Bazely as Gandhi and Shubham Saraf as Godse in the play The Father and the Assassin at the National Theatre in London.
Marc Brener
---
London
|
Published 21.05.22, 03:35 AM
|
---
Had The Father and the Assassin, a play that tells of the influences that led Nathuram Godse into killing Mahatma Gandhi, been staged a decade ago, parts of it would have been considered clairvoyant or as fiction stretching the limits of fact.
At the National Theatre in London on Thursday, it looked more like a chronicle of contemporary India.
The play, by Anupama Chandrasekhar, a Chennai-based playwright, looks at the origins of the Hinduvta movement with what appears a comment on political trends in India today, with Vinayak Savarkar emerging as the stern, unbending ideologue who was implicated in Gandhi's assassination but "exonerated due to lack of evidence".
Godse and his co-conspirator, Narayan Apte, who saw Savarkar as their guide and mentor, went to the gallows.
Past and present appear to merge in the play when Godse, who had once worked as a tailor's apprentice, accosts a Muslim customer: "Jai Shri Ram! Come on, say it…."
The idea that Muslims are outsiders is first put into Godse's head by Savarkar: "Yes, Godse, Muslims! Who invaded us… and ruled us before the British. They live today on our land as if they're not Indian….. That Godse, Apte… is the crux of the problem.
"Their loyalty does not lie with their Motherland, which is India, but with their holy land in another part of the world. How can you expect lasting peace between Hindus and Muslims with such an attitude? How can you expect any concession from the British when there are enemies within us?"
The dialogue is raw and uncompromising — and will probably strike a chord with the far Right in Britain. But those who follow events in India would also have picked up on the correlation between past and present in some of Savarkar's declarations.
As Gandhi is seen emerging from the shadows, Savarkar drives home his vision of India: "The Germans have it right. The only key to nation building is homogeneity. One culture, one nation. Minority cultures must embrace the practices of the majority culture. I am an atheist but I'm a Hindu too. Hindu-ness is a way of life, our way of life, and it must become everyone's. Our goal shouldn't just be an independent India but an independent Hindu India."
Godse turns to the audience: "That was the first time I heard of a Hindu nation."
In the programme notes, Chandrasekhar says: "I worked on The Father and the Assassin for over five years. In the end, I did not want the play to be a history lesson."
She makes the point that "Godse would see Savarkar as his mentor until the very end.
After Gandhi's assassination, depicted dramatically on stage, Godse insists that what he had done was for the good of the nation: "I am Nathuram Vinayak Godse. Journalist. Patriot. I killed Mohandas Gandhi and I have no regrets."
He also insists: "It was my plan, my execution, all mine – and only mine."
This should warm the hearts of those trying to recast themselves as Gandhi's disciples although only on every October 2 and January 30.
But the play shows how Godse came under the influence of Savarkar who, at one point, taunts him and Apte: "Are you ready to die?"
When Godse is held in custody, a prison officer asks him: "Did you kill Gandhiji to please Savarkar?"
At the end of the two-and-a-half-hour play, the cast, who include some of Britain's most talented actors and are directed by Sri Lankan-origin Indhu Rubasingham, received a standing ovation from a packed audience at the 1,150-seat Olivier Theatre.
Godse is played by Shubham Saraf, who was cast as the winsome Firoz Ali Khan in Mira Nair's BBC adaptation of A Suitable Boy. His character is on stage throughout the play.
Paul Bazely has been cast as Gandhi, whose role is almost a prop to that of Godse. Sagar Arya impresses as Savarkar. Sid Sagar plays Apte. The play shows Gandhi, Nehru (Marc Elliott), Jinnah (Irvine Iqbal) and Vallabhbhai Patel (Ravin J. Ganatra) debating British colonial oppression and the partition of India, with communal massacres reflected on stage.
The Father and the Assassin goes backwards and forwards in time but begins just after Gandhi's assassination with Godse, his kurta drenched in blood, disparaging "that fawning Attenborough film, with Sir Ben Kingsley" and assuring the audience: "I guarantee, once you know my story, once you truly understand me, I know you'll celebrate me. Maybe even build statues in my honour…. It's about time you know who I am, for I too am etched in India's history."
Gosde takes a long-term view and believes his time will come: "Revolutions take time to gestate. Weeks, years. Perhaps even decades. Right?"
The play ends with an imaginary encounter between Godse and Gandhi in the afterlife, with the former making his final assertion: "It's better to be a Godse than a Gandhi."
He exhorts the audience: "We have to be ready. No, you have to be ready…. Know who your enemies are. They are hidden amongst you. Your neighbours, your colleagues…. They don't speak your language, they don't share your values, they don't look like you…. A Gandhi is no use when tomorrow's battles are fought with deadlier weapons. No, you'll need a Godse. And I will rise."