German Navy chief quits after issuing warning on China, saying Putin 'deserves respect'
Top Naval official sees war with China in 'next decades,' says India needs more alliances to protect itself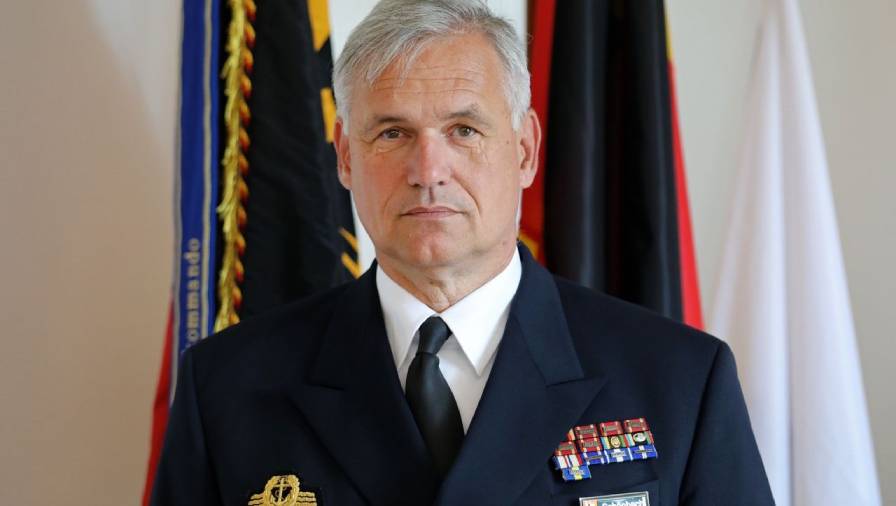 The head of the German Navy, Kai-Achim Schoenbach, has been fired after controversial statements about the conflict in Flag of Ukraine.
Twitter/@elizifferblatt
---
New Delhi
|
Published 23.01.22, 09:52 AM
|
---
Germany's naval chief has resigned after he stirred controversy by warning that China was not a "nice country" and saying that Russian President Vladimir Putin was looking for and "probably" deserves respect from other nations.
"I have asked defence minister Christine Lambrecht to relieve me from my duties with immediate effect. The minister has accepted my request," said Vice Admiral Kai-Achim Schoenbach, adding that his position had become burdened by "his ill-advised comments."
Schoenbach made these remarks at a lecture in New Delhi. While expanding on the threat from China, Schoenbach simultaneously played down the fear of Russian expansionism and its possible moves against Ukraine and said that Putin was seeking "respect" from the West.
The German navy commander said Russia was an important nation and that good relations with Moscow were needed to counter China in a war that he expected would erupt in the "next decades."
"Even we, India, Germany, need Russia because we need Russia against China," he said.
Shoenbach's statements came in a lecture on Germany's Indo-Pacific Strategy at the Manohar Parrikar Institute for Defence Studies and Analyses in New Delhi.
"Is Russia really interested in having a small, tiny strip of Ukraine soil? To integrate into the country? No, this is nonsense," Schoenbach said in an address to a think-tank in New Delhi.
"What he (Putin) really wants is respect. He wants respect on a high level. And my God, giving some respect is low cost, even no cost. So if I was asked, it is easy to give him the respect he really demands and probably also deserves," he said, urging nations to build strong ties with Moscow.
In the wide-ranging talk and question-and-answer session, Schoenbach said that India must forge wider military alliances internationally to shield itself against a potential war with China. 
"You all (ASEAN and India) suffer from China, as we do. And we will suffer even more if we don't do anything against it…" he said at a lecture on Germany's Indo-Pacific Strategy at the Manohar Parrikar Institute for Defence Studies and Analyses.
Citing the example of what happened in Europe in the 20th century, Admiral Schonbach said "India has so many bilateral partnerships… one thing you learn from European history is that bilateral partnerships mean nothing. When it comes to war, and I believe there will be war, probably not in two to three years, but in the next decades, there must be a closer alliance."
Schoenbach was referring to the bilateral alliances Britain had in the 1930s with countries like Poland, France and Czechoslovakia which were unable to prevent Germany's expansionism that led to the Second World War.
Schoenbach suggested that India and the European Union should strike pacts with Russia, saying: "India and Germany, we need Russia. Because we need Russia against China."
He added: "This will keep Russia away from China… because China needs the resources from Russia and they were willing to give them because our sanctions make it difficult." 
He added: "Having this big country, even if it is not a democracy as a partner, with EU and US, is easy work, and this will keep Russia away from China."
At the same time, he noted that "Russia threatens its neighbours with military force to prevent them leaving the Russian sphere of influence." 
Sohoenbach's remarks on Russia triggered a diplomatic row with Ukraine because he said that while Russia's moves in Ukraine needed to be addressed, "the Crimean Peninsula is probably gone" following its 2014 annexation by Moscow.
Schoenbach also said that it would be unwise to award NATO membership to Ukraine, a move that is strongly opposed by Russia. "Is it smart to have them as a member? No, it's not," he said.
Worries about an imminent Russian invasion of Ukraine have heightened since Russia massed 100,000 troops near the Ukrainian border. 
Schoenbach later released a statement saying that his remarks were his personal view and not the German defence ministry's. A few hours later on Saturday night, he tendered his resignation.
Vice-admiral Schoenbach also warned about China's investments in Africa, saying: "The first step to accept is what China is doing even in Africa or elsewhere….. China is giving money to dictators, to killers, to criminals. It doesn't matter as long as they give resources to China…." 
The admiral pointed out that China brought in its own workers to install hi-tech systems and very few Africans were involved in their projects.  "If you do this you can never pay back the credit. It is impossible."
He added that former German Chancellor Angela Merkel had initially viewed China favourably but later changed her opinion. "(She) was in favour of China but later realised how it (China) had a hidden agenda." 
He added that Merkel had been in favour of buying Huawei's 5G technology and even said: "We have no problem if China is building new infrastructure in Germany, we have no problem in China buying robotics or whatever…."
Schoenbach had last month made similarly strong remarks about China at a dialogue in Singapore. He pointed out that China was increasing its naval strength at a phenomenal speed and was adding as many ships as the French navy had every four years. 
China claims a huge swathe of the South China Sea and has disputes with other countries in the region including Vietnam, the Philippines, Malaysia, Brunei and Taiwan.
Schoenbach said the German navy, which has sent a frigate to Asia, was returning to the region after a 20-year gap and that Germany has committed to step up its interest in Asia. 
"The world's centre of gravity is shifting to Asia. 25pc of maritime trade passes through the Straits of Malacca. It is vital interest to have a focus on this region."
The German defence ministry said "the content and choice of words of the statements in no way correspond to the position of the Federal Ministry of Defense." Germany's ruling coalition will discuss the navy chief's statements on Monday, a defence ministry spokesman said, according to German public broadcaster ZDF.
Schoenbach also issued an apology on Twitter. "There is no need to quibble: it was clearly a mistake," he tweeted.