G7 leaders say will hold Putin to account for missile strikes in Ukraine
'Will continue to provide financial, humanitarian, military, diplomatic and legal support and will stand firmly with Kyiv for as long as it takes'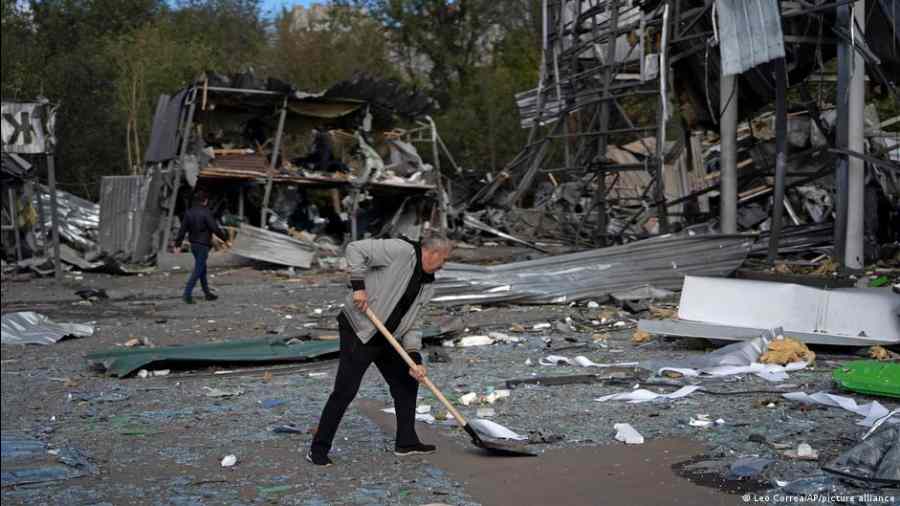 A Russian air strike Tuesday damaged parts of Zaporizhzhia
Deutsche Welle
---
Published 11.10.22, 09:19 PM
|
---
Leaders of the Group of Seven (G7) nations on Tuesday condemned Russian leader Vladimir Putin's nuclear rhetoric and Moscow's latest missile attacks on Ukrainian cities.
Leaders said they would hold Putin to account for the attacks, and that any use of chemical, biological or nuclear weapons would be met with severe consequences.
"We condemn these attacks in the strongest possible terms and recall that indiscriminate attacks on innocent civilian populations constitute a war crime," the leaders said in a statement. We will hold President Putin and those responsible to account."
"We will continue to provide financial, humanitarian, military, diplomatic and legal support and will stand firmly with Ukraine for as long as it takes," the joint statement said.
"We reassured President Zelensky that we are undeterred and steadfast in our commitment to providing the support Ukraine needs to uphold its sovereignty and territorial integrity."
"We deplore deliberate Russian escalatory steps, including the partial mobilization of reservists and irresponsible nuclear rhetoric, which is putting global peace and security at risk. We reaffirm that any use of chemical, biological or nuclear weapons by Russia would be met with severe consequences," the statement said.
The urgent meeting, which was attended remotely by Ukrainian President Volodymyr Zelensky, came a day after more than 80 Russian missiles rocked Ukrainian cities and struck the center of Kyiv for the first time in months. The attacks left at least 19 dead and 105 injured, according to Ukrainian officials.
German Chancellor Olaf Scholz said Zelensky could count on the "solidarity of Germany and the other G7 states," and agreed on holding the emergency G7 meeting after the two leaders spoke Monday. Germany currently holds the G7's rotating presidency.
The White House said US President Joe Biden had spoken with Zelensky and promised to send advanced air defence systems to Ukraine. Germany has also said it would deliver the first of four air defence systems.
Leaders also criticised Russia's "irresponsible nuclear rhetoric".