French Senate votes to raise retirement age amid protests
The Senate has approved President Emmanuel Macron's pension reforms, but the bill will be adjusted ahead of a final vote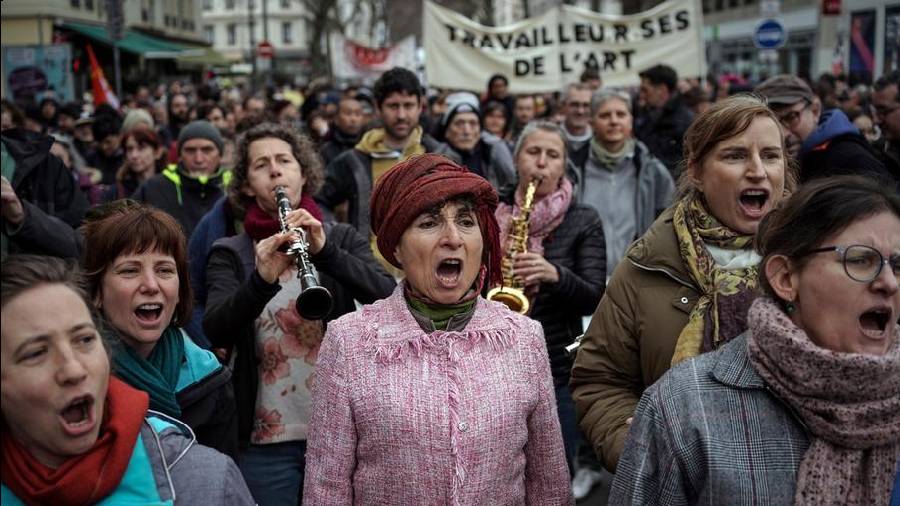 Protesters in Lyon turned out on Saturday against Macron's pension reforms
Deutsche Welle
---
Published 12.03.23, 10:25 AM
|
---
France's Senate voted on Saturday night to approve President Emmanuel Macron's controversial plan to raise the retirement age from 62 to 64.
Senators passed the reforms by 195 votes to 112 while major protests continued in cities like Paris, Nice, Lyon and Toulouse.
"After hundreds of hours of discussions, the Senate adopted the pension reform plan," Prime Minister Elisabeth Borne wrote on Twitter. "It is a key step to make a reform happen that will guarantee the future of our pension system."
What's next for the retirement legislation?
A committee will now work on a final draft of the bill, which will then be submitted to the Senate again as well as the National Assembly for a final vote.
Macron's political alliance does not have an absolute majority in the National Assembly, France's lower house, but he is banking on support from the conservative Republicains.
However, if the government cannot secure a majority, Borne could push through the legislation without a vote under Article 49/3 of the French constitution, a highly controversial tool that is rarely used.
Protesters take to the streets again
On Saturday, people protested once again and workers went on strike in some cities.
The CGT union said around 1 million people took to the streets on Saturday but the Interior Ministry estimated a turnout 369,000 people — lower than previous protests.
In Paris, uncollected garbage began to accumulate in some neighborhoods, and airlines were forced to cancel around 20% of flights scheduled at French airports.
"This is the final stretch," Marylise Leon, deputy leader of the CFDT union, told the broadcaster Franceinfo on Saturday. "The endgame is now."
Some trade union representatives even brought up the idea of a referendum on Macron's plan to raise the retirement age.
"If he is so sure, all the president has to do is ask the people," said Philippe Martinez of the hard-left CGT union.
Macron has tried in both his terms as president to reform France's pension system. Most economically comparable western European countries have a retirement age of 65, or more in some cases, with many like Germany also planning to increase this in the coming years