Elderly fall in deadliest attack on US Jews
Suspect may have been acting alone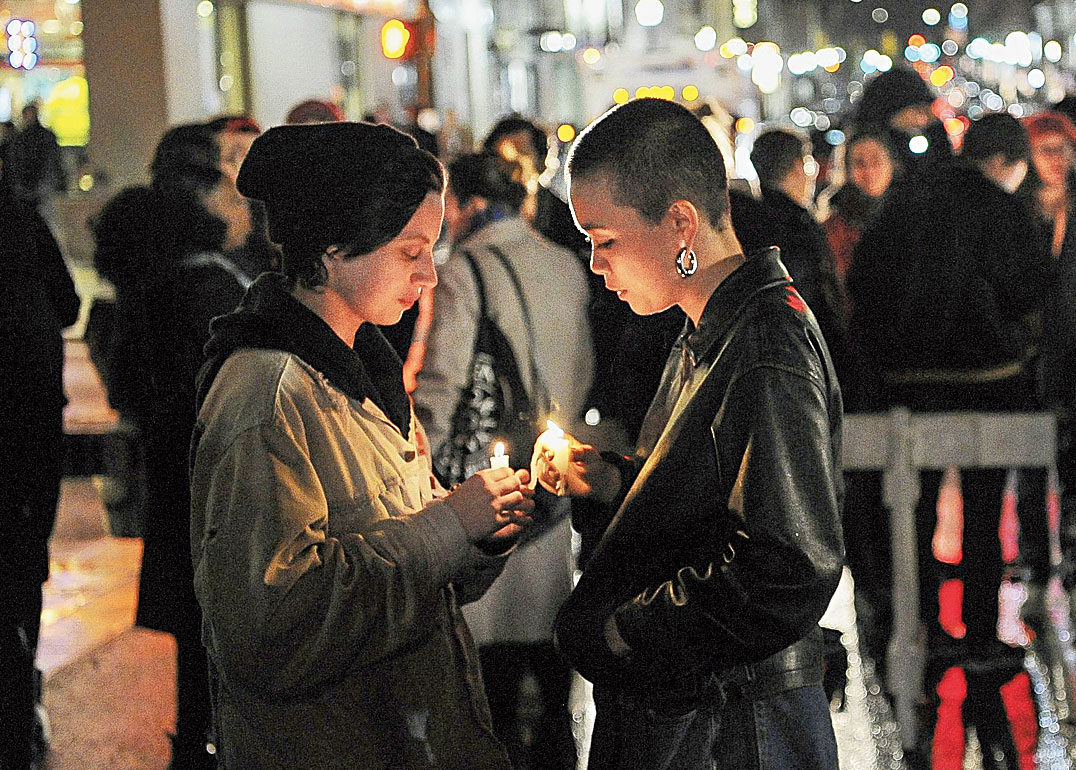 Rosie Villano (left) and Chai Smith hold candles during the interfaith vigil outside the Sixth Presbyterian Church at Squirrel Hill, Pittsburgh.
(AP)
---
Pittsburgh
|
Published 28.10.18, 07:30 PM
|
---
The 11 people murdered at a Pittsburgh synagogue in the deadliest attack ever on the Jewish community in the US were mostly older worshipers, ranging in age from 54 to 97, officials said on Sunday.
The dead included eight men and three women. The oldest victim, Rose Mallinger of Squirrel Hill in Pittsburgh, was 97. Two brothers, David and Cecil Rosenthal, aged 54 and 59, were the youngest. A husband and wife, Bernice and Sylvan Simon, aged 84 and 86, of Wilkinsburg, Pennsylvania, were also among the dead.
The suspected gunman, 46-year-old Robert Gregory Bowers of Pittsburgh, stormed the building during a Saturday morning service. He also wounded six others, including four police officers, before being arrested.
Bowers will be charged with federal hate crimes and could face the death penalty.
Mayor Bill Peduto called the attack the "darkest day of Pittsburgh's history" but vowed that the city would move forward.
"We know that we as a society are better than this," he said. "We know that hatred will never win, that those that try to divide us because of the way we pray, or where our families are from around the world, will lose."
Robert Jones, special agent in charge of the FBI in Pittsburgh, said the synagogue was "the most horrific crime scene" he had seen in 22 years with the agency.
The authorities said Bowers appeared to have been acting alone when he stormed into the Tree of Life Congregation, where worshipers had gathered in separate rooms to celebrate their faith, and shot indiscriminately into the crowd.
He was leaving the synagogue when officers, dressed in tactical gear and armed with rifles, met him at the door. According to the police, Bowers exchanged gunfire with officers before retreating back inside and barricading himself inside a third-floor room.
When he eventually surrendered to the police, he said he "wanted all Jews to die and also that they (Jews) were committing genocide against his people".
The mass shooting prompted security alerts at houses of worship around the country and condemnation from politicians and religious leaders.
About Saturday's attack, President Donald Trump, addressing reporters at Joint Base Andrews, said: "It's a terrible, terrible thing what's going on with hate in our country and frankly all over the world, and something has to be done."
"The results are very devastating," he said, adding that if the synagogue "had some kind of protection," then "it could have been a much different situation."
Mayor Peduto, however, said keeping guns out of the hands of irrational people was a better way to prevent violence.
Witnesses said the attack unfolded without warning.
Jim Waite had just got out of the shower and turned on the television in his bedroom when he heard five loud pops and a crash. Waite, 55, lives at the corner of Wilkins Avenue and Woodland Road, across the street from the synagogue.
When he heard the noises, Waite knew something was wrong, and he walked outside. At that point, a police car came screeching by, and Waite saw another police officer, with his weapon drawn.
Then he heard the sounds of chaos: eight or nine more loud pops and screams coming from inside the synagogue. He rushed back into his house, joined by a jogger and his daughter who had been outside the synagogue, and they all crouched down, wondering what was going on outside.
"It was truly like a surreal moment," Waite said in an interview on Sunday morning. "I obviously immediately felt this gut-wrenching kind of panic, and it hasn't left yet."