Donbas battle one of the most brutal, says Zelensky
President Zelensky reiterates his conviction that Ukraine would emerge victorious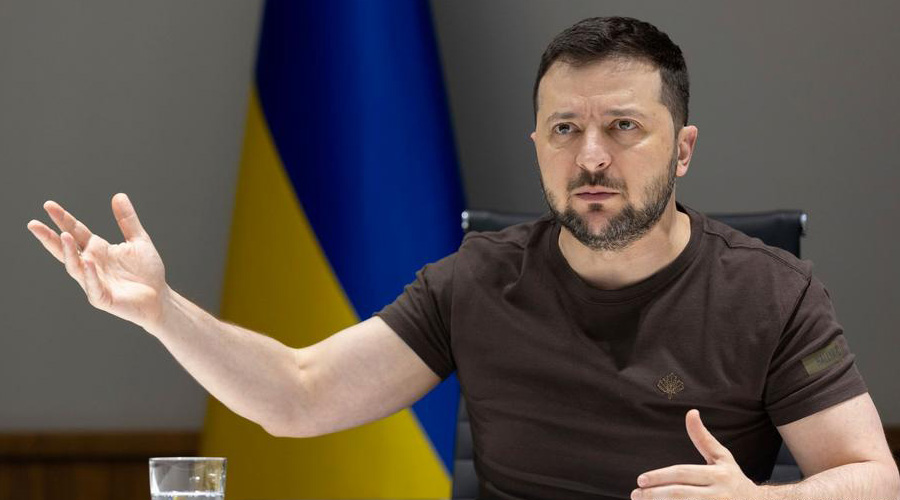 Volodymyr Zelensky
File Photo
---
Published 15.06.22, 03:11 AM
|
---
Ukraine's fight to defend the Donbas region against Russia will "go down in military history as one of the most brutal battles in Europe and for Europe", President Volodymyr Zelensky said in his nightly address on Monday.
Zelensky reiterated his conviction that Ukraine would emerge victorious, naming a string of Russian-occupied regions around the country, including the cities of Kherson, Melitopol and Mariupol, and pledging that Ukrainian forces would arrive to liberate them.
Zelensky's efforts to depict Russia's invasion as a watershed moment in European history echo a rhetorical strategy he has used liberally with world leaders, often to great success. He tapped the history of World War II, for example, when delivering an address to the British parliament that conjured for lawmakers the stormy days of Britain facing down Nazi Germany.
The "darkest hour" strategy has sometimes misfired: Zelensky, who is Jewish, affronted some Israeli lawmakers in March when he drew parallels between the suffering of Ukrainians during the war and that of Jewish people during the Holocaust.
Zelensky's nightly address on Monday, however, also provided painfully concrete details about the war's devastating toll.
Russian shelling had killed a 6-year-old boy in Lysychansk, he reported. Residents in the eastern Ukrainian city have been living under attack and without basic utilities as fighting rages in neighbouring Sievierodonetsk. The UN said in early June that on average, at least two children had been killed every day since the start of the war.
Zelensky's address also emphasised, as it has nearly every day, Ukraine's need for more weapons from western allies.
Ukrainian officials have said they are outgunned 10-1 in some cases, and on Monday a senior adviser to Mr. Zelensky speculated in a New York Times interview that western governments were slow-walking military aid in hopes that Russia and Ukraine would agree to a cease-fire, even if it meant ceding Ukrainian territory.
Navalny shifted
Alexei Navalny has been transferred from the prison where he is serving an 11-and-a-half year sentence to an undisclosed location, nearly 2 years since he was poisoned.
(New York Times News Service and Reuters)