Trump silent on Kenosha police shooting
The US President offered support to law enforcement officers and toured shops damaged by rioting that followed the shooting of Jacob Blake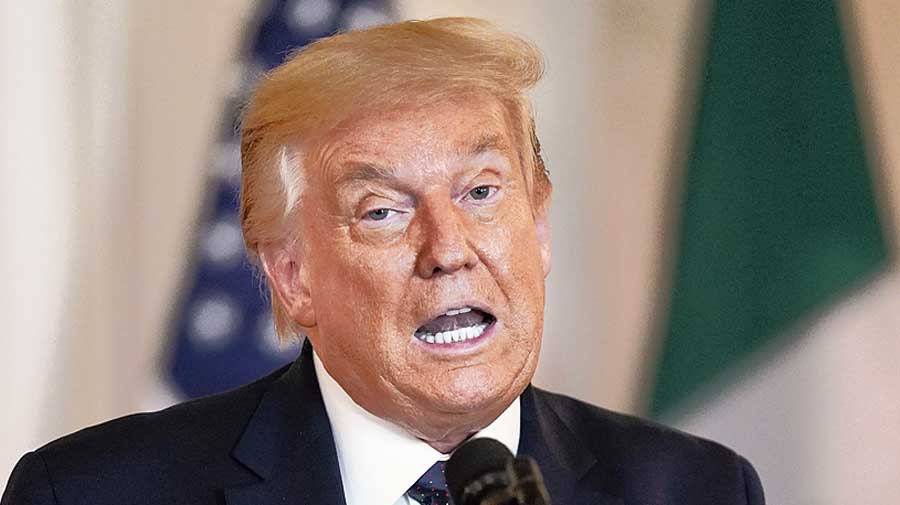 US President Donald Trump
AP File Picture
---
Kenosha, Wisconsin
|
Published 03.09.20, 02:48 AM
|
---
 President Trump ventured into ground zero of the nation's roiling debate over race and justice on Tuesday to stand in defence of the police and to reject calls for changes in law enforcement that have generated months of social unrest across the US.
Travelling to Kenosha, Wisconsin, over the objections of the governor and mayor who feared his presence would further inflame tensions, Trump offered support to law enforcement officers and toured shops damaged by rioting that followed last week's shooting of Jacob Blake, a Black man who was struck seven times in the back by a white police officer.
Trump never mentioned Blake's name nor spoke with his family, brushing past the shooting and calling attention instead to the street violence that he blamed on liberal politicians.
He expressed more empathy for police officers, saying that they have a "tough job" and that occasionally some simply "choke" when put under "tremendous pressure" in carrying out their duties.
"It's a dangerous job," Trump told several law enforcement officials and Republican politicians at a high school in Kenosha. "But I have to say this to the police: The people of our country love you."
Much of the small city shut down in anticipation of the President's visit, with roads closed, commuter trains suspended, helicopters buzzing overhead and armoured cars deployed in the streets.
The calm was broken when woman in a pro-Trump hat and a man who said he was a member of the Proud Boys, a far-Right group known for inciting violence at protests, showed up at a park that has been a hub for rallies since Blake's shooting.
As the police scrambled to separate the two from about 100 protesters shouting at them, an officer sprayed a chemical agent in the eyes of a documentary filmmaker.
New York Times News Service