Cut from cloth, a nation
The garment workers' unrest in Bangladesh is but a thread in the weave that is the nation's economic history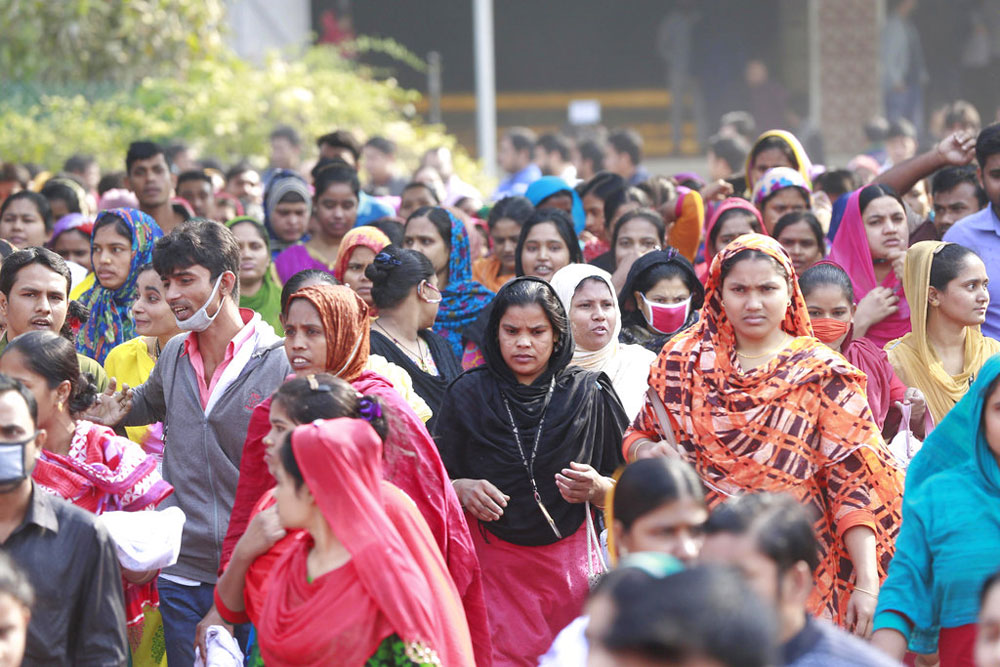 Bangladeshi garment workers participate in a protest in Savar, on the outskirts of Dhaka, Bangladesh, Wednesday, January 9, 2019
(AP)
---
Published 19.01.19, 09:00 PM
|
--- Last week, hundreds of garment workers in Bangladesh took to the streets of Dhaka demanding wage hikes and protesting pay disparity. More than 50 factories came to a standstill. The new government — Awami League's Sheikh Hasina won the December 2018 elections with a huge majority — revised the pay structure with alacrity. Of course, reports suggest that all that has been achieved is a slight increase in basic and gross wages in six of seven grades.
"It is but obvious that the workers are demanding fair wages. But this demand is localised," says Vidiya Amrit Khan of Desh Garments Limited. This company, set up by Noorul Quader in 1977, is said to have been the first readymade garments factory in Bangladesh. Vidiya is the daughter of Quader and the current deputy managing director of Desh. She adds, "It is not as if the whole country has been protesting. Also, the revised wages were declared in November 2018, so I don't know why the protests took place in January 2019... One of our major advantages is competitive pricing; if we lose that buyers will simply start to shift, as they are doing from China."
Indeed, the garment industry, more specifically, the ready-made garment (RMG) sector, is the backbone of the economy of Bangladesh. It is the second largest exporter in the RMG sector in the world, after China. The textile industry contributes 12 per cent to the country's GDP and is a $32 billion-plus enterprise.
In the 2018 Fifa World Cup, Bangladesh was present on and off the field as the sole supplier of all kits handed out to the Messis, Ronaldos, Neymars. Jerseys, socks, shorts and even the national flags of the participating countries bore the Made in Bangladesh tag. Bangla newspapers reported that the country had exported garments worth $100 million for the 2018 World Cup, which was $30 million up from the 2014 World Cup exports.
British Bangladeshi social economist Naila Kabeer is visiting Calcutta when she speaks to The Telegraph. She talks about how many foreign brands — Mango (a Spanish company), Primark (headquartered in Dublin), H&M (Swedish multinational clothing-retail company), Gap (American retailer) — outsource their production to Bangladesh. It has been pointed out many times that hats and shirts sold by Trump companies bear the Made in Bangladesh tag.
Kabeer points out, "Park Avenue, which is an Indian company [it belongs to the Raymond group], gets its products manufactured in Bangladesh." She says, "Indians are making a lot of money in Bangladesh. They are buying warehouses and getting their clothes stitched there. It is cheaper that way. Plus they don't have to deal with the stringent labour laws and the trade unions." And then she adds more emphatically, "Bangladesh makes it far more possible for Indians to come in and do business in Bangladesh than Indians allow Bangladeshis to come and do business here."
When Bangladesh was born in 1971, all industries in its geography had been destroyed. "But then Bangladesh had a huge labour force, cheap at that. Businessman and visionary Noorul Quader decided that we would stick to the garment sector," says Rubana Huq, who is the managing director of the Mohammadi Group of industries.
In the early 1970s, there was a Multi Fibre Arrangement that governed world trade in textiles and garments. It imposed quotas on the amount developing countries could export to developed countries. South Korea, which was one of the first exporters of ready-made garments, began to look to countries that were quota-free or countries that were not exporting. Says Kabeer, "They set up factories in Bangladesh — cut-make-trim types — so they could put the Made in Bangladesh tag and export it to the West. Basically, the garment industry began in Bangladesh accidentally, as a result of quota hopping."
In a cut-make-trim industry, everything is imported. The fabric comes from another country, design is imported and you are only supposed to cut, sew, put the buttons on and fix the label. You do not market it. It is an assembly line. Noorul Quader now decided to export garments to European countries. But, for this, he needed skilled artisans.
"He sent 130 people to South Korea for training [there were a handful of women among them]," says Ruby Ghuznavi, craft researcher and social activist who has also revived natural dyes in Bangladesh. In 1977, Quader opened his first factory. Soon, others followed suit. Says Vidiya, "All new economies started with a manufacturing industry and in many cases, specifically garments. That is true of the United States and Switzerland too. But all these countries shifted from this business to other tertiary businesses… We in Bangladesh stuck to this one thing."
In 2005, the system of quotas was done away with. Says Huq, "While people thought that this would once again topple the economy of Bangladesh, the results were just the opposite. Exports increased dramatically by about $500 million the next year." Bangladesh had already created a niche for itself in the world garment market.
At the turn of the century, more foreign brands had started to move production to Bangladesh. There was Pierre Cardin (a French brand), Hugo Boss (a German luxury fashion house), Levi Strauss (California-based jeans manufacturers). But in 2013, the Rana Plaza tragedy struck. Rana Plaza was an eight-storey building on the outskirts of Dhaka. It housed five garment factories.
The building collapsed, killing over 1,000 workers, turning the spotlight on the seamy side of the country's most profitable industry. For many days, world media continued to track the news, the building code violations, how the building owner was arrested, but most of all about the pitiable conditions in which garment labourers worked in the huge Bangladeshi sweatshop.
Post Rana, Disney pulled its cut-and-trim division out of Bangladesh, but not the others. What the Rana Plaza tragedy did or did not do to the inner workings of the garment industry is another story, but as the industry continued to grow, many claim, it altered the warp and weft of Bangladesh society.
Ghuznavi says the garment industry gave the country a "robust middle class". Kabeer doesn't agree. She says, "But it has certainly given rise to a new entrepreneurial class. Before the garment industry became important, Bangladesh's economy largely depended on agriculture; before that it had jute. But jute factories were not in the hands of the Bangladeshis — they were mainly owned by the west Pakistanis. After 1971, the government nationalised the jute industry but the demand for jute fell. So with the rise of the garment industry we got a new Bangladeshi entrepreneurial class — people who were willing to invest money and make money out of it. It has created a fairly wealthy class."
What there is no quarrel about, however, is that this industry has improved opportunities for women. The garment industry generates jobs for 4 million people directly and another 1-2 million indirectly; the majority of these jobs are held by women. Says Vidiya, "I cannot name any one woman. But there are those
who were ill-treated by their husbands or did not get a square meal. Once they turned bread earners, the abuse came down." Kabeer points out the direct link between the garment sector and girls' education. "Young girls are more likely to be educated because their mothers now hold reasonably well-paid jobs in these factories."
Clearly, a virtuous weave has begun to emerge.