Banksy's Supernurse gift to NHS
I hope this brightens up the place a bit, says artist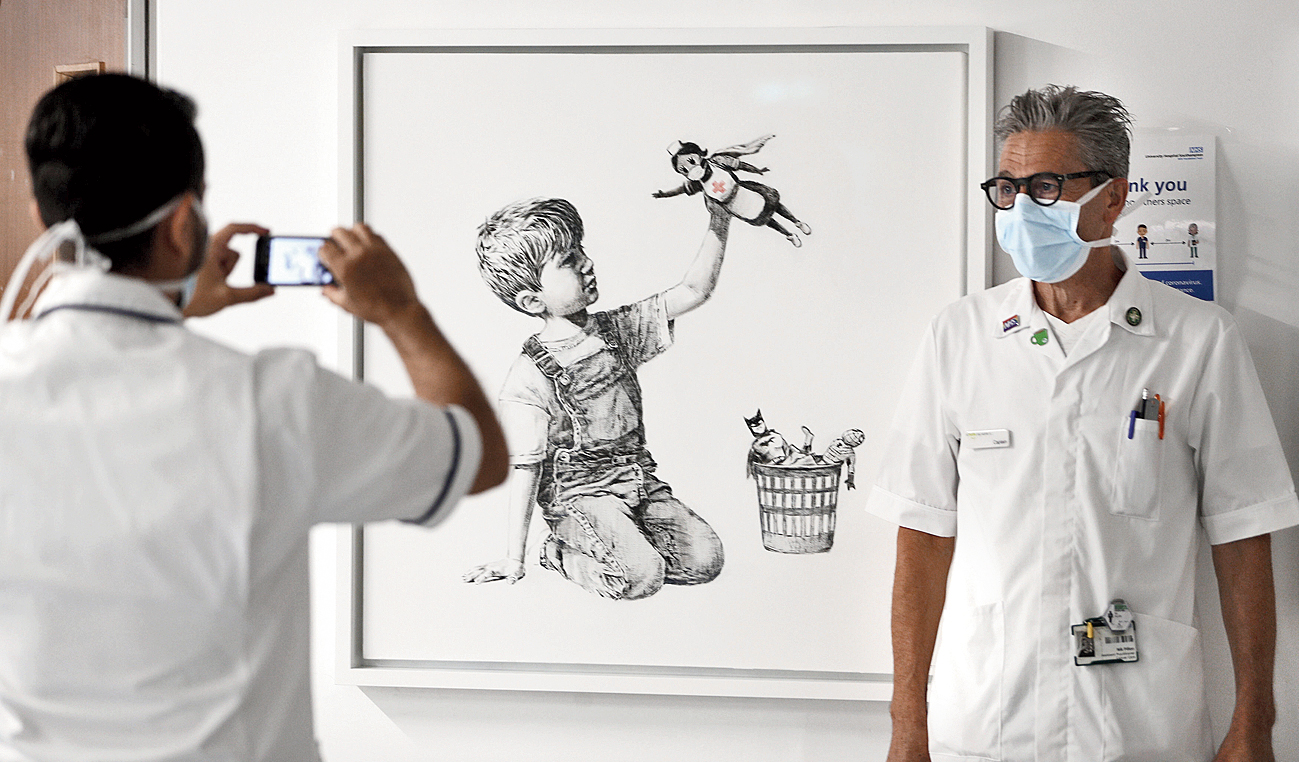 A doctor at a hospital in Southampton, England, has his picture taken next to the new Banksy artwork, called Game Changer, on Thursday.
(AP)
---
London
|
Published 07.05.20, 09:54 PM
|
---
That NHS nurses are risking — and far too often losing — their lives to look after their patients is recognised in the latest contribution from the urban guerrilla artist known as Banksy, who leaves his highly political artworks anonymously and usually at the dead of night at street corners.
The artwork, which has been donated to a hospital in Southampton, where two health workers have died from coronavirus, depicts a small boy in dungarees playing with action figures.
In a poignant gesture, however, Batman and Spiderman lie discarded in a bin in favour of an NHS nurse shown as a super heroine.
Banksy, who stencils his "paintings", shows the nurse wearing a cape, a white apron, and, in a nod to the current pandemic, a mask. She has an arm raised as though she is flyinglike Superman.
The only colour within the piece, which is approximately a metre square, is in the flash of red on Supernurse's apron, marking the cross of the health service.
In a note left with his gift, entitled Game Changer, Banksy expressed his gratitude on behalf of the nation: "Thanks for all you're doing. I hope this brightens the place up a bit, even if its (sic) only black and white."
The piece, which has been put up for display in the corridor of level C at Southampton general hospital has caused a buzz among staff.
After lockdown measures are lifted, it will be put on public display before being auctioned, almost certainly for a handsome figure.
Last year a 14 feet by 8 feet mischievous painting, Devolved Parliament, depicting members of Parliament as chimpanzees, was auctioned at Sotheby's in London for a record £9.88 million, exceeding his previous high of £1.04 million for Girl With Balloon.
Paula Head, chief executive of University Hospital Southampton NHS Foundation Trust, said: "Here at Southampton, our hospital family has been directly impacted with the tragic loss of much loved and respected members of staff and friends.
"The fact that Banksy has chosen us to recognise the outstanding contribution everyone in and with the NHS is making, in unprecedented times, is a huge honour.
"It will be really valued by everyone in the hospital as people get a moment in their busy lives to pause, reflect and appreciate this piece of art.
"It will no doubt also be a massive boost to morale for everyone who works and is cared for at our hospital."
The hospital previously paid tribute to members of staff, Mike Brown, 61, a linen porter, and Katy Davis, 38, a nurse in child health, who both died after testing positive for coronavirus.