Top UK scientist quits after breaching lockdown with lover
Neil Ferguson is the professor who persuaded Boris Johnson's govt to impose a lockdown on March 23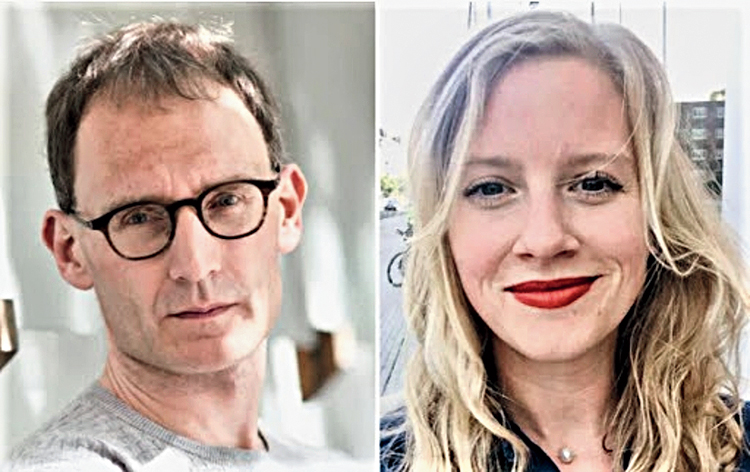 Scientist Neil Ferguson and his lover Antonia Staats
Sourced by the correspondent
---
London
|
Published 06.05.20, 09:06 PM
|
---
Britain bizarrely has a full-blown sex scandal in the middle of the coronavirus pandemic, with the resignation of Neil Ferguson, a top scientist at Imperial College London, who allowed his lover, a married woman, to travel across London to visit him not once but twice for their "trysts".
What made Ferguson's position untenable is that he is the professor who persuaded Boris Johnson's government to impose a lockdown on March 23 because without one he feared Britain risked a death toll of 500,000.
As it is, the death toll in the UK is the worst in the world after the US. On Monday, it stood at 29,427, behind America's 71,228, but ahead of Italy (29,315), Spain (25,613) and Germany (6,993).
The paper which has raked over the errant professor's love life is not one of the red top tabloids, but The Daily Telegraph which ran page one banner headlines on Wednesday: "Lockdown professor steps down after breaking rules to meet married lover. Government adviser behind social distancing allowed woman to visit him despite telling the nation to stay at home."
The woman in question, 38-year-old Antonia Staats, who seems to live happily in another part of London with her husband and two children in a "£1.9 million" house, is said to have an "open marriage". The whole arrangement is apparently perfectly civilised, although she is said to have remarked her trips to see Ferguson offered her husband a bit of a "challenge".
"She has told friends about her relationship with Prof Ferguson, but does not believe their actions to be hypocritical because she considers the households to be one," the Daily Telegraph reported.
Her first visit was on 30 March and the second on April 8. She also suspected "her husband had symptoms of coronavirus".
"According to a friend, Prof. Ferguson has met her husband and they share an interest in data science. The 51-year-old epidemiologist is married with a son but it is understood that he and his wife live apart.
He is said to have met Staats through the online dating site OkCupid more than a year ago. "Staats, 38, grew up in Isny, south Germany, went to university in Berlin and came to London in 2003 to obtain a masters in Asian Politics from the School of Oriental and African Studies, where her husband works."
Ferguson isn't any old scientist. He is at the heart of the government's lockdown policy.
He was jolly decent about being rumbled and offered the Daily Telegraph a mea culpa: "I accept I made an error of judgment and took the wrong course of action. I have therefore stepped back from my involvement in Sage (the government's Scientific Advisory Group for Emergencies).
"I acted in the belief that I was immune, having tested positive for coronavirus, and completely isolated myself for almost two weeks after developing symptoms.
"I deeply regret any undermining of the clear messages around the continued need for social distancing to control this devastating epidemic. The government guidance is unequivocal , and is there to protect all of us."
The paper pointed out: "Professor Neil Ferguson allowed the woman to visit him at home during the lockdown while lecturing the public on the need for strict social distancing in order to reduce the spread of coronavirus.
"The epidemiologist leads the team at Imperial College London that produced the computer-modelled research that led to the national lockdown, which claimed that more than 500,000 Britons would die without the measures."Prof Ferguson has frequently appeared in the media to support the lockdown and praised the 'very intensive social distancing' measures.
"The revelation of the 'illegal' trysts will infuriate millions of couples living apart and banned by the Government from meeting up during the lockdown, which is now in its seventh week."
The word "tryst" (used memorably by Nehru in his "tryst with destiny" speech in 1947) has fallen out of favour in Britain except that it comes in handy when reporting sex scandals.