Cannabis is legal, Canada is on a high
The Justin Trudeau government's goal is to eradicate an illegal cannabis marketplace worth billions of dollars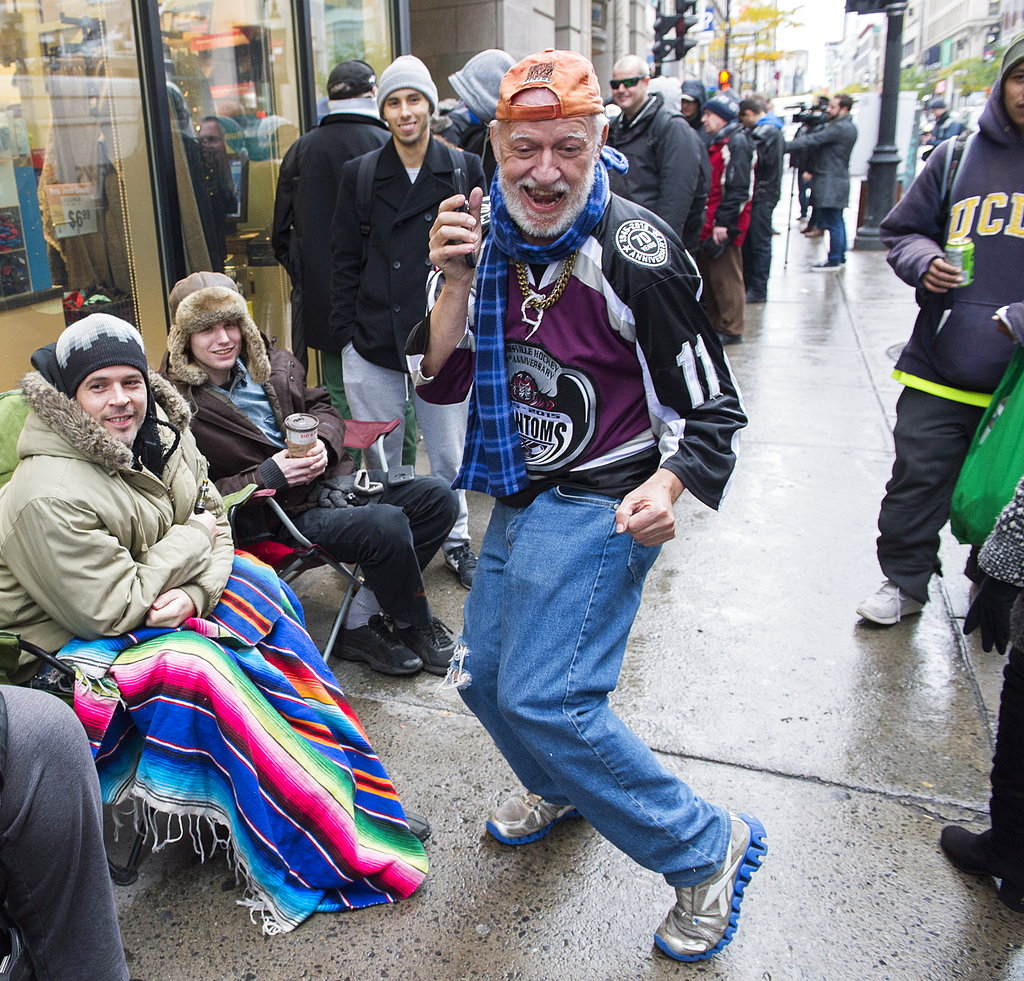 A man dances as he waits in line to purchase legal cannabis outside a government cannabis store in Montreal on Wednesday.
Graham Hughes/The Canadian Press via AP
---
Ottawa
|
Published 18.10.18, 11:17 AM
|
---
Canadian pot smokers' pipe dreams came true on Wednesday when the country became the first major country in the world to legalise recreational cannabis use. But one of the first Canadians to buy legal weed in the easternmost province of Newfoundland said he wasn't going to smoke, vape or bake the gram of cannabis he bought. Rather, 46-year-old Ian Power said he was going "to frame" his historic legal cannabis purchase. "I'm having a plaque made with the date and time and everything. This is never actually going to be smoked, I'm going to keep it forever," he said elatedly.
Power's enthusiasm for the law change was shared by marijuana users across Canada. On day one of legalised sales, there were block-long line-ups of buyers and the government-operated websites and private retail portals were collectively processing more than 100 orders a minute, a sign of high demand for the drug.
Some 30 countries around the world have given the green light to medical marijuana use. But Canada's only the second country after Uruguay to legalise recreational marijuana for adult use nationwide. The move potentially positions Canada to become the industry world leader, analysts say. "Right now, we're producing some of the best cannabis in the world. This is an opportunity, and it's very scalable," Lisa Harun, co-founder of vaporiser company Vapium, told Canada's Global News.
The government's goal is to eradicate an illegal cannabis marketplace worth billions of dollars. Countries around the world will be watching to see how well Canada succeeds in stamping out illicit sales with an eye to following suit. "Right now, we know young people have easier access to marijuana than just about any other illicit substance. It's easier for a teenager to buy a joint than to buy a bottle of beer. That's not right,' Prime Minister Justin Trudeau said, laying out the aims of legalisation, which was an election promise. "Secondly, we know criminal organisations and street gangs are making billions of dollars off the sale of marijuana. We feel regulating it, controlling it will bring that revenue out of the pockets of criminals and put it into a system where we can both monitor, tax it," he said.
The country of 37 million legalised medicinal marijuana in 2001 and set up a licensing system for private marijuana growers that laid the foundation for the country's flourishing weed industry. Now, Canada's pioneering step legalising recreational use gives the country a headstart in developing a wide-range of marijuana-based products — from edibles to drinks, oils and "craft" cannabis strains. Recreational cannabis legalisation is seen as a developing global megatrend. In the US, though, opinion is out on whether Congress would legalise recreational use federally even though recreational marijuana use is legal in nine states and 29 allow medicinal weed. US companies fear missing the boat that Canada will end up the dominant player.
While Canadian cannabis stocks fell on the first day of legalisation, analysts said the market was catching its breath after a spectacular run-up in share prices that have given many startups big sums to invest in developing their business model. They say some company valuations may be in nosebleed territory. But many analysts believe there's much more upside to come with billions of dollars in recreational weed sales on top of existing medical marijuana sales at home and abroad. (Many Canadian pot-users say they like being able to buy marijuana from legal sources because they know it's not cut with other drugs).
Leading the Canadian pack is Canopy Growth Corp, valued at nearly C$15 billion, the only pure-play pot stock to carry a large-cap valuation. Canopy, which has a huge production infrastructure in place, has tied up with Constellation Brands, parent of Corona and Modelo beer brands. Constellation now holds a 38 per cent equity stake in Canopy. Giving added traction to the market, UK spirits giant Diageo is reportedly in talks with at least three big marijuana producers in Canada to create cannabis-infused drinks. In the early years, it's clear that demand for legal marijuana in Canada will vastly outstrip supply. In fact, financial advisers Mackie Research Capital forecasts legal supply won't match demand until 2020. Some analysts say with a flood of producers entering the fray, there could eventually be a glut of weed. But Canopy says that by then, the market will have moved beyond recreational weed to pharmaceuticals, beverages and sleeping aids.
Around 15 per cent of Canadians use pot either for medicinal purposes or for recreation. Canadians spent C$5.7 billion on the product last year, the national statistics department says, with 90 per cent of that amount going to illicit dealers. Most users range in age from 18 to 34 but Deloitte expects middle-aged "conservative experimenters" now to swell their ranks.
But even with the relatively high rate of marijuana use, cannabis legalisation marks a watershed societal shift in Canada — one the Canadian Medical Association slammed in an editorial on Monday. The association called legalisation of recreational marijuana an "uncontrolled experiment in which the profits of cannabis producers and tax revenues are squarely pitched against the health of Canadians". The association noted Canada's own health ministry says sales of the drug "will cause a problem in nearly one in three adult users and an addiction in close to one in 10, with higher risks among youth." It added it was unreasonable to expect cannabis firms to "restrict their growth ambitions or to have use reduction as a goal.... The track record for tobacco producers has not been encouraging in this regard, and it is unlikely that cannabis producers will behave differently."
In response to such concerns, Canada's organised crime reduction minister Bill Blair, who's the government's pot legalisation point man and a former police chief, has declared, "It's not the intention of the government (and) it's certainly not my intention to normalise the use of this drug." Blair's been frank about his dislike for cannabis and its impact on public health but says it was his time as cop that made him realise marijuana criminalisation was "failing" on every front. "We've now created competition in the market-place — they've (organised crime) never had competition before," Blair said. Surveys, though, show some 55 per cent of Canadians remain unconvinced legalisation is the right move, making it a risky gambit for Trudeau's Liberal government which faces a general election next year and has been struggling in opinion polls. One of the public's chief concerns is that police aren't equipped to reliably screen for drug-impaired driving. The federal government has only approved one roadside test device for cannabis and it may not give accurate results in Canada's freezing winters. Lawyers expect a raft of cases challenging the saliva tests to hit the courts.
Still, none of those worries dulled the festive mood Wednesday as weed retailers opened their doors at the stroke of midnight to New Year-style countdowns and motorists honked and shouted "Happy Cannabis" to buyers shivering in the autumn cold. But Trudeau -- even though he spearheaded the legalisation drive -- made it clear he wouldn't be celebrating by smoking pot. "I've said many times I'm not a drug user, I don't drink much alcohol, I don't drink coffee. I'm not going to smoke marijuana," he told reporters.
Penny MacRae is a former Delhi-based correspondent for Reuters and AFP and writes on India, Canada and other corners of the globe.