Boris Johnson to seek election on December 12
Johnson's election demand creates a dilemma for the Opposition Labour Party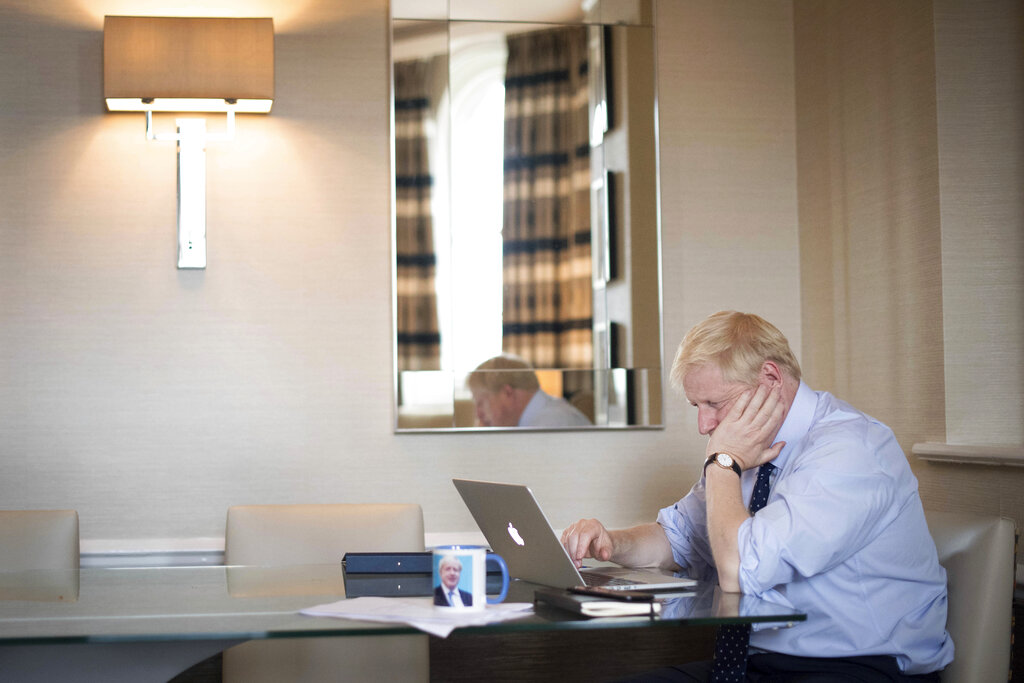 ---
|
London
|
Published 24.10.19, 07:20 PM
---
Prime Minister Boris Johnson announced on Thursday that he would ask lawmakers to agree to a general election on December 12, in his latest effort to break the deadlock in Britain's three-year battle over Brexit.
The move portended more political convulsions in Britain over extricating itself from the EU. It followed the decision of Parliament to block Johnson's accelerated timetable to leave by October 31, despite agreeing in principle to his latest Brexit plan.
Johnson, the leader of the Conservative Party, has already been forced by Parliament to request an extension to the Brexit deadline until January 31. A decision on that is expected from the EU soon, perhaps on Friday.
But in a pre-emptive strike, Johnson said in a BBC interview that, providing the extension is granted, he plans on Monday to ask for the December election, also giving Parliament more time to ratify his Brexit proposal first.
If lawmakers "genuinely want more time to study this excellent deal, they can have it — but they have to agree to a general election on December 12", Johnson told the BBC.
However, Johnson cannot simply call an election. Under a 2011 law, he would need the support of two-thirds of Parliament, something that would be impossible without support from the Opposition Labour Party.
Johnson had already sought — and been denied — an election in October and, since becoming Prime Minister in July, has appeared to be in campaigning mode, preparing for an election that most analysts see as inevitable.
Johnson's statement was his first public admission that Britain will not leave the EU by his self-imposed deadline of October 31, "do or die".
But he now faces another tight timetable to accomplish his Brexit aims: squeezing in a general election before the Christmas vacation, securing a majority in Parliament and then ratifying his withdrawal deal before the end of January.
It takes at least five weeks to organise an election after one is called. And there are practical problems in trying to hold one during the Christmas season, because voters usually cast their ballots in schools, churches or village halls and these venues are generally booked for Christmas festivities or school plays. Essentially, the election needs to be approved next week.
And Johnson's election demand creates a dilemma for the Opposition Labour Party.
Officially its leader, Jeremy Corbyn, wants an election as soon as a "no deal" Brexit is off the table, something that could happen soon if an extension is provided by the EU, as expected.
So it would be easy for the Conservatives to portray a Labour decision to block a general election as an act of cowardice from a party that knows it would lose. But with Labour at just around 25 per cent in many opinion polls, trailing well behind the Conservatives, as many as half the party's lawmakers are thought to oppose a winter election.
That means that Corbyn has to decide first whether he wants an election before Christmas. Agreeing to that would mean that the voting takes place before Brexit has been decided.
If Corbyn wants to go ahead with an election, he then has to calculate whether he can deliver his own lawmakers and avoid the embarrassment of facing a large-scale rebellion. Johnson's move is in keeping with the bluster and bravado with which he has approached Parliament during his Brexit drive.