Bengal tiger named India lost and found in US
The animal was taken to an shelter, and on Sunday it will be brought to the Cleveland Amory Black Beauty Ranch in Murchison, Texas, the police said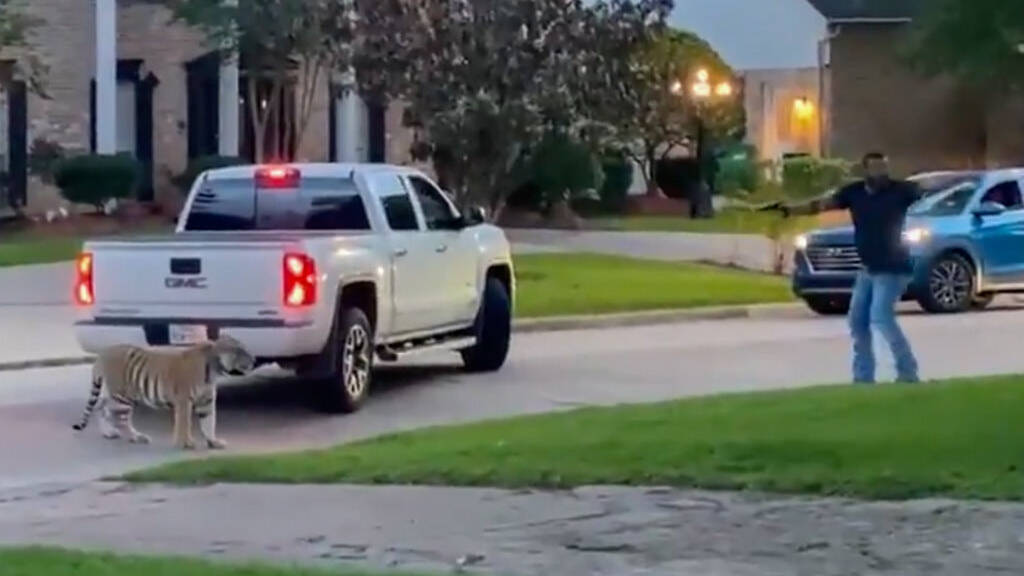 A Bengal tiger startled neighbors in a West Houston neighborhood on Sunday.
Twitter/ @rob_wormald
---
Published 17.05.21, 12:56 AM
|
---
A tiger that was last seen wandering around a residential neighbourhood in Houston last weekend has been found and "appears to be unharmed", the Houston police said on Saturday.
The tiger, a nine-month-old Bengal named India, was taken to an animal shelter, and on Sunday it will be brought to the Cleveland Amory Black Beauty Ranch in Murchison, Texas, the police said.
"We got him, and he's healthy," Ronald Borza, a commander with the Houston police department, said in a video released by the department, which showed him petting the tiger as it drank from a bottle.
The tiger drew widespread attention after videos circulated online that showed it meandering through a West Houston neighbourhood.
At a news conference on Saturday night, Commander Borza said the tiger had been found after an employee of the city's animal shelter spoke to a friend of the tiger's owner, who said the owner wanted to turn the tiger in.
Commander Borza said the owner was the wife of Victor Cuevas, 26, who had been the last person seen with the tiger.
She brought the tiger to the Houston police on Saturday, Commander Borza said.
He said the tiger would be able to roam freely at the ranch in Murchison, "where, hopefully, he'll live the rest of his life in a very safe environment".
"You should not have that in your home," he said. "It's not good for the tiger."
Commander Borza said Cuevas's wife was not facing charges, but that an investigation was continuing. He said the tiger had been "passed around a little bit" but that she had known all along where the tiger was.
Commander Borza thanked several officers who had helped search for the animal.
"I think the public thought it'd be easy to catch a tiger," he said, "but it wasn't at all."
On Friday, Commander Borza had said at a news conference that he believed the tiger had been passed around six to eight times in recent days among the homes of people involved in handling exotic animals.
New York Times News Service